Pabineau First Nation fighting methamphetamine addictions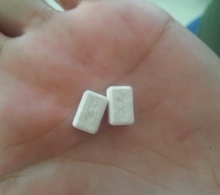 A woman in her early thirties, scars running from the inside of her elbow and down her forearm from needle injections, sits on a mattress on the floor of a bedroom. Ashtrays filled with stubbed-out cigarettes are scattered across the room alongside partially empty cups and bottles of unrecognizable liquids.
She takes a medicine bottle with a peeled label and pours three methamphetamine pills on a plate.
"This is the real 'ice,'" she says, picking up two for closer examination. She uses a spoon to crush the ice on the plate, forming two lines per pill. She sniffs them within an hour.
'Ice' hits Pabineau First Nation hard
Pabineau First Nation is a small, northern New Brunswick community of 290 Mi'kmaq members. It has been flooded by this new drug that is challenging the band administration, police, and health experts.
Methamphetamine, in the form of speed pills, was introduced here about five years ago. Recently a stronger form of meth called ice hit the streets of Pabineau. Its popularity grew fast.
'Ice' in Pabineau sells for five dollars a hit. It usually comes in a small-white, rectangular-shaped pill with potencies that vary from mild to high. (Anthony Peter-Paul)
"People were not prepared for this new drug because the euphoric effect from its use is so powerful," says the woman, who asks for anonymity because she fears reprisals from her Pabineau drug dealers.
Ice in Pabineau sells for $5 a hit. It usually comes in a small white rectangular pill with potencies that vary from mild to high.
"A lot of people started using and selling ice on the reserve," she says. "Youth, 12-year- olds, were using, most everybody."
When ice hit the streets, "morals went out the window. Those on drugs were doing sexual favours to get their fix, they would steal from their own family; both female and male were prostituting themselves," she says.
Combating addiction in the community
In a desperate attempt to combat the drug, the chief and council hired a private investigator and ordered random drug testing of community employees. Those who tested positive for drugs were fired. Half of those fired tested positive for ice.
The Pabineau administration has not tested employed band members since last fall, but they are prepared to test again if their employees show signs of drug use on the job.
Patricia Roy has been a registered nurse for 45 years and has seen all kinds of addictions. This, she says, is different.
"What scares me about the drug is its power over normal life behaviours," says Roy. "It is one of the worse, potentially self-destructing abuse drugs known to society."
Roy has been the health director at the Pabineau Health Centre for ten years. She has organized drug and addiction information sessions, and established a partnership with New Brunswick's Addiction and Mental Health Services for appointment-based on-site counselling.
Since February, a medical specialist is available on a monthly basis at the centre "to provide a new approach to the control of mental health well-being with emphasis on general addiction control," says Roy. The centre will also "be privy to a physician who is known in other circles to treat mental health through the use of a holistic approach."
Since 2014, 15 people have asked for counselling. Only two have entered rehab.
"To fix a problem where the addiction is so severe it becomes a way of life, it's almost impossible to fix it from the outside. The person can only be helped if they want help," says Roy.
Back in the apartment, one woman's arms track the past. She has wrestled with cocaine, opiate and benzodiazepine addictions, but nothing compares to ice.
She is, in her own words, "tired of seeing skinny, grey-faced, and creepy pin-pointed eyes, walking around Pabineau looking possessed."
These days she keeps a Bible on the floor. It sits next to her torn mattress. She reads it daily, then turns over to face the devil, in the form of a little white pill.
Source:: http://www.cbc.ca/news/aboriginal/pabineau-first-nation-fighting-methamphetamine-addictions-1.2996959?cmp=rss