Netanyahu selling security, but many Israeli voters not buying: Derek Stoffel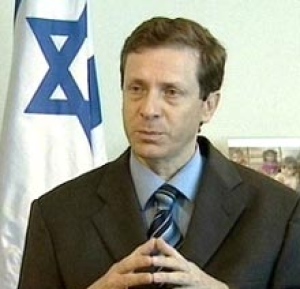 Several shopkeepers in Jerusalem's Mahane Yehuda market have pasted bumper stickers supporting Benjamin Netanyahu on the awnings above their stalls where they sell fruit and vegetables, household goods and clothing.
But wander down the busy main street of the market — long a stronghold for Netanyahu and his Likud party — and it's clear many Israelis here are ordering up a change in the country's political scene.
"It's time somebody else takes the reins and does something else," said Ksenya Kopilovsky, a resident of Arad in southern Israel who was shopping in Jerusalem that day. "I don't feel that [Netanyahu's] done especially enough for the young generation."
The final polls in Israel's parliamentary elections, set for Tuesday, were published last week. Most of the surveys put Netanyahu and his Likud in second place, behind the Zionist Union, a ticket that combines Israel's other dominant party, Labour, and a smaller centre-left group headed by former foreign minister Tzipi Livni.
The polls have given Netanyahu — who is seeking his third consecutive term — cause for concern, and he's spent the final days of the campaign warning about the consequences of not sticking with him as prime minister.
"If we don't close this gap, there is a real danger that a left-wing government will rise to power," Netanyahu said on Sunday night at a rally in front of thousands of supporters in Tel Aviv.
Security vs. the economy
Netanyahu's shift in strategy comes after he spent most of the three and a half months of the campaign focusing on Israel's security, an issue most political analysts here say is the prime minister's biggest strength.
The Likud released an election ad showing actors playing ISIS militants driving and then asking for directions to Jerusalem.
"Turn left" is the response, in a message aimed at showing that the political left could put Israel at risk in a Middle East mired by conflict.
Isaac Herzog, who is part of the Zionist Union ticket in the Israeli election, has pulled ahead of Netanyahu in recent opinion polls. (CBC)
But Netanyahu's focus on security, particularly the threat of Iran with a nuclear weapon, is seen by many voters as a distraction from the real issues Israelis face.
"Netanyahu has actually established his government based on fears and security issues," said Jerusalem resident Rotem Bar-Or.  "Even when we look at [Netanyahu's emphasis on security], I don't see any positive results."
Bar-Or, like many Israelis who spoke to CBC News in recent days, said a change is needed so the country's leaders can better focus on pocketbook issues.
Many voters wish that the issue of making Israel more affordable had been given more prominence during the campaign. Affordable housing is difficult to find across the country, with home prices in Tel Aviv jumping by nearly 60 per cent over the last five years.
"If you are not Madonna and you want just a small, modest apartment, like two or three rooms, it's mission impossible for a young couple," said Tel Aviv resident Rachel Frenkel.
A viable alternative?
Isaac Herzog, the head of the Zionist Union and Netanyahu's chief opponent, has struggled to show he's a credible leader, especially on security issues. But it seems many voters are prepared to support the Zionist Union, which is seen as the main alternative to the Likud.
Twenty-six parties are vying for votes on Tuesday. A coalition government is a certainty. But the leader of the party with the largest number of seats in the Knesset doesn't necessarily get to form the government.
Israel's president, Reuven Rivlin, will determine which leader is most likely to come up with a stable coalition, and political analysts here say Netanyahu may be in a better position to do that, bringing together several parties on the right.
But an event in the Mahane Yehuda market last week seems to show the anxiety felt by Netanyahu and his party.
Last Monday, the prime minister strolled through the stalls, but didn't invite reporters along. Campaign staffers say Netanyahu's security was the reason, but political analysts believe that the Likud was more worried about the prime minister being heckled, in an area considered a bellwether for politicians on the right.
Netanyahu stopped for a cappuccino in the market and paid with a 100-shekel note, worth about $30 dollars. The cafe's owner, who apparently wasn't much of a fan, gave the prime minister his change — 87 shekels — in small coins.
She wanted to make a point about what she thought was the most pressing election issue: the economy.
The shopkeeper, identified as Orit by Channel 2, said, "We, the independent business owners in the country, are aware of the daily difficulties of getting by, even for small change."
Source:: http://www.cbc.ca/news/world/israel-election-netanyahu-selling-security-but-many-voters-not-buying-1.2996696?cmp=rss