Missing Teen From Grande Prairie May be in Fort MacMurray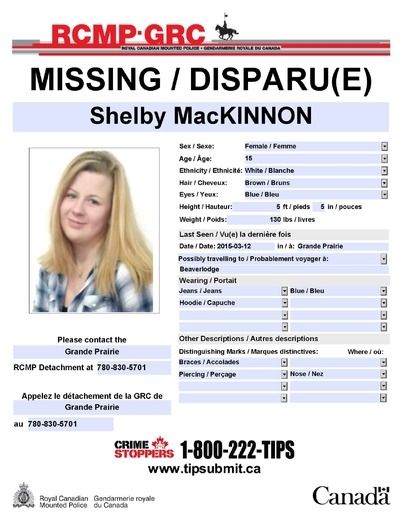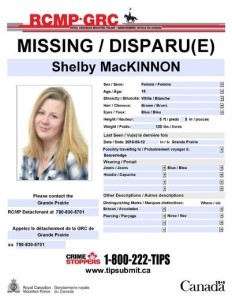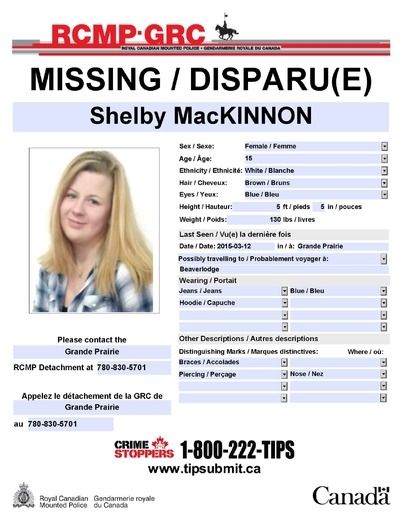 The RCMP is asking Fort MacMurray residents to be on the lookout for a missing teen from Grande Prairie who may be headed to the oilsands area. 15 year old Shelby MacKinnon was initially reported missing on March 12, and the teen was last seen about 9 a.m. That morning by one of her family members. Shelby left for the school day at the Peace Wapiti Academy on March 12 and the missing teen has not been seen or heard from since. Police do believe that MacKinnon is still active on social media accounts, and that she may be posing as an adult in order to avoid detection. There is a history of running away for the teen and twice in this year alone the police had to ask for assistance from the public in order to find her.
While police suspect that the missing teen may be in or headed to Fort MacMurray this has not been definitively confirmed so far. The RCMP does not consider her disappearance suspicious in nature but police are concerned about her well being and general welfare. Police disclosed that the teen could be headed to Fort MacMurray but did not give reasons for why this is suspected. The description of Shelby MacKinnon shows that she is 5'6" tall, she weighs roughly 135 pounds, and she is a Caucasian female. Shelby has eyes which are blue green, shoulder length brown hair, and a piercing in her nose. When last seen MacKinnon was wearing a hoodie sweatshirt and blue jeans. Anyone who knows anything about the whereabouts of the missing teen should contact the Grande Prairie RCMP at 780-830-5701 or call Crime Stoppers at 1-800-222-8477.