Missing and murdered: The life and mysterious death of Leah Anderson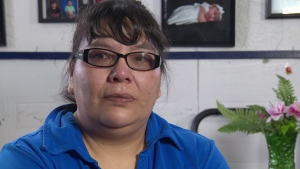 CBC News continues to investigate missing and murdered indigenous women and girls in Canada, looking at the unsolved cases and telling the stories of the women, their families and their communities.
Two years after Leah Anderson's mysterious death, her aunt Myra can't help but constantly replay their final conversation.
"Every day, I picture her walking out that door, and [me] calling out to her, 'make sure you come back before your curfew.' She said, 'yeah,' and those were the last words I said to her."
The Andersons live in the Cree community of God's Lake Narrows, a remote First Nation in northern Manitoba that is only accessible by air or by ice road in the winter.
'It's, like, on my mind every day,' says Myra Anderson, about the murder of her niece Leah Anderson. 'Like, who could have done this? Do I see this person? Is he around here?' (CBC)
​When Leah left her aunt's house on Jan. 4, 2013, she said she was going skating with friends at the local rink. It was Leah's last weekend at home before she had to head back to school in Cranberry Portage, Man.
Two days later, Leah's body was found near a snowmobile trail.
It was so badly disfigured, it was initially believed she had been mauled by dogs. But police determined it was a homicide, and her family was told she had been sexually assaulted prior to her death.
What makes Leah's story even more chilling is that the ice road into God's Lake Narrows was closed the weekend she was murdered, so when the RCMP arrived hours later to investigate, her killer was likely in the community.
Leah's family believes he or she still is.
"It's, like, on my mind every day," said Myra Anderson. "Like, who could have done this? Do I see this person? Is he around here?
"It scares me that this person might do it again."
A sunny outlook despite challenges
"Shine bright like a diamond."
Those were the last words Leah Anderson posted on Facebook a few hours before she disappeared. Friends and family say the sentiment embodies her spirit — Leah was a natural performer who loved to laugh.
"Full of life — she wasn't shy to do anything," remembers her aunt Myra, who raised Leah and her siblings since 2005.
​Tiffany Anderson says her sister always put others before herself.
"She didn't like to see anyone cry or, you know, be upset. She would do anything just to make someone smile."
By all accounts, Leah had a sunny outlook despite a difficult childhood.
During their early years in Thompson, Man., the Anderson kids were in and out of foster care. In 2003, when Leah was six, their father Gilbert Duke was slain. His killers were arrested and convicted of manslaughter.
Hoping for a fresh start, Leah's mother, Sally, moved the family to Winnipeg. But her own grief and struggles with addiction eventually became too much to bear, and all four kids ended up in permanent foster care.
When Leah was 10, her aunt Myra and her husband, Wayne Okemow, took custody of the kids and brought them all to God's Lake Narrows.
Having spent time in 13 different foster homes, Tiffany Anderson used to think of God's Lake Narrows as a safe haven.
Her sister's death shattered that illusion.
"I can't trust it no more," she said.
She feels afraid and won't go out alone.
An inconclusive investigation
Leah Anderson's death adds one more name to the RCMP's list of 225 unsolved cases across the country: Two years after her death, there hasn't been a single arrest.
Many initially believed her death would be an open and shut case.
The winter road was closed at the time, so when the RCMP arrived to investigate, her killer was almost certainly in one of the 285 homes there.
Because Leah's body was found near a snowmobile trail, her family believes the killer had access to a snow machine, a detail they believe could have narrowed the RCMP's search.
Leah Anderson's body was found near a snowmobile trail, close to this shed. (CBC)
Her family says RCMP investigators arrived in the community within hours of her body being found. But it was snowing heavily on Jan. 6, 2013, and the family worries "the snow just covered up so much evidence."
The family says RCMP homicide investigators only stayed for a few days, and since then have been back sporadically.
The RCMP told CBC News that because the investigation is continuing, they wouldn't disclose much about the case.
They haven't faced much public pressure, either.
Leah's story never made national headlines. I first heard about it when her aunt shared a photo on Facebook, begging for help to find her killer.
Despite an $11,000 reward for any details about Leah's death, the trail seems to have gone cold.
But rumours abound.
Rumours in the community
In January, my producer and I travelled to God's Lake Narrows to learn more about Leah's story and to try to shed some light on her murder. We spent five days there, meeting people and trying to illuminate Leah's final hours.
Each door we knocked on was a window into a community pushed to extremes.
We heard many stories of abuse and addiction, undoubtedly legacies of residential schools. 
Although the reserve is isolated, the houses are close together and often overcrowded. The daily struggle for basic services is evident every time you turn on the radio, where the DJ lists all the homes in need of the sewer or water truck.
Despite its beauty and heavenly name, God's Lake Narrows is not an easy place to live.
It's supposed to be a dry community, but people smuggle liquor in or make their own. The official ban on alcohol has pushed the parties underground.
Gossip runs rampant in any small community, but especially when an unsolved murder is involved.
It is rumoured that Leah went to a house party on the reserve the night she died. Her boyfriend, Max Chubb, told us he went to look for her there but wasn't allowed in.
Josephine Bee hosted the party that night.
"Yeah, I didn't let him [Max Chubb] in because there was only supposed to be girls … I didn't want him there," she said.
She denies Leah was at her house that night.
There are many rumours about Leah's death, including that Leah went to a house party the night she died. (CBC)
​Max says he also checked for Leah at her aunt Myra's house.
"I kept going to her place, checking if she was there. [They] said she wasn't home," said Chubb.
"And that was unusual because she's always back before her curfew."
Chubb said he was interviewed by police in the days after Leah's death. He said he also passed a lie detector test and that police searched his home.
On our last day in God's Lake Narrows, we met two women who heard a shocking admission at a party a couple of months after Leah's death.
One woman, who didn't want to be identified, said a man named Steven Chubb told her he had killed someone.
"We were at my friend's place, we were drinking together," the woman said.
"He just said that out of nowhere, like, 'I already murdered somebody.' I looked at him like, 'who did you murder?' and he told me 'you don't have to worry about it.'"  
Her friend Destiny Anderson, Leah's cousin, confirms this story.
"What he said was, 'I committed murder, I'm going away for a long time and I'm going to hell.'"
When we tracked Steven down, he admitted to having said that, but told us that it was "stupid" and that he was "just f–king around."
He also told us he and Leah had had a secret relationship that ended months before her death. He said people were suspicious of him after he sent Leah a message on Facebook the morning after she disappeared.
"I told her 'I hope you didn't tell on us.' I messaged her that. And then it was seen by one of her family members.'"
Steven Chubb, who is Josephine Bee's brother and Max Chubb's cousin, says he was brought in for questioning twice by the RCMP, and that he passed a lie detector test.
People we spoke to said RCMP investigators returned to God's Lake Narrows last July and took DNA samples from community members, including Steven. He says he hopes the test results will clear his name.
Family struggling to move on
"It kind of disgusts me in my heart that someone would do something like that and then just live like they did nothing wrong," said Tiffany Anderson. For Leah's family, the idea that her killer still lives among them is agonizing.
Angel Duke, Leah's younger sister, says she always has her guard up.
For Tiffany Anderson, the idea that a killer still lives among them is agonizing. (CBC)
"There's, like, just some people you have to watch out for. Like, suspects that I've heard of, when I see them, I kind of just, like, watch them — see how they react when they see me, because they must know that I'm her sister."
Since her sister's death, Tiffany has given birth to a daughter she named Leah, who just turned one.
As much as she would like to find her sister's killer, she's equally intent on leaving God's Lake Narrows, which has come to signify so much heartache.
"I want to get out of here as soon as I can," Tiffany said. "I want to start my own life somewhere with just me and my baby."
Source:: http://www.cbc.ca/news/aboriginal/missing-and-murdered-the-life-and-mysterious-death-of-leah-anderson-1.2998323?cmp=rss