March Madness: Gonzaga, Louisville earn spots in Elite Eight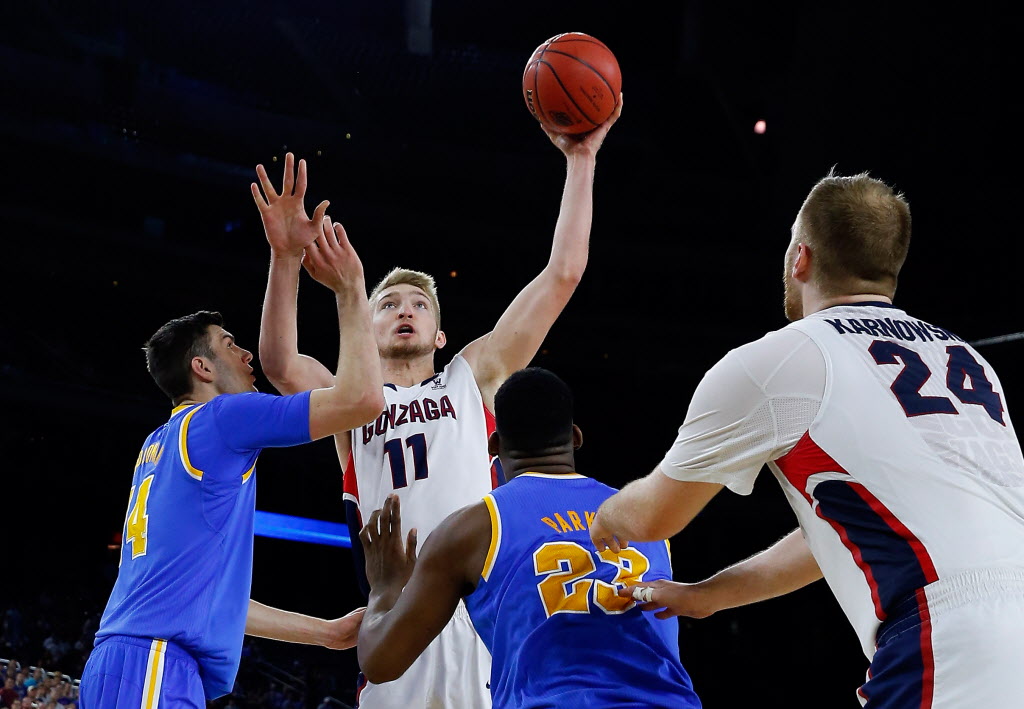 HOUSTON — Przemek Karnowski had 18 points and nine rebounds and second-seeded Gonzaga used a big run early in the second half to pull away for a 74-62 victory over No. 11 UCLA on Friday night in the South Regional semifinals of the NCAA Tournament.
The victory puts Gonzaga (35-2) in the Elite Eight for the second time, its first regional final since 1999. The Bulldogs will play the winner of the Utah-Duke game on Sunday.
UCLA (22-14) opened the second half with a 6-0 run to get within 35-34. Gonzaga scored the next 12 points, thanks to the powerful inside game of the 7-foot-1, 288-pound Karnowski to make it 47-34.
The Bruins, who lost in the Sweet 16 for the second straight year, were done in by a tough shooting night that included long stretches without scoring. They were led by Norman Powell's 16 points.
It was Gonzaga's second win over UCLA this season after beating the Bruins in December. Gonzaga's only loss to UCLA in the four-game history of the series came in a 73-71 defeat in the regional semifinal in 2006.
EAST REGION
LOUISVILLE 75, NORTH CAROLINA ST. 65
SYRACUSE, N.Y. — Montrezl Harrell scored 24 points and reserve Anton Gill keyed a late-game surge for the Cardinals.
Louisville (27-8), the fourth seed in the East and seeking to make its third Final Four in four years, will play either No. 3 seed Oklahoma or seventh-seeded Michigan State in the regional final on Sunday.
After toppling top-seeded Villanova, eighth-seeded North Carolina State (22-14) saw its post-season run end.
Terry Rozier had 17 points and 14 rebounds and freshman guard Quentin Snider added 14 points for the Cardinals.
Louisville coach Rick Pitino has a 12-1 record in Sweet 16 games, 6-1 with the Cardinals.
Trevor Lacey led the Wolfpack with 18 points, while Ralston Turner had 12 and Kyle Washington 11.
Anthony "Cat" Barber, the spark of the Wolfpack's attack, finished with eight points on 3-of-14 shooting.
© Copyright (c) Postmedia Network Inc.
Source:: http://www.canada.com/sports/basketball/March+Madness+Gonzaga+Louisville+earn+spots+Elite+Eight/10926820/story.html