Man who lost legs in Boston bombing locked eyes with accused's brother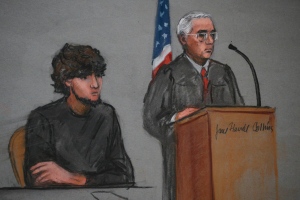 A man from one of the most iconic photos from the Boston Marathon bombing testified Thursday that he locked eyes with Tamerlan Tsarnaev moments before the explosion that killed three people and injured hundreds.
Jeff Bauman said he was near the finish line with a friend to cheer on his then girlfriend when a suspicious-looking man nudged him.
"He didn't look like anyone there. He was alone, wasn't watching the race," Bauman testified on Thursday. "He didn't look like he was having fun like everyone else. I looked at him, he kind of looked at me, stared down at me."
Bauman later described Tamerlan Tsarnaev to the FBI from his hospital bed where he was recovering after losing both his legs. Tsarnaev, 26, died following a gun battle with police days after the bombing. 
Bauman testified at the trial of Tsarnaev's younger brother, Dzhokhar, who could get the death penalty if convicted of charges he helped carry out the 2013 bombings.
A picture of Bauman being taken away on a wheelchair, with his damaged legs and bloodied face, was used extensively in the wake of the bombings. 
Dzokhar Tsarnaev could get the death penalty if convicted of charges he helped carry out the 2013 bombings. (Jane Flavell Collins/Reuters)
The trial opened on Wednesday, with Tsarnaev attorney Judy Clarke bluntly admitting to the jury that her client took part in the attack. But in a bid to save Tsarnaev's life, she argued that he was influenced by his older brother.​
'Just thought it was weird'
Bauman said he noticed an unattended backpack near the finish line after he'd locked eyes with the suspicious man. 
"I just thought it was weird," he said. "Like when you're at the airport, that kind of went through my head, when you see any unattended luggage you notify authorities."
However, he said he wasn't concerned.
"You're in Boston, stuff like this just doesn't happen." 
Moments later he saw a flash, heard three pops and was suddenly on the ground. 
"I lifted my head and saw the chaos around me, the smoke, all the stuff going on," he said. "People were screaming, my ears were ringing."
He looked at his friend's leg and saw bone. 
"I looked down and saw my legs. It was just pure carnage," he said. "I could see my bones sticking out."
Man in a cowboy hat
Bauman said he initially thought he was going to die but then something "clicked" and he regained his emotional focus. He sat up as people rushed towards him with shoes laces and belts for tourniquets. 
He saw a man with a cowboy hat offering encouragement. 
"He was keeping me calm," he said. "I had hope at that point. I'm like OK now."
Before testimony began Thursday, Tsarnaev's lawyers complained to the judge that the survivors' testimony from the previous day was too gruesome and should be limited. Defence attorney David Bruck said under the federal death penalty law, victim-impact testimony is supposed to be presented during the second phase of the trial.
However, U.S. District Judge George O'Toole Jr. rejected the request. 
CBC NEWS IS THERE: Follow @paulhuntercbc and @JF_IN_DC on Twitter for updates.
Source:: http://www.cbc.ca/news/world/dzhokhar-tsarnaev-trial-jeff-bauman-testifies-at-boston-bombing-trial-1.2982903?cmp=rss