Makeup-Free Kim Kardashian Pulls a Miley Cyrus as She Sticks Her Tongue Out in Revealing Selfie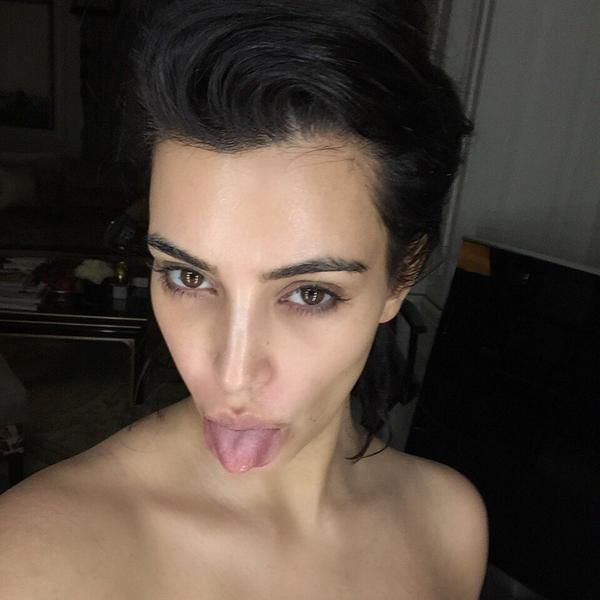 Twitter
Someone is not feeling the selfie game!
While some may proclaim Kim Kardashian as the true selfie queen, the Keeping Up With the Kardashians star appeared to be so not into taking pictures Friday night after a long day of traveling.
"UGH just got off a plane, so tired," she tweeted while wearing little to no makeup on her face. "Have a shoot tonight, need a tan, not in the mood!"
Serious Kardashian problems, dolls!
And if you needed more proof that she was a bit on the tired side, North West's mom stuck her tongue out—á la Miley Cyrus—for the camera. Maybe it's not a "Party in the U.S.A." tonight.
PHOTOS: Kim Kardashian's latest Instagram pics!
Twitter
After Kim presumably enjoyed at least a nap, the 34-year-old was back on social media Saturday afternoon. This time, however, she opted to post a few throwback pictures of her main man Kanye West.
"Old school Kimye," Kim wrote on Twitter while smiling with the famous rapper way before they ever got married. "Ummm what is he showing me lol," she added in another photo that only caught Kanye's backside.
One thing he wasn't showing back then was his tattoos in honor of his late mother and daughter.
PHOTOS: See Kim Kardashian's chic mommy style
Twitter
Just last week, the "Stronger" crooner got not one but two new tattoos to solidify his love for the most important people in his life.
"I talked him out of getting a face tattoo…for now," she tweeted with her man's new ink job. "He got it on his wrists instead. His mother's birthdate and North's birthday in Roman numerals."
Keeping Up With the Kardashians Season 10 premieres March 15 at 9 p.m. only on E!
PHOTOS: Keeping up with Kimye on social media 
RELATED VIDEOS:
Source:: http://ca.eonline.com/news/630762/makeup-free-kim-kardashian-pulls-a-miley-cyrus-as-she-sticks-her-tongue-out-in-revealing-selfie?cmpid=rss-000000-rssfeed-365-topstories&utm_source=eonline&utm_medium=rssfeeds&utm_campaign=rss_topstories