Liverpool misfires, draws with Blackburn in FA Cup quarters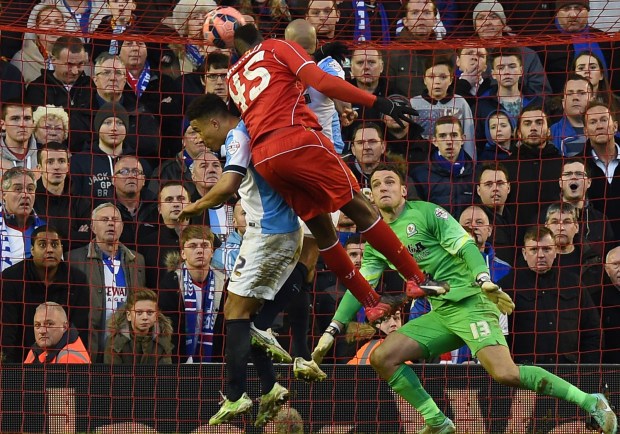 Liverpool striker Mario Balotelli aims for the goal but misses against Blackburn Rovers in Liverpool, England, on Sunda
Photograph by: PAUL ELLIS , AFP/Getty Images
LIVERPOOL, England — Liverpool was held 0-0 by second-tier Blackburn in the FA Cup quarter-finals as the Premier League's in-form team lost its attacking sparkle at Anfield on Sunday.
Blackburn came close to causing a huge shock, dominating parts of the first half after an eight-minute delay early in the game following an injury to Liverpool defender Martin Skrtel in an aerial challenge. Skrtel was wearing a neck brace as he was carried off on a stretcher but Liverpool manager Brendan Rodgers said the Slovakian centre back was "fine."
Liverpool pressed in the closing stages, with Jordan Henderson going close, but didn't play the free-flowing soccer that has helped the team remain unbeaten in the league since mid-December.
Bradford-Reading also went to a replay Saturday. Aston Villa beat West Bromwich Albion 2-0 and is the only team through to the semifinals, which will both be played at Wembley Stadium.
The final is also played there on May 30 — the 35th birthday of Liverpool captain Steven Gerrard, who is leaving the club this summer after a 26-year association to move to MLS side Los Angeles Galaxy.
Liverpool can still give Gerrard the perfect sendoff, but without its injured captain again on Sunday, the team lacked fluency against committed and well organized opponents.
"We kept a clean sheet and still have big confidence. We just lacked that final ball," said Rodgers, whose side had won its previous five home games.
Manchester United hosts Arsenal on Monday in the other quarter-final match.
Meanwhile, Lionel Messi broke Cristiano Ronaldo's record for hat tricks in the Spanish league with his 24th treble — and 32nd in all competitions — in Barcelona's 6-1 thrashing of Rayo Vallecano on Sunday.
The second-half hat trick made sure Barcelona capitalized on Madrid's latest slip — a 1-0 loss to Athletic Bilbao on Saturday — to move one point ahead at the top of the table.
Source:: http://www.canada.com/sports/Liverpool+misfires+draws+with+Blackburn+quarters/10872510/story.html