Kei Nishikori downs Milos Raonic, forces fifth match in Davis Cup tie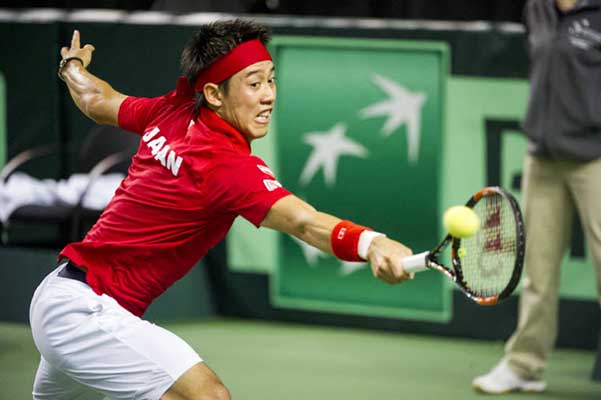 Team Japan's Kei Nishikori plays Team Canada's Milos Raonic during first-round Davis Cup action at the Doug Mitchell Thunderbird Sports Centre at UBC on Sunday March 8, 2015. Nishikori won the match.
Photograph by: Ric Ernst , PNG
VANCOUVER — Kei Nishikori defeated Milos Raonic in five sets on Sunday as Japan forced a fifth and deciding match against Canada in Davis Cup action.
Nishikori, ranked No. 4 in the world, won 3-6, 6-3, 6-4, 2-6, 6-4 in three hours four minutes.
The best-of-five World Group first-round tie will be decided later in the day when Canada's Vasek Pospisil takes on Japan's Go Soeda with a spot in the quarter-finals on the line.
The turning point came with the fifth set tied 4-4 when Raonic double faulted to hand the point to Nishikori.
Nishikori then clinched the match when Raonic, who is ranked sixth in the world, couldn't stretch far enough on a return.
Canada began the day up 2-1 in the best-of-five tie after Raonic and Nishikori easily won in singles on Friday before Pospisil and Toronto's Daniel Nestor took Saturday's doubles match in five sets.
Source:: http://www.canada.com/sports/tennis/Nishikori+downs+Milos+Raonic+forces+fifth+match+Davis/10872437/story.html