Is it Harder Keeping Mad Men Secrets or Last Man on Earth Secrets? January Jones Spills the Answer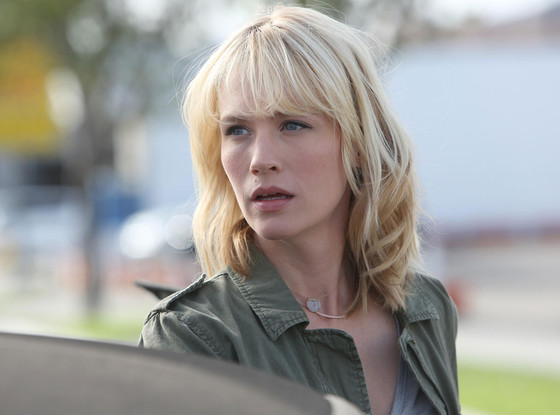 FOX
"I like doing TV shows were I can't talk about the TV show. That's my jam!"
This is what January Jones says with a laugh while discussing her latest career choice—starring in Fox's brilliant and very funny The Last Man on Earth—right on the heels of filming her final season of AMC's Mad Men.
Mad Men creator Matt Weiner has a long history of shutting down even the slightest whiff of a hint of a spoiler, from the very beginning in the show's first season…And January has now landed on what is perhaps the most secretive (only secretive?) comedy of all time, which also put the kibosh on spoilers from day one: The Last Man on Earth.
VIDEO: We could watch Will Forte staring at January Jones all day
Though January's casting as a series regular was announced a few months ago, she hasn't been able to say anything about what she's doing on the show until now. "They wanted us to keep my character a secret," she tells me, "just because the whole premise of the show it's called The Last Man on Earth. They didn't want anyone to know how my character played in."
Turns out, Will Forte is not the last person on Earth, and he meets January's character Melissa just one week after marrying the world's most obnoxiously awful woman Carol (Kristen Schaal) out of desperation and an attempt to repopulate the species. All three characters believed they were the only person left on the planet…And now they are slow, and hilariously, trying to figure out their new dynamic.
Still, Mad Men (returning April 7 for its final season) was above and beyond in the secrets department, January admits, adding that even the show's weekly previews "have become such a joke—you can't tell anything about what's going to happen from the tiny little snippets!"
READ: We so want to go to this showrunner dream dinner party
"And with Mad Men, we are never able to talk about anything," she explains. "For Matt Weiner, it was a huge deal for everything to remain really secret, and keep the audience wanting more by not knowing what's going to happen. And I mean, it works. In this day and age with so much information available to people, I think that it's really important to keep certain plot points secret. Otherwise why are they going to watch? It's something that most shows are doing now, or should be doing."
Weiner was really the first super-secretive showrunner of a drama series. And now Will Forte, Phil Lord and Chris Miller (of The Lego Movie legacy), are carrying the torch into the comedy arena. And for good reason: The show is incredibly original and full of legit surprises they don't want to have ruined.
READ: The saddest TV news all month...
And did we mention it was funny? So funny in fact, that January had to "check out" to get through scenes sometimes.
"I have to go somewhere in my head," she admits. "'Cause Kristen and Will both do a lot of improv, and you don't know what they're going to say. You want to be present in the moment, too. But as the same time, we don't have a ton of time to do these scenes, and I break more than anyone. Kristen and Will really go for it and try to get each other, but in the meantime I'm the carnage on the side of the road, I burst in to tears crying laughing at least once a day. But that's not a bad thing to go to work and do. So I have so much fun. We just wrapped last week we I just had the best time of my life."
Watch Last Man on Earth Sundays on Fox, and catch up on the first three amazing episodes any time on Hulu and Fox on Demand.
CLICK: 23 shows you need to binge-watch right now
RELATED VIDEOS:
Source:: http://ca.eonline.com/news/636250/is-it-harder-keeping-mad-men-secrets-or-last-man-on-earth-secrets-january-jones-spills-the-answer?cmpid=rss-000000-rssfeed-365-topstories&utm_source=eonline&utm_medium=rssfeeds&utm_campaign=rss_topstories