Focus turns to Germanwings pilots as official confirms locked door report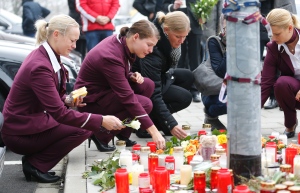 An official with knowledge of the audio recordings from the Germanwings flight that crashed in the Alps says one of the pilots apparently was locked out of the cockpit when the plane went down.
The official, who was not authorized to speak publicly about the investigation, told The Associated Press on Thursday that the details emerged from recordings recovered from the black box found among the debris of the aircraft.
The New York Times earlier quoted an unidentified investigator as saying someone can be heard knocking on the cockpit door. The Times quoted the source as saying: "And then he hits the door stronger and no answer. There is never an answer."
The Airbus A320, on a flight from Barcelona to Duesseldorf, inexplicably began to descend from cruising altitude and slammed into a remote mountainside in the French Alps on Tuesday, killing all 150 people on board.
Since the Sept. 11 terrorist attacks, airlines in the U.S. don't leave one pilot alone in the cockpit. The standard operating procedure is that if one of the pilots leaves — for example to use the toilet — a flight attendant takes their spot in the cockpit. It was not immediately clear if European airlines have adopted the same practice.
Germanwings employees cry as they place flowers and lit candles outside the company headquarters in Cologne Bonn airport on Wednesday, one day after the airline crashed in a remote snowy area of the French Alps, killing 150 people. (Wolfgang Rattay/Reuters)
Lufthansa chief executive Carsten Spohr described the pilots as "experienced and trained" in a press conference in Barcelona Wednesday night.
Lufthansa has refused to identify the pilots, or give details of ages and nationality, but it said the co-pilot joined Greenwings in September 2013, directly after training, and had flown 630 hours.
The captain had more than 6,000 hours of flying time and been Germanwings pilot since May 2014, having previously flown for Lufthansa and Condor, Lufthansa said.
Source:: http://www.cbc.ca/news/world/germanwings-flight-4u9525-focus-on-pilots-as-official-confirms-locked-door-1.3010045?cmp=rss