Fifty Shades of Grey Producer Has No Sympathy for Jamie Dornan and Dakota Johnson Wanting Major Raises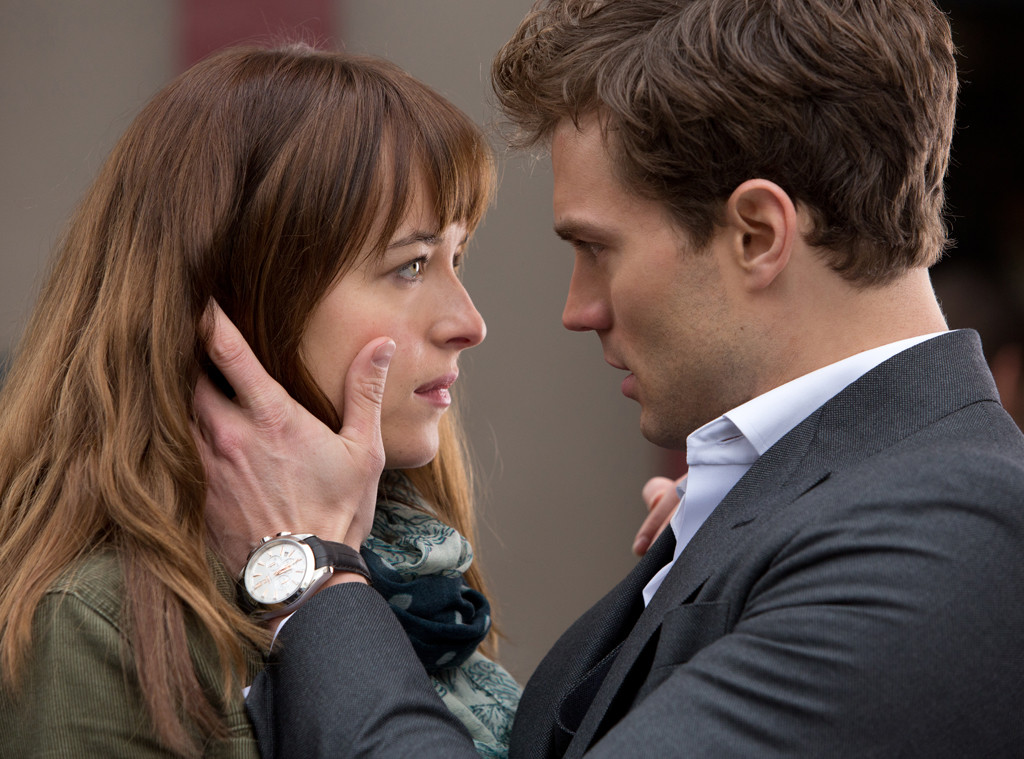 Universal Pictures and Focus Features
Do Jamie Dornan and Dakota Johnson deserve seven-figure raises for Fifty Shades Darker?
Dana Brunetti, who produced the movie with Michael De Luca and novelist E. L. James, isn't so sure. "Look, when I was starting out and had to cut my teeth and build my résumé to get in, I had to basically work for free on a lot of things. I still take reductions in my fees for the opportunities to do certain things. We got slack on Captain Phillips about how much Barkhad [Abdi] and those guys got paid. Look at Jonah Hill in Wolf of Wall Street. It was great for his career," he explains. "So I'm not going to cry for anybody who wants to be in this business just because a thing they were involved in did very well and they didn't get paid [a lot]. That's not the deal that you made. If it was, I'd have more than a couple Ferraris because all the money my films have made is f–ing insane. You've got to start somewhere."
The Hollywood Reporter recently claimed the co-stars are angling for a substantial pay increase.
"It was a very basic franchise starter deal," an insider said of Johnson and Dornan's contracts. "Look at Twilight and Hunger Games, and that's where it is heading."
Since its debut, Fifty Shades of Grey has made $547.4 million against a budget of $40 million. It is the third highest-grossing film directed by a woman and the fifth highest-grossing R-rated film of all time.
VIDEO: Jamie Dornan describes Fifty Shades of Grey's "Red Room of Pain"
Chuck Zlotnick/Universal Pictures
In spite of the first film's global success, Brunetti tells The Hollywood Reporter he isn't holding out "hope" that the budget for the proposed sequel will increase. "As a producer, I love the fact that we made it for as little as we did and it's grossed as much as it has. I've been proud of that on all my films."
"Will the budget go up? Maybe if there's renegotiations on deals and fees," the two-time Oscar nominee says. "But as far as the actual production is concerned, I don't think so. We run pretty lean and mean."
It's no secret that James and director Sam Taylor-Johnson clashed on set. How does Brunetti feel about their working relationship? "People are always going to disagree, but ultimately if you don't agree, then the movie doesn't get completed and released or it ends up being absolutely horrible because somebody says, 'It's my way or the highway.' And that never works. There's been so many other movies where there were battles on set that were real battles, where people were walking off set or trying to stop production or hijacking editing rooms. This got blown out of proportion because anything with Fifty Shades in the headline got attention. Big whoop. There's disagreements every f–ing day, every setup, every shot. The press just ran with this and blew it into a much bigger issue than it ever was," he argues.
PHOTOS: Behind the scenes of Fifty Shades of Grey
Universal Pictures and Focus Features
Brunetti has "no idea" if Taylor-Johnson will return for Fifty Shades darker.
"We literally have no idea what we're going to do. I have not even met with the studio or anybody yet about the second film," he tells the magazine. "We always said, 'Let's get this first one out and released and then we'll regroup and figure out what we're going to do on the next'" That hasn't happened yet."
Though Universal Pictures has not officially announced a sequel, Brunetti reveals that he has "sent some emails back and forth" with James so in order to "figure out when everyone can get together and meet."
(E! and Universal Pictures are both members of the NBCUniversal family.)
PHOTOS: Jamie Dornan's sexiest moments
RELATED VIDEOS:
Source:: http://ca.eonline.com/news/637885/fifty-shades-of-grey-producer-has-no-sympathy-for-jamie-dornan-and-dakota-johnson-wanting-major-raises?cmpid=rss-000000-rssfeed-365-topstories&utm_source=eonline&utm_medium=rssfeeds&utm_campaign=rss_topstories