Facebook, New York Times deal could change news business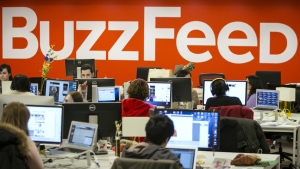 The Old Grey Lady of newspapers is reportedly partnering with a brash newcomer in the publishing game — Facebook.
In a scoop about itself this week, the New York Times reported the paper will give up some of its precious website traffic to the social-media giant, a move that some media observers call a power shift in the digital publishing landscape.
Under the proposed deal, Facebook would host content from prominent news outlets such as the Times, National Geographic and BuzzFeed directly inside the Facebook app. 
BuzzFeed was among the major media outlets to have been approached by Facebook about a content distribution deal. BuzzFeed's business model has focused on actively getting its content distributed outside its own website. (Brendan McDermid/Reuters)
The news outlets would get a cut of the ad revenue for their content. The social-media service, in turn, would get to keep its 1.4 billion users' eyeballs from straying to third-party media sites whenever an interesting headline appears. 
The business model presents a quandary, though, for publishers who want loyal customers but also realize that the media diets of today's young adults are becoming more "promiscuous," said Alfred Hermida, a digital media instructor at the University of British Columbia's school of journalism. 
"Facebook wants to find a way to become essentially the de facto internet for people. Facebook wants to be your world," he said. 
"The problem is, as a publisher, you're essentially renting out office space in their building. And then you're at the mercy of Facebook and how it organizes information on the site."
News will find me
Hermida says consumers now expect content to come to them, or that they'll stumble across some must-read article.
Their thinking becomes: "If it's important, it will appear in my Facebook feed," he says. 
That said, this new Facebook publishing model might be hard for other traditional outlets to turn down, assuming there is room at the inn.
At least half a dozen companies have been approached by Facebook about the content distribution scheme, the Times reported.
Many more outlets could be asked to join following testing of the project in the next few months.
'There's really no upside for traditional news media to publish directly to Facebook if Facebook isn't going to share the data it collects about its users.'- Josh Greenberg, director of Carleton University's School of Journalism and Communication
As with the Times, those organizations "need [Facebook], and their readers, in order to stay in business," says Richard Smith, director of Vancouver's Centre for Digital Media.
"All kinds of companies are too reliant on Facebook. I suspect they know this, but they have no choice" but to get on board, Smith said.
Holdouts might otherwise risk being "punished by the algorithm" that might put a lower priority on posts linking out to their sites, said Josh Greenberg, director of Carleton University's School of Journalism and Communication.
For late adopters, watching readership shrink while rivals enjoy the Facebook bump might be painful.
Currently, news posted to Facebook would include a link that would redirect users to third-party news websites. That may change under a new content distribution deal reportedly in the works. (Dado Ruvic/Reuters) (Dado Ruvic/Reuters)
This wouldn't so much be a problem for BuzzFeed, which is primarily interested in audience reach and openly wants to drive its content outward, then sell that ability to spread viral stories to advertisers.
But whether it will be a net gain for conventional journalism — apart from the revenue sharing — isn't so clear. 
Data-sharing is another crucial element, Greenberg said.
"There's really no upside for traditional news media to publish directly to Facebook if Facebook isn't going to share the data it collects about its users," he said. 
As for how likely Facebook is to do that? 
"I expect not very likely, given that its algorithm and the data that algorithm generates is its most prized possession," Greenberg said.
Mouse clicks
Big data expert Anatoliy Gruzd says sophisticated news sites can track mouse movements, how long a reader lingers on a page, which stories a user prefers to read, and even which written passages they copy and paste. 
"Data helps a website like the New York Times improve its online presence," he said. "If you're going to lose that data, you have to ask, would they have to buy it back from Facebook?"
The New York Times is reportedly holding advanced talks with Facebook to allow its content to be hosted natively in the Facebook platform, and would receive a cut of ad revenue. (Carlo Allegri/Reuters) (Carlo Allegri/Reuters)
Gruzd, director of the social media lab at Ryerson University's Ted Rogers School of Management, also worries that legitimate news outlets will end up relinquishing some editorial control to Facebook's algorithm.
"What's popular in social media tends to be big, national news, happy, engaging stories, whimsical stories," he said. "If the focus is only on creating what's popular for social media, that kills diversity of news." 
As a so-called legacy media outlet, the New York Times will survive, even if its brand and relationship with readers might be somewhat compromised by Facebook as an intermediary, said Reuben Stern, a journalism professor at the University of Missouri. 
'A natural progression'
But smaller new organizations might have a harder go.
"For a local news organization," he says, "you've got a smaller pool of advertisers, a smaller pool of readers interested in that content. How are they going to exist in a landscape where Facebook determines what readers are going to read?"
Stern points out that, in January, the popular photo messaging app Snapchat introduced its Discover section, and has been hosting editorial content curated by brands such as CNN, ESPN, Vice and Yahoo news.
"It's a natural progression for these platforms to have as much content embedded within them to keep users using as much of the platform as possible," he said.
As the digital landscape evolves, Stern said, content is increasingly being controlled by players who aren't necessarily content creators.
"The digital landscape has always been an environment of 'Try it, and see what happens,'" he said. "This is just another example of that."
Source:: http://www.cbc.ca/news/technology/facebook-new-york-times-deal-could-change-news-business-1.3011073?cmp=rss