Domestic trafficking an issue for aboriginal women and girls, says Canadian author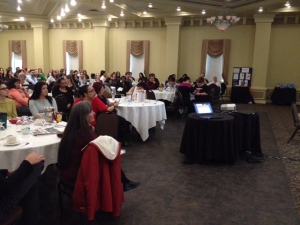 An expert on domestic sex trafficking of aboriginal girls in Canada says a national-level strategy is needed on the issue.
Anupriya Sethi delivered the morning keynote at a one-day public forum organized by the Winnipeg Sexually Exploited Youth Community Coalition on Thursday.
Sethi wrote the first published study on the topic of domestic sex trafficking of aboriginal girls in Canada, documenting what makes indigenous women and girls more vulnerable to being trafficked.
"There is a lot of ignorance and misunderstanding," she said. "It's poverty, it's cyclical, it's happening in the aboriginal community."
About 250 people are registered in Thursday's forum, which is being held at the Best Western Plus Winnipeg Airport Hotel. (Brett Purdy/CBC)
It marks the sixth year for the forum, called All Children Matter: Protecting Sacred Lives. The event is being held as part of Stop Child Sexual Exploitation Awareness Week in Manitoba.
Sethi said in addition to a national strategy, an alliance between aboriginal and non-aboriginal people is needed to combat human trafficking.
"I get the sense that society doesn't care about missing and murdered indigenous women," she said.
Sethi believes racism and a "not in my backyard" mentality are keeping this issue under the radar, but domestic trafficking is a real problem.
Victims often offered a place to stay
She said victims are being recruited at airports after coming from small, remote communities. They are vulnerable and are offered a place to stay, and that's when they are forced into the sex trade, Sethi said.
Sethi said recruitment spots include schools and bars, and it's often boyfriends who are traffickers. Other girls are involved in recruiting, she added.
Sethi identified a trafficking route between Saskatoon, Regina and Winnipeg.
"One girl said she would go to sleep in Winnipeg and wake up in Regina," Sethi said.
The afternoon keynote will be given by Glendene Grant, the founder of Mothers Against Trafficking Humans (MATH). Her daughter, Jessie Foster, was trafficked and has been missing since 2006.
Approximately 250 people have registered in Thursday's forum, including elders, youth workers, social services workers and those with lived experiences.
The forum aims to raise awareness of the issue of sex trafficking and come up with strategy. It was funded by Tracia's Trust: Manitoba's Sexual Exploitation Strategy.
Source:: http://www.cbc.ca/news/canada/manitoba/domestic-trafficking-an-issue-for-aboriginal-women-and-girls-says-canadian-author-1.2992043?cmp=rss