Blue Jays' Dalton Pompey, younger brother Tristan on similar paths to big leagues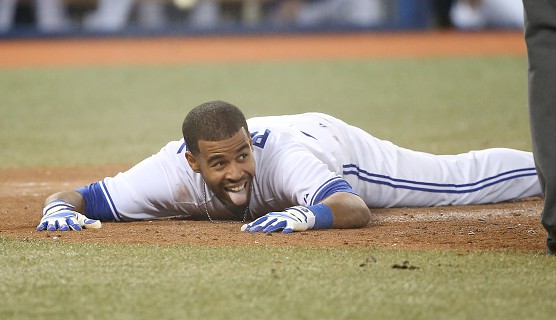 Tristan Pompey doesn't mind when people refer to him as "Dalton's little brother." The way he sees it, that epithet might be temporary anyway.
"My end goal is to have people call Dalton 'Tristan's older brother,"' the younger Pompey said with a laugh.
While Dalton Pompey tries to capture the Blue Jays starting centre-fielder job at spring training in Dunedin, Fla., Tristan will be forging his own path as an outfielder with the junior national team, which trains just down the road in St. Petersburg. The Mississauga, Ont., siblings may even get to play each other this Sunday when Toronto hosts the young Canadians at Florida Auto Exchange Stadium.
With a five-year age difference between them, Dalton, 23, and Tristan, who'll turn 18 this month, have never even played a scrimmage on the same field before.
But that doesn't mean they haven't thought about it.
"You know how you'll see outfielders meet up in centre before a game? I've always pictured me and Dalton doing that on a big-league field," Tristan said. "It won't be exactly like that since I'm not in the majors, but it's the next best thing because I'm on my way there and he's already there.
"Dalton's excited, too. We've talked about it for the past few months. He says he's going to play in on me, force me to hit it over his head."
Tristan watched his older brother rise through the ranks of the minor leagues last season, starting in high-A and ending in Toronto as a September call-up.
He travelled to Minnesota's Target Field with his parents, Ken and Val, to see Dalton play in the Futures Game in July, and two months later, watched from the Rogers Centre stands as Dalton's dreams became reality.
"I was so happy to see him make it to the big leagues," Tristan said. "It was amazing."
It also helped improve Tristan as a player.
The brothers spoke regularly during Dalton's meteoric rise, with the older Pompey giving the younger tips he could implement into his own swing and mechanics.
Greg Hamilton, Baseball Canada's director of national teams and head coach of the junior squad, says Dalton's success has impacted Tristan beyond that.
"When your brother has walked the same path as you, overcome the same developmental challenges and hurdles and made it to the big leagues, you have the chance to not only discuss it with him but to know his journey first-hand and be able to relate to it," Hamilton said.
"It gives you some perspective and allows you to not only dream but have a sense that it's doable, it's within your reach, your grasp, your potential. That's immensely important in building your confidence."
Hamilton, who also coached Dalton during his stint with the junior team, sees similarities in the brothers' playing styles.
They're both physically imposing — Dalton was six-foot-one, 170 pounds five years ago while Tristan is six-foot-four and 195 pounds — and they're both what Hamilton called "relative late bloomers," not putting their skills together until their senior year of high school, which Tristan is in now.
Dalton was drafted in the 16th round in 2010. Tristan, who's ranked sixth among Canadians heading into this June's selection process, could go higher.
After sharing his brother's draft experience five years ago — the two were playing video games together when Dalton's name was called — Tristan knows what to expect.
"I don't think I'll be as nervous as some other guys," he said. "But I'm trying not to think about it too much yet. There's still March, April and May to worry about before we get to June."
For now, Tristan's sights are set on the junior team's 11-day spring training camp, specifically Sunday's potential sibling showdown.
Hamilton says having Dalton and Tristan on the same field would be a "special moment," not just for the two players but for their parents, who will be at the game. Tristan agrees, adding that his mom plans to switch allegiances every inning.
As for the game itself, Tristan isn't worried about being shown up by his brother.
"He might be a major-leaguer but if we were the same age, I would blow him out of the water," he said, laughing. "I'm bigger than he was at this age … I'm a lot faster than he was, and I've always been a better hitter.
"So yeah, safe to say I'm the better ballplayer."
Source:: http://www.canada.com/sports/baseball/Blue+Jays+Dalton+Pompey+younger+brother+Tristan+similar+paths/10883248/story.html