Billy Zane Thinks All the Zayn Malik Tweets Are About Him—Watch the Hilarious Video Now!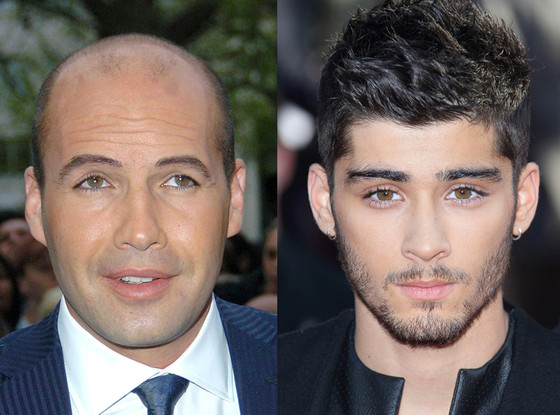 The Internet exploded after Zayn Malik announced his departure from One Direction, but no one was more caught of guard than Billy Zane.
In a hilarious Funny or Die video, Zane recorded a message for his "curiously heartbroken" fans, in which he reassures them that he is OK, even though he had no clue that his 'shippers were "hysterical 14-year-old girls."
But when the tweets from his followers seem to have a common misspelling, he tries to make them aware of their faux pas. "I don't want to be nitpicky," he says. "It's Z-A-N-E not Z-A-Y-N."
But when the tweets becoming overwhelmingly emotional with messages such as "I can't stop crying" and "#AlwaysInOurHeartsZayn," the Titanic actor starts to respond with quote from other famous musicians so as to console his worriers.
"As Sara Bareilles says, 'Say what you want to say/Let the words fall out/Honestly I want to see you be brave,'" he recites.
NEWS: Zayn Malik reveals why he left One Direction
Getty Images
But even though he is insistent on responding to many of the concerned messages, he can't seem to overlook one tiny mistake that keeps popping up…the spelling!
"Bad spelling again," he says after reading "Zayn" one more time. "Your generation has a lot of great qualities, but attention to detail, not one of them."
LOL!
But he does end on an uplifting note, telling his "adoring and mysteriously heartbroken fans" that they should walk away knowing this:
"You light up my world like nobody else/you don't know you're beautiful and that is what makes you beautiful," he says…hmmm. That sounds familiar! Could it be the exact lyrics from 1D's "What Makes You Beautiful"?
Apparently not! Zane clarifies, "That right there is an original Billy Zane quote. You can hasthag that. Thanks."
But before officially signing off from his personal video, he reminds viewers, "You guys are ama-ZANE-ing."
PHOTOS: Twitter reacts to Zayn Malik leaving One Direction
RELATED VIDEOS:
Source:: http://ca.eonline.com/news/640240/billy-zane-thinks-all-the-zayn-malik-tweets-are-about-him-watch-the-hilarious-video-now?cmpid=rss-000000-rssfeed-365-topstories&utm_source=eonline&utm_medium=rssfeeds&utm_campaign=rss_topstories