Best Summer Camp Ever! Rumer Willis & Val Chmerkovskiy Reveal Secret Talents, Dish DWTS Love Affairs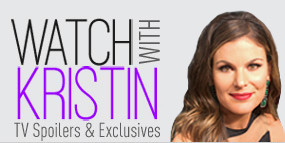 Lots of food and love affairs? How do we sign up for Dancing with the Stars?!
With the news that Shark Tank star Robert Herjavec and his Dancing partner Kym Johnson are officially dating, we started to wonder what exactly it is about Dancing with the Stars that creates so many real-life couples, so we sat down with current DWTS frontrunners Rumer Willis and her partner Val Chmerkovskiy to ask them just that.
"It's like being at summer camp," Rumer told us. "You're at summer camp and there's this group of people that you're with all the time and you have no life outside of there, so you're like, 'Oh, hey. Yeah, this is a great idea.'"
Val agreed.
MORE: Why Rumer wanted to surprise her famous parents on DWTS
"Your world shrinks to just the show and the people involved in the show," he said. "Obviously your relationship with your partner and the camaraderie that you've built is closer than anybody on that show."
Apparently, a love affair is possible, "if you do it the right way," and it definitely sounds like Val might be speaking from experience.
Val and Rumer may have been the last to perform on Monday's DWTS premiere, but they blew everybody out of the water and received the highest score from the judges with their nearly perfect foxtrot. It was deemed the "dance of the night" by head judge Len Goodman. There were also immediate rumors that they were already dating, because their chemistry was just that good.
NEWS: Robert Herjavec and his DWTS partner Kym Johnson are dating!
You'll also want to watch the interview to hear about a few of the other perks of competing on Dancing with the Stars, including a diet we can totally get behind.
 "You gotta eat so much more because you're working so hard," Rumer told us before teasing a bit of her dance for next week. "It's going to be really fierce, like a Beyoncé diva moment."
Basically, we're jealous of everything happening here, and we're currently researching ways to become just famous enough to compete next season.
So if you haven't already, check out the full interview to hear Val's surprising and impressive list of hobbies and to see what Rumer had to say about a couple of special guests she had in the audience last Monday night. Plus, Val's got a few things to say about his partner's dancing skills, and you won't want to miss that. 
Then tune in Monday at 8 p.m. on ABC for another episode of Dancing with the Stars!
READ: Did you know these DWTS hookups happened off the show?
RELATED VIDEOS:
Source:: http://ca.eonline.com/news/637415/best-summer-camp-ever-rumer-willis-val-chmerkovskiy-reveal-secret-talents-dish-dwts-love-affairs?cmpid=rss-000000-rssfeed-365-topstories&utm_source=eonline&utm_medium=rssfeeds&utm_campaign=rss_topstories