20-year-old faces charges in shooting of Ferguson police officers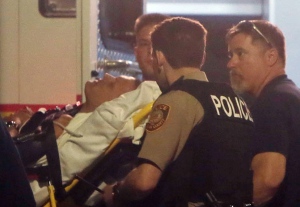 A twenty-year-old man has been arrested and faces six charges in connection with the shooting of two officers outside the Ferguson Police Department last week, St. Louis County Police Sgt. Brian Schellman said.
Jeffrey Williams is being held on $300,000 US bond, and faces two counts of first-degree assault, firing a weapon from a vehicle and three counts of armed criminal action.
The officers were shot early Thursday as a crowd began to break up after a late-night demonstration that unfolded after Ferguson police chief Tom Jackson resigned in the wake of a scathing federal Justice Department report. The report found widespread racial bias in the city's policing and in a municipal court system driven by profit extracted from mostly black and low-income residents.
A 41-year-old St. Louis County officer was shot in the right shoulder, the bullet exiting through his back. A 32-year-old officer from Webster Groves was wearing a riot helmet with the face shield up. He was shot in the right cheek, just below the eye, and the bullet lodged behind his ear.
The officers were quickly released from the hospital Thursday. But Belmar said that same day they could have easily been killed and called the attack "an ambush."
Paramedics load one of two police officers who were shot while standing guard in front of the Ferguson Police Station during a protest on Thursday in Ferguson, Mo. Police arrested a suspect Sunday in connection with the shooting. (Laurie Skrivan/St. Louis Post-Dispatch/The Associated Press)
​Williams acknowledged his participation in the shooting and firing the shots, said Schellman at a press conference Sunday afternoon.
However, Williams claims he was not firing at the police officers. Instead, Schellman said Williams claimed to have a dispute with some people at the demonstration and was targeting those individuals.
The shots were believed to come from a handgun across the street from the police department. 
Police recovered a .40-calibre handgun from Williams, and Schellman said it matched the shell casings recovered at the scene of the shooting.
The police department has been a national focal point since the fatal Aug. 9 fatal shooting of Michael Brown, who was black and unarmed, by now-former police officer Darren Wilson. Wilson was cleared by the Justice Department's report and by a county grand jury led by McCulloch.
Six Ferguson officials, including Jackson, have resigned or been fired since the federal report was released March 4.
Source:: http://www.cbc.ca/news/world/ferguson-protests-jeffrey-williams-20-arrested-in-connection-with-shooting-of-police-officers-1.2995946?cmp=rss