Julia Louis-Dreyfus Admits "It's Not Fun to Lose"—Plus, Will She Ever Host an Awards Show?!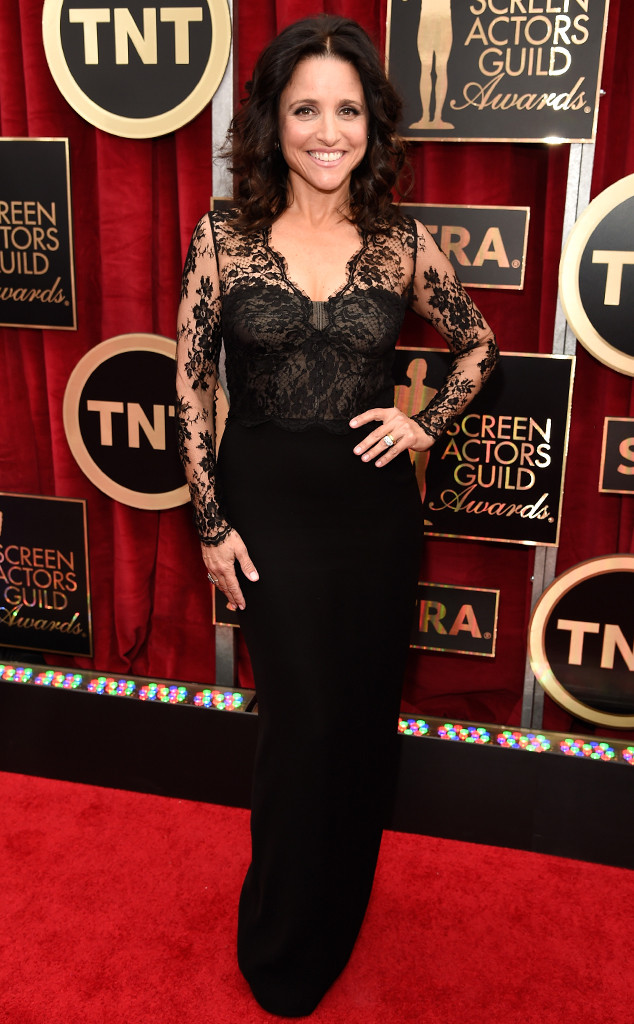 Kevin Mazur/WireImage
Julia Louis-Dreyfus is not going to sugarcoat anything.
The Veep star and SAG Award nominee stopped to chat with Maria Menounos on E! Live From the Red Carpet and the pair took a second to discuss her snapshot with Lena Dunham from the Golden Globes, where the two TV stars posed with sad faces and L's on their forehead.
"Yeah, losers," the actress, who walked away empty-handed that night, said of the photo. But Dreyfus admits that with losing comes a sense of relief, because you don't have to get up on stage and give a speech. However, that doesn't mean the brunette beauty is a fan of defeat.
RELATED: Check out more red carpet quotes from the 2015 SAG Awards
"I feel that a little bit. It is a little bit of a relief to not have to make a speech, but I would be lying if I said it's fun to lose," she tells us ."If anybody says that, they're liars. It's not fun to lose."
Speaking of getting up on stage, the former Seinfeld star's name is always thrown into the mix of possible awards show hosts (hey, the Golden Globes are up for grabs now that Tina Fey and Amy Poehler are done), but would she ever consider taking on the gig?
"Nope," Dreyfus quickly answered. "No, that's not my deal. I have such respect for people who do it, and do it well, but that's not what I do. I'd rather have a role that I could sink my teeth into."
Ugh, fine.
PHOTOS: See the stars arriving at the 2015 SAG Awards
RELATED VIDEOS:
Source:: http://ca.eonline.com/news/618139/julia-louis-dreyfus-admits-it-s-not-fun-to-lose-plus-will-she-ever-host-an-awards-show?cmpid=rss-000000-rssfeed-365-topstories&utm_source=eonline&utm_medium=rssfeeds&utm_campaign=rss_topstories