Amy Adams and Julianne Moore Are All About Girl Power in Their Inspiring Golden Globes Speeches—Watch Now!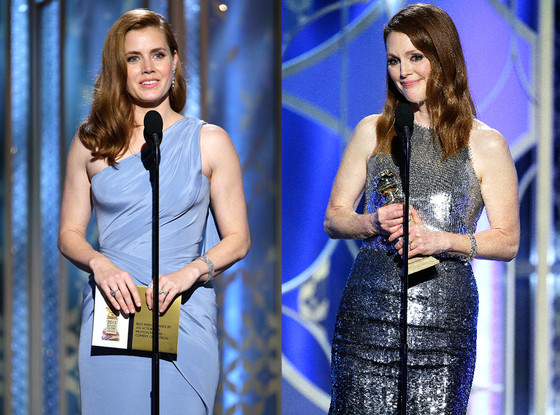 Paul Drinkwater/NBC
Two fiery redheads for the win!
Both Amy Adams and Julianne Moore walked away winners tonight at the 2015 Golden Globe Awards, and each of them touched on female empowerment in the entertainment industry during their acceptance speeches, so obviously, we're all about it (girl power!).
Adams—who walked away with an award for Best Actress in a Motion Picture, Comedy or Musical for her role in Big Eyes—began with, "I have so many wonderful female role models here tonight."
She continued, "It's just so wonderful that women today have such a strong voice and I have a 4-and-a-half-year-old and I'm so grateful to have all the women in this room. You speak to her so loudly. She watches everything, and she sees everything and I'm just so, so grateful for all of you women in this room who have such a lovely, beautiful voice."
MORE: 2015 Golden Globes red carpet quotes!
Meanwhile, Moore—who won Best Actress in a Motion Picture, Drama, for her role in Still Alice—spoke about the difficulties in getting the movie made.
"When Lisa Genova wrote this book, she told me that no one wanted to make it into a movie because no one wanted to see a movie about a middle-aged woman," the Golden Globe winner stated.
"So I wanna thank the people who actually made the movie, James Brown and Lex Lutzus, Sony Classics and my good, good friends at Killer Films and this amazing cast, and our filmmakers, who, in the middle of their own crisis from a degenerate disease, ALS, decided they wanted to make movies."
Fellow winner Maggie Gyllenhaal also touched on female empowerment during her speech.
She said, "What I see, actually, are women who are sometimes powerful and sometimes not, sometimes sexy and sometimes not…what I think is new is the wealth of roles for actual women in television and film. That's what I think is revolutionary and evolutionary, and it's what's turning me on," she said.
PHOTOS: See all the stars arriving at the Golden Globes!
RELATED VIDEOS:
Source:: http://ca.eonline.com/news/613720/amy-adams-and-julianne-moore-are-all-about-girl-power-in-their-inspiring-golden-globes-speeches-watch-now?cmpid=rss-000000-rssfeed-365-topstories&utm_source=eonline&utm_medium=rssfeeds&utm_campaign=rss_topstories