Elton John and David Furnish Are Officially Married—Check out Wedding Details and Pics from Their 2nd Ceremony!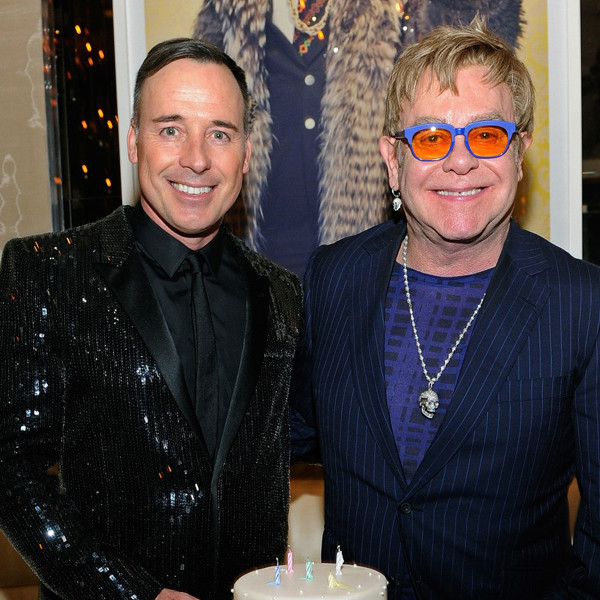 2014 WireImage
So nice, they tied the knot twice!
Elton John and David Furnish have married for the second time in a private ceremony in England.
The 67-year-old Grammy-winning singer-songwriter posted photos on his Instagram page, which was created two days before the wedding, accompanied by a sweet invitation pic asking fans to #ShareTheLove. He and Furnish, 52, exchanged vows in front of friends and family, including their two sons, Zachary, who will turn 4 on Christmas Day, and Elijah, who is 23 months old, on Sunday afternoon.
PHOTOS: Same-sex celeb couples
Earlier this week, John's spokeperson, Gary Farrow, announced the very exciting news. The two chose to exchange vows once more after Britain passed a law allowing for same-sex couples to obtain full legal marriage status.
The law went into effect just last week, allowing for couples to convert their civil partnership status to marriage if they so choose via court paperwork. They signed the documents earlier on Sunday.
John and Furnish opted to hold a ceremony as well in honor of the momentous occasion. Now's as great a time as any to celebrate this very special time in U.K. history as well as their lives!
The two, who have been together for some 20 years, had entered a civil partnership exactly nine years ago, on Dec. 21, 2005, with a small ceremony at the town hall in Windsor, England.
The wedding lunch menu included wild mushroom soup and truffle cream for appetizers, beef short ribs and caramelized onion pie, roasted potatoes, parsnips in horseradish butter for the main course and warm chocolate pudding, vanila ice cream and, of course, wedding cake for desert.
Jamie McCarthy/Getty Images for EJAF
This past March, John and Furnish were among the first couples to celebrate the milestone of gay marriage being legalized in the U.K.
Earlier this year during an appearance on the Today show, the singer explained that he is over the moon about his very special day.
"We will do it very quietly," he shared. "It will be a joyous occasion and we will have our children there. Extraordinary. If you'd looked at my life five years ago and you'd have told me this was going to happen, I'd have said, 'You've put acid in my drink.'"
PHOTOS: Celebs wear support for gay marriage
Dave M. Benett/Getty Images
He continued, "I'm very proud of my country and I'm very proud of Britain and the laws that we've seen come into existence since we've been together. So for this legislation to come through is joyous, and we should celebrate it. We shouldn't just say, 'Oh, well, we have a civil partnership. We're not going to bother to get married.' We will get married."
John and Furnish are the proud parents to two sons, Zachary and Elijah, who undoubtedly played a large role in their fathers' ceremony.
Congratulations!
PHOTOS: Couples in love
RELATED VIDEOS:
Source:: http://ca.eonline.com/news/608466/elton-john-and-david-furnish-are-officially-married-check-out-wedding-details-and-pics-from-their-2nd-ceremony?cmpid=rss-000000-rssfeed-365-topstories&utm_source=eonline&utm_medium=rssfeeds&utm_campaign=rss_topstories