Angelina Jolie Addresses Those Retirement Rumors Again: How Many More Movies Is She Planning to Do?!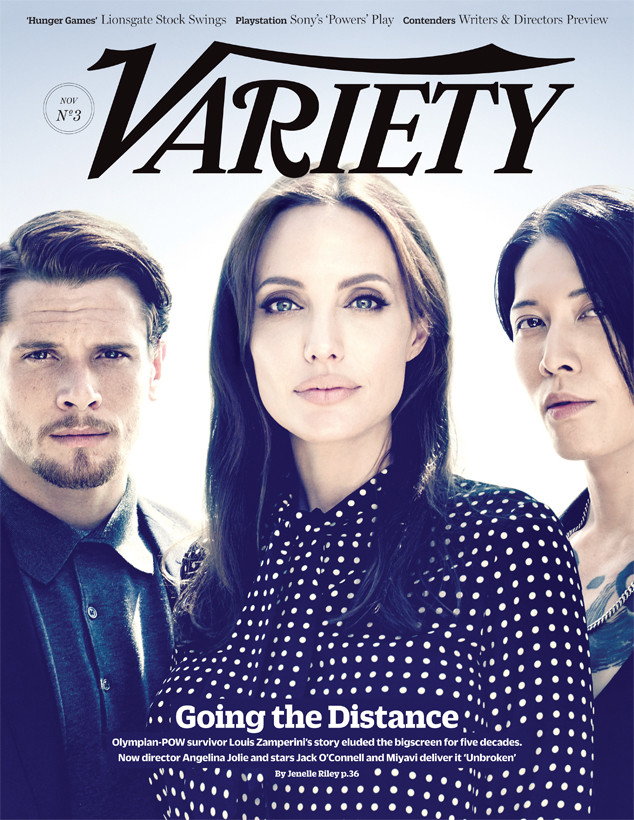 Variety
First of all, if anyone knows how to play coy, it's Angelina Jolie.
So we wouldn't be surprised if the 39-year-old actress just kept on acting forever, despite her comments here and there over the past year that she may pack it in in favor of being a full-time director-humanitarian-mom-wife-superwoman-etc.
"I'll do a few more," Jolie told Variety, in an interview posted yesterday, when asked about reports that she plans to retire from the acting portion of showbiz. " I'm about to direct something with Brad and myself in fact."
Well, By the Sea, starring Jolie and real-life hubby Brad Pitt as a troubled married couple, has already started shooting in Malta, so that's one movie down for the Oscar winner already!
PHOTOS: Angelina Jolie's movie star roles
"I'm happier when I get to put a camera on another actor and watch them do great work," she added.
Her second directorial effort, Unbroken, based on Laura Hillenbrand's book about Olympian turned POW and World War II hero Louis Zamperini, opens wide on Christmas Day.
And it's her very yen for passion projects like this one that got the film made in the first place, according to Zamperini's children, who also got to know Jolie as she bonded with their dad before he passed away in July at the age of 97.
"With her star power and her unbelievable focus, she got this film on the fast track," Louis' son Luke told Variety. Added his sister, Cynthia Garris: Jolie "swooped in like an angel."
Universal Pictures
"The night our father passed away," Cynthia said, "she and Brad came to our home and took such beautiful care of us. They cried with us, they held us, they made a soft place for us to fall. At one point I told her, 'My father was really in love with you.' And she said, 'I was in love with him!'"
Jack O'Connell plays Zamperini in the film, the British actor fitting the bill for Jolie, who wanted "somebody who had the strength and masculinity of that era—a real man's man, a physical man. And at the same time, it had to be a skilled actor who can be deeply emotional and make people root for him."
Universal Pictures
Talking to Variety about what drew her to Zamperini's story initially, Jolie said, "There's so much going on in the world today that could make you lose hope," she says. "To read about somebody who had something inspirational and positive—it was fulfilling. I wanted to be close to his story. I wanted to go on this journey and become a better person."
"It's not about ego, he didn't want to be famous," she also said of Zamperini. "He wanted to make sure his message was clear. It's why he did speaking engagements, it's why he did his book. It's why he tried to get a movie made for 57 years. Everybody who reads this book and knows his life feels very connected to this man."
And they will all the more so thanks to Jolie.
PHOTOS: More actors turned directors
RELATED VIDEOS:
Source:: http://ca.eonline.com/news/599585/angelina-jolie-addresses-those-retirement-rumors-again-how-many-more-movies-is-she-planning-to-do?cmpid=rss-000000-rssfeed-365-topstories&utm_source=eonline&utm_medium=rssfeeds&utm_campaign=rss_topstories