Onigaming First Nation suicides prompt state of emergency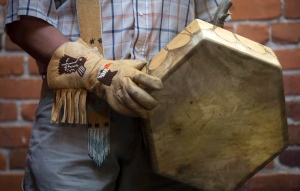 Onigaming First Nation in northwestern Ontario has declared a state of emergency following the community's fourth suicide in a year.
Treaty #3 Grand Chief Warren White said the community is in crisis and has reached a breaking point.
About 450 people live in Onigaming, located approximately 400 kilometres northwest of Thunder Bay. 
A joint statement from the community and  Grand Council Treaty #3 said they are asking for help from a variety of social service agencies and from all levels of government.
It said the community wants to develop a long-term healing strategy, but needs more resources now to deal with the current crisis.
Onigaming has declared a state-of-emergency following another suicide in the community. (Darryl Dyck/Canadian Press)
"Young people are taking their lives and this is unacceptable," the release stated.
"As a nation our citizens are getting frustrated and concerned for our young people … The demographics of Treaty #3 communities is a high proportion of children and youth under the age of 25 years, with disproportionately high rates of post traumatic stress disorder, intergenerational trauma and poverty contributing to the addictions, violence and mental health issues affecting our communities."
Funeral services were held Friday for the latest suicide victim.
Onigaming Chief Kathy Kishiqueb was not available for further comment on Friday.
Source:: http://www.cbc.ca/news/canada/thunder-bay/onigaming-first-nation-suicides-prompt-state-of-emergency-1.2820071?cmp=rss