Jessica Chastain Covers Glamour, Says She Was Called "Ugly" Every Day as a Kid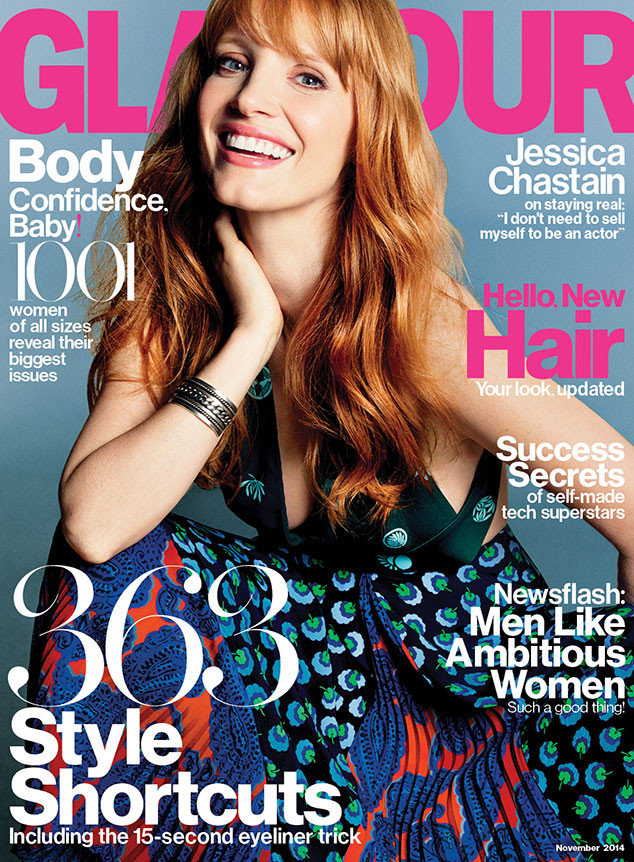 Tom Munro
Jessica Chastain is Glamour's latest cover girl!
The gorgeous 37-year-old actress grace's the mag's November issue. For the cover, the Zero Dark Thirty star flashes a giant smile while posing in a colorful printed dress that shows of a tiny bit of cleavage. Inside the issue, Chastain models a black and white Altuzarra dress in one high fashion shot. In another, the Oscar nominee sports a Lanvin blouse and a big Saint Laurent hat as her red hair blows in the wind.
In her interview with Glamour, Chastain revealed she was bullied growing up.
VIDEO: Oops! Total Divas star has wardrobe malfunction during photo shoot
Tom Munro
"[As a child] I was told every day at school that I was ugly. And that no one wanted to be my friend. The most cruel things," she admitted. "If I can do anything to help young girls and to be a cheerleader for people who sometimes have low self-esteem, I want to do that."
In addition to being a late-bloomer, Chastain says she's happy she didn't become famous at a young age. "I would have been a disaster. If I was 19 and I had the attention that I'm getting now, I would have just said stupid things," she dished. "I would have partied more. All these expensive dinners and people giving me champagne? All these stupid things that we criticize 19-year-olds for doing when they're famous, I would have done."
Tom Munro
Chastain also opened up about championing women in Hollywood. "I'm really, really supportive of women in Hollywood," she told the mag. "I love Meryl Streep. She's such an incredible actress. But I feel like she's the only one in her age group who gets those parts. I'd like to see Jessica Lange in a movie again, you know? Or Susan Sarandon. Why isn't Viola Davis a lead in a film? She's one of the greatest actresses alive. And where are the Asian actors and actresses? I'm not saying, 'We don't want movies about men.' I'm just saying, 'Come on, all the men I know love women. So let's also have some stories about these women. Let's write something for them, guys—and let's make room for women writers too.'"
PHOTOS: Chastain's 10 best red carpet looks
RELATED VIDEOS:
Source:: http://ca.eonline.com/news/586211/jessica-chastain-covers-glamour-says-she-was-called-ugly-every-day-as-a-kid?cmpid=rss-000000-rssfeed-365-topstories&utm_source=eonline&utm_medium=rssfeeds&utm_campaign=rss_topstories