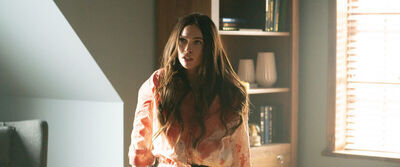 While multiplexes are getting ready to be taken over by the newest flashy, big-budget Marvel movie—the kind of entertainment that has admittedly been missing in action for long—a small-scaled nail-biter is also sneaking in there this season, promising to deliver the theatrical goods. And in spite of its icy backdrop, the part home-invasion chiller, part murder-mystery "Till Death" could prove to be the actual summer movie you've been craving for a while: undemanding, a little silly, but a thoroughly engrossing and handsomely paced edge-of-your seat experience all the same.
Director Scott Dale delivers a slick genre affair with his feature debut, one that sees the "Transformers" star Megan Fox sharpen her thriller chops to stirring effect. Written by Jason Carvey with clever resourcefulness, "Till Death" plays like a poor man's "The Invisible Man" at first, signaling a "Sleeping with the Enemy"-adjacent feminine tale of endurance and retaliation through a predictable story: a rich, gorgeous woman attempts to sever ties with a controlling, toxic, and powerful man against the odds. But the film soon culminates in something surprisingly closer to "The Shallows," by way of "Home Alone" of all things. Statuesque and muscular, Fox isn't quite under the attack of a vicious, hungry shark here. But once a pair of predatory killers circle her slow-clad lakeside property, her distressing survival battle very much resembles the wounded Blake Lively's, as she bargains for added lifelines in small increments, relying on nothing but her smarts, reflexes, and the most limited of resources at her disposal.
The star of "Till Death" isn't only Dale's serviceable direction, but also (and perhaps to a greater extent) Carvey's inventive screenplay, which draws from a small well of narrative possibilities and maximizes their worth as Emma (Fox) fights for dear life to outlast the hostile conditions she gets trapped within. The opening moments of "Till Death" introduce her to us next to a man she's in deep conversation with; clearly, a romantic interest. It sounds awfully like a goodbye bid between the two after what appears to be a fruitless relationship with no viable avenues. The reveal arrives before we can mistakenly identify this young man as Emma's husband—he is Tom (Aml Ameen), a rising star at Emma's husband Mark's (Eoin Macken) law firm that she is having an affair with; on her wedding anniversary, no less. The scandal!
As expected, Mark is nobody's fool even though he pretends (initially anyway) not to know about his wife's affair. So it's all loaded gazes and pregnant silences at first, with one especially awkward anniversary dinner during which "Till Death" unsubtly telegraphs the kind of man Mark is. You know, someone who patronizingly calls his wife "Pumpkin" (so far, so Patrick Bateman-esque), feels entitled enough to tell her what to wear and overpoweringly whisks her away to a far, secluded location as an anniversary surprise, completely blindfolded. The dynamic between the two is painfully yet aptly cringe-y—he demands and she doesn't protest, often reminded about her days as a struggling photographer before Mark supposedly "rescued" her.
But Emma proves soon enough that she is no damsel in distress. After she wakes up at the lake house the morning of a manipulatively romantic night with Mark, and watches in horror as her husband vacates the supposedly perfect picture, she rises to the occasion, searching for a way out of the entirely empty house Mark has cleared of all helpful tools and sharp objects. It wouldn't be fun to reveal how he makes an exit (although that's sort of the premise here), but suffice it to say that Emma, bruised and bathed in blood, finds herself chained to and dragging around her poisonous marriage for long stretches of time, both literally and metaphorically. Once her eventual assailants show up searching for some diamonds promised to them by Mark—the duo are Callan Mulvey's deadly knife wielder Bobby Ray and Jack Roth's reluctant villain Jimmy—she has to not only outwit the pair who are out for blood, but also to maneuver the cracks of her harsh reality.
The following acts are a deftly sketched cat-and-mouse game where a useless cellphone, an incapacitated car, a pair of handcuffs, a frigid shed, knee-high snow and (of course), a frozen lake all play their part as crucial plot devices. There isn't anything in the conclusion of "Till Death" you won't quite spot from miles away, but the thoroughly earned finale won't feel any less satisfactory despite its obviousness. The other treat here is Fox's gradually maturing performance that starts off a bit wooden and expressionless but grows alongside the complexities of Emma's perilous situation. Just when you're ready to write her off, she reclaims your attention and deserves it.
Now playing in theaters and available on demand.