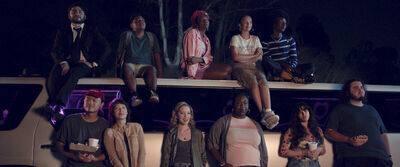 "Summertime" has a barely-there clothesline of a plot. Pinned to it is a series of spoken word interludes and musical sequences performed by its large cast of poets. On paper, it sounds iffy; in execution, however, it's absolutely glorious, a gleeful glide through adolescence that doesn't gloss over pangs of grief or grimmer thoughts. It's often as heavy-handed as it is light on its feet, yet its intentions are always genuine. The result feels like the season in the title, a remembered day from youth where you were free to meander the streets or stew in your feelings. Director Carlos López Estrada does for L.A. what he did for Oakland in "Blindspotting": the city becomes a character as large as life and as small as a neighborhood block. The visuals gorgeously reflect a geographical love. You could subtitle this film "Los Angeles Recites Itself."
The spoken word pieces are treated like musical numbers, dropped in to express the feelings of the characters. Our protagonists are a diverse group of individuals of different races, shapes, sizes, sexualities and genders. Strangers will cross paths many times, becoming impromptu groups or breaking off from the pack for their own mini-adventures. Many of the 25 members who perform are from marginalized groups, so hearing their voices and their words evoke the feeling that they're finally being listened to by the masses. Sometimes they speak directly to the camera, in soliloquys that bare their souls. Other times, the characters engage each other, as in the amusing and tense marital duet performed in couples therapy by Walter Finnie Jr. and Anna Osuna. Their therapist is a no-nonsense woman who wrote a book on rapping your demons away.
Teenagers Mila (Mila Cuda) and Tyris (Tyris Winter) perform memorable poems early on, tuning us into the cadences of "Summertime." Mila opens the film with "LA Overture," then goes after a homophobe on a city bus, lacerating him with her prose and her pride. Tyris is a chronic Yelp reviewer whose restaurant rant against $15 avocado toast boasts a sly sideswipe of gentrification. He spends the film on a quest for the perfect hamburger, his suave Afro conjuring the ghost of Franklyn Ajaye's (admittedly more impressive) coif in Michael Schultz's Los Angeles-set 1976 film, "Car Wash."
Other ghosts were conjured as I filtered "Summertime" through my adolescent lens of nostalgia. I kept thinking about hip-hop/R&B musicals of the early to mid-1980's like "Wild Style," "Beat Street" and "Krush Groove." These films took the "let's put on a show" plots of the lily-White Mickey Rooney/Judy Garland movies of the 1930s and refactored them with a hipper, browner crowd. The taggers of "Beat Street" have a kindred spirit here in Jason (Jason Alvarez), whose handiwork is seen as mere nuisance by the business owners upon whose walls he spray-paints "City of Jason." And the rappers who wanted to make it big In those films are represented by Anewbyss (Bryce Banks) and Rah (Austin Antoine), two rappers whose fan base stretches one city block.
Magic evolves from coincidences we're compelled to roll with simply because they're so joyous. For example, Anewbyss and Rah go from being unable to sell one copy of their mix CD to suddenly becoming major stars through a chance meeting with the rapping therapist. They hit it big and sell out a hall with a song about how much they love their mothers! And the street vendor Raul (Raul Herrera) who squirted customers with a water pistol during the day shows up to drive those same folks in the rap duo's limo at night. Even a simple argument between Paolina (Paolina Acuña-González) and her mother about red lipstick becomes lyrics backed by a dazzling street ballet featuring women in searing, bright red dresses that pop against the drabness of the concrete.
Deeper topics and social commentary are touched upon in numerous poems. In one scene, Tyris yearns for the family that rejected him. Later, his pal Marquesha (Marquesha Babers) brings down the house with a stunning confession/kiss-off to a crush who wronged her because she was not his type. In that scene, the film's best, Marquesha finally takes the advice of that therapy book and exorcises her demons through the spoken word. And Gordon (Gordon Ip) sets the climax of the film in motion with a diatribe about working for minimum wage and maximum aggravation at a hellhole of a hamburger joint (where, coincidentally, Tyris finally gets his damn burger).
Like many a summer night, "Summertime" ends with its characters watching fireworks from a great vantage point, looking out on the city they claim as their own regardless of their circumstances. We feel as if we know them, based on their words and whatever bit of our younger selves we may have impressed on them. As the pyrotechnics crackle, "Summertime" leaves us with a poem about clouds from Raul. And as he recites it, Estrada's camera takes us through the city one more time. Not to the big places; he takes us around the way, to the places his characters and their dreams inhabit. It brings the film full circle. With this final piece, part lament, part lullaby, everything clicked for me. The movie had gifted me with its thesis statement, and I was moved by the catharsis it contained. This is one of the year's best movies.
Now playing in theaters.