Dilip Kumar, 1922-2021: The Passing of a Bollywood King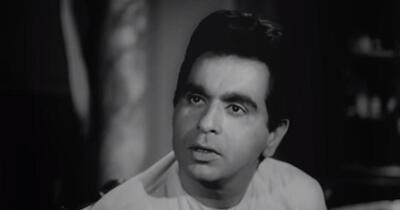 Before Shah Rukh Khan danced his way across the screen and before Amitabh Bachchan mastered the "Angry Young Man" motif, Dilip Kumar commanded Indian cinema with a mix of dignity and gentleness. When his friend announced his death in a tweet, a generation of film lovers went into mourning.
Mohammad Yusuf Sarwar Khan was born near Peshawar in the North-West Frontier Province in pre-partition British India. The son of a fruit merchant and a domestic, the young Muslim chose his stage name to be the Hindu "Dilip Kumar" so that his father would not discover he entered the film industry. I suspect his father wanted him to be a physician, and every South Asian in the West understands this sentence.
He grew up with Shristhi Nath (Raj) Kapoor, of the Kapoor family, known as the "First Family" of Indian Cinema, with whom he later starred in his first hit, "Andaz" (1949).
He dominated Indian cinema through the 1950s with a series of hits—"Daag," "Amar," "Devdas," "Madhumati"—becoming India's highest paid star. While his films covered numerous genres, he developed such a reputation for tragedies that he was nicknamed the "Tragedy King."
In 1960, he starred in the greatest of all Indian epics, "Mughal-e-Azam," chronicling the story of Prince Salim who, while being groomed toward the throne, pursues a taboo romance with the dancer Anarkali. It is said that if corrected for inflation, "Mughal-e-Azam," remains the most profitable Indian movie ever made.
Bollywood men are known for their roles opposite Bollywood women, though for much of his career we associated Kumar with one woman. In the 1960s, he married the actress Saira Banu. The daughter of actress Naseem Banu, she entered cinema as a teenager, as a fan of Kumar. There were numerous attempts to pair her on screen with Kumar that he kept refusing because of her young age. Later, he speaks of meeting her again in her early 20s (he was in his mid-40s), getting entranced by her beauty. Soon, they married. Because their first attempt at having children failed, they chose not to try again. The two remained together for the next half-century.
As a new generation of stars packed auditoriums in the 1970s, including Amitabh Bachchan, Shashi Kapoor, and Rishi Kapoor, Kumar's popularity began to wane. The younger audiences remained interested in forbidden romances, musical numbers, and melodrama, but consumed fisticuffs-as-tools-of-resolution. Now, actors provided gravitas through their ability to injure, rather than their ability to remain still.
Nevertheless, these two generations of film stars and their respective audiences often converged, allowing Kumar a return to the spotlight. He shared the screen in various films with such young stars as Bachchan ("Shakti"), Anil Kapoor ("Mashaal"), and Sanjay Dutt ("Vidhaata").
Already one of the most decorated of Bollywood film stars, in the latter part of his career he received the honors of an elder statesman. As they have with Satyajit Ray, Lata Mangeshkar, and Raj Kapoor, the Indian film industry awarded him their highest honor, the Dada Sahib Phalke Award. The Indian government awarded him the Padma Vibhushan, among the nation's highest honors. The Pakistani government not only awarded him their highest civilian honor, Nishan-e-Imtiaz, but also named his childhood home in Peshawar a Heritage Site.
His final year of life had its tragedies. India has been one of the global hotspots for COVID-19. Dilip Kumar lost two of his brothers in the pandemic. Soon, he himself succumbed to complications related to prostate cancer.
Despite being a minority in this nation, I never appreciated the attention our American society gives to representation in politics and media. Yet, I fondly remember the unique pride my parents, aunts, and uncles would have when watching Dilip Kumar films on the VCR. Likewise, my cousins and I would watch his films—despite preferring Amitabh's roles—because of the love our parents had for him. For my father, a Muslim product of Patna City in Bihar, Kumar's "Mughal-e-Azam" was for him what "Star Wars" was for me: that grand story with the grandest of aspirations, compelling us to watch it with the same wide eyes we had as children, the first time we sat in the theater.
He leaves us over 60 movies. I hope then, as our world continues its wide polarization, that Kumar's life, his films, and his love for India is a reminder that the Subcontinent—especially India—that is full of so many riches, so many traditions, so many cultures, can again be a model to the globe for pluralism and coexistence. Still, his passing reminds us that the word "legend" was coined for the likes of Dilip Kumar.