Cannes Film Festival Preview 2021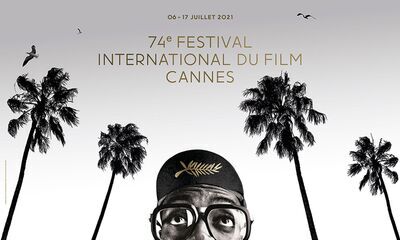 Not since the revolutionary spirit of '68 stopped the Cannes International Film Festival in its tracks with demonstrations and rowdy antics spearheaded by French New Wave filmmakers including Jean-Luc Godard, has any global event impacted this glitziest of all intersections of cinematic high art and commercial culture. Not until the worldwide COVID-19 crisis of 2020 that is. Cancelled reluctantly, and late in the game by its administration last year, Cannes is ready to come roaring back to life this year, regardless of shifting restrictions at international borders or any uneasy fears of film industry delegates.
The stock phrase "out of an abundance of caution" does not appear to be in the vocabulary of festival artistic director Thierry Frémaux, who had optimistically maintained for months that the 2021 Cannes Film Festival, which normally takes place in May, would proceed on fallback dates of July 6 through 17. Unlike other festivals, which struck a compromise with the new world reality, Cannes does not do virtual. For the filmmakers, stars, legions of international press, producers, exhibitors and buyers, it's answering the siren call of the famous red-carpeted steps to the Festival Palais or nothing.
In a normal year, this festival-mad milieu on the Mediterranean thrives on pushing, shoving, nose-to-nose mob action when it comes to entry to many of the screenings and star-studded press conferences. It's so calculatedly photogenic, and so notoriously Cannes. Whether the festival will be able to make good on promises of masking and social distancing is an open question. Frémaux has stated that screenings will be seated at 100% capacity. This year's very alluring array of world premiere films selected for the Palme d'Or competition and assorted sidebar sections including "Un Certain Regard" and the brand new "Cannes Premiere" may be to-die-for in the figurative sense, but, as attendees will need to trust, not in the literal sense.
Spike Lee ("BlacKkKlansman"), Oscar winner and recipient of a Grand Jury Prize at 2019 Cannes, will serve as the first-ever African-American president of the jury, an honor deferred from the canceled 2020 festival. His ethnically and nationally diverse jury, only the second female-majority jury in Cannes history, includes: Mati Diop, French Senegalese director, the first woman of color to win a Cannes Grand Jury Prize with her 2019 first feature "Atlantics;" Korean superstar Song Kang-ho ("Parasite"); American actress Maggie Gyllenhaal ("The Kindergarten Teacher"); French Algerian actor Tahar Rahim ("A Prophet"); Brazilian director Kleber Mendonca Filho ("Bacarau"); Austrian director Jessica Hausner ("Little Joe"); French actress Melanie Laurent ("Inglorious Basterds"); and Canadian-born French singer/songwriter Mylene Farmer.
The festival launches on July 6, with "Annette," by French cult director and perennial enfant terrible Leos Carax ("Holy Motors"), and starring Marion Cotillard and Adam Driver. It's the first of the 24 international films selected to compete for the coveted Palme d'Or. Like a goodly number of films at Cannes this year, "Annette" already has U.S. distribution, and will open in theaters on August 6 through Amazon Studios.
Carax's track record suggests "Annette" to be a work of singular eccentricity, a supposition backed up by the brief advance information available, as well as by a loony trailer. Featuring the music of the pop-art band Sparks, this operatic plot has Cotillard and Driver in singing roles as the parents of an unusually gifted child. If the brief "Intracte" accordion sequence in "Holy Motors," and the spectacular excesses of "The Lovers on the Bridge" are any indication, Carax will take an odd and stirringly compelling approach to the musical genre, now experiencing a seeming popular revival with films like "In the Heights" and "West Side Story" later this year.
Characteristic of every Cannes competition, the selection is headlined by internationally-known heavy-hitters, past winners and star names, including Paul Verhoeven ("Benedetta"), Sean Penn ("Flag Day"), Jacques Audiard ("The Olympiads"), Apichatpong Weerasethakul ("Memoria"), Wes Anderson ("The French Dispatch"), Nanni Moretti ("Three Floors"), Francois Ozon ("Everything Went Well"), Bruno Dumont ("France"), and Asghar Farhadi ("A Hero").
As ever, female directors are very much in the minority in the official competition, although somewhat better represented in the more freewheeling "Un Certain Regard" section. Three French female directors are in competition for the Palme: Mia Hansen-Love with "Bergman Island," a fraught marriage drama fittingly filmed at Ingmar Bergman's famed island retreat (to be released by IFC); Julia Ducournau with the horror tinged "Titane," involving medical experiments; and Catherine Corsini with the hospital-set drama "The Divide" (to be released by Neon). They are joined by Hungarian director Ildiko Enyedi with "The Story of My Wife," loosely based on the legend of the Flying Dutchman. This grand total of four women matches 2019's tellingly minimal all-time high number of female directors invited into the overwhelmingly male aristocracy of Palme contenders.
Dark horse winners have claimed the Palme with some regularity, but early speculation and hyped-up expectations will typically focus on new work by the big names, the powerhouse directors whose past exposure at Cannes and cumulative array of international awards mark them initially as the ones to watch.
Of front-running interest is "Memoria" by Apichatpong ("call me Joe") Weerasethakul, a formally adventurous director whose haunting "Uncle Boonmee Who Can Recall His Past Lives" earned the Palme d'Or in 2010. According to Weerasethakul, a graduate of the School of the Art Institute of Chicago, central to "Memoria," a co-production set in Colombia, is "having no roots." The film stars indie favorite Tilda Swinton as a Scottish tourist who encounters portents of the supernatural; familiar territory for "Joe" no matter the location. In an amusing twist of fate, July 16 is the Thai director's 51st birthday, the same day the sequestered Cannes jury will make their decisions. A second Palme d'Or would make quite a gift.
Wes Anderson's "The French Dispatch" was one of the most highly anticipated entries for the cancelled 2020 festival. The seven-time Oscar nominee for films including "The Grand Budapest Hotel" opened Cannes in 2012 with "Moonrise Kingdom." In the whimsical vein that is Anderson's trademark, "The French Dispatch" will likely delight the French with a comedy about an American expat newspaper staff. The starry cast headed for the red carpet includes Tilda Swinton, Adrien Brody, Bill Murray, Timothy Chalamet, Elizabeth Moss, and Owen Wilson. Searchlight Pictures will open the film in the U.S. in October.
Two-time Oscar winner Asghar Farhadi ("A Separation," "The Salesman") has so far managed to keep any information concerning his new film "A Hero" a secret. Alleged to be a thriller, which is no surprise, it was shot in his native Iran, unlike his Spanish co-production "Everybody Knows," which opened the 2018 Cannes Film Festival, or his French production "The Past." Farhadi's films typically pose knotty moral questions that are couched in gripping drama that raises issues of marital and family strife and class difference. The sheer human relatability of his films across national and cultural lines makes him a formidable competitor for the Palme. Amazon Studios will open "A Hero" in the U.S.
Dutch director Paul Verhoeven ("Elle," "Total Recall") has courted controversy for much of his career, whether for over-the-top violence, misogyny, or for risky moves like the infamous peek-a-boo crotch shot in "Basic Instinct." Career honors have included four Oscar nominations, but invitations to Cannes have been infrequent, and Cannes awards have eluded him. His 2016 competition entry "Elle" elicited mixed reactions to extremities of brutal sexual violence. Verhoeven appears to be going all-out for notoriety once again with this year's competition film "Benedetta," based on Judith C. Brown's erotic novel Immodest Acts: The Life of a Lesbian Nun in Renaissance Italy, starring Virginie Efira ("Sibyl") and Charlotte Rampling. "Benedetta" will be released by IFC in the U.S.
Known for his challenging and stylistically eccentric work, French director Bruno Dumont has long been a favorite of the Cannes programmers. He's premiered seven of his thirteen films at the festival, beginning with his critically acclaimed first feature "The Life of Jesus" in 1997, a quirky portrait of life in a French village. He was last at Cannes in 2019 with "Jeanne," his audacious and extremely odd pop-opera take on the trial of Joan of Arc, which screened in "A Certain Regard." For his fourth shot at the Palme he debuts "France" (formerly titled "On a Half Clear Morning"). Prolific ingénue Lea Seydoux ("Blue Is the Warmest Color") stars as a TV journalist whose life is altered by a catastrophic car accident.
Italian Nanni Moretti, winner of the Palme d'Or for "The Son's Room" in 2001, and Best Director for "Dear Diary" in 1994, is known for tragicomic themes, sardonic humor, and an acute eye on mass culture. He competes with "Three Floors," based on a novel exploring the lives of three families living on separate floors of an apartment building. This will be Moretti's ninth time at Cannes with a film. In 2012, he also served as president of the Competition jury, so he is a festival insider in terms of knowing the workings of the jury process.
Jacques Audiard and Francois Ozon, both French, also rank in the upper echelons of festival regulars. Audiard is an eight-time Cannes veteran who competes with "The Olympiads," a film of timely theme set in Paris during the pandemic. He won the Palme in 2015 for "Dheepan." Tahar Rahim, the star of Audiard's 2009 Grand Jury Prize-winning "A Prophet," is coincidentally a member of this year's jury, which may or may not mean a thing in terms of favor.
Francois Ozon ("The Double Lover") has competed for the Palme in four previous Cannes competitions, beginning with his sensual thriller "Swimming Pool" in 2003, but has come up empty every time. This year's Competition entry is "Everything Went Well," a film that confronts an end-of-life dilemma as an adult daughter comes to grips with her father's illness. A notable cast includes Sophie Marceau, Charlotte Rampling, Andre Dussollier, and Hanna Schygulla.
Mahamat-Saleh Haroun from Chad is one of the few directors of color in this year's Competition, presenting "The Sacred Bonds," a drama of a mother dealing with the pregnancy of her teen daughter. He has been selected for the Palme competition twice in the past, with "Grisgris" in 2013, and "A Screaming Man" in 2010, for which he was the winner of a Jury Prize.
Better received at Cannes as an actor than as a director, two-time Oscar winner Sean Penn won Best Actor in Cannes in 1997 for "She's So Lovely." This year represents his third time in Competition as a director with "Flag Day," in which he also stars, playing a con man leading a criminal life to support his daughter, played by real-life daughter Dylan Penn. An uneven director at best, Penn will provide some of the red-carpet star power that Cannes loves, but may be the longest of long shots for the Palme. His 2016 Competition outing with the misconceived human rights medical-team drama "The Last Face" didn't go so well, drawing derisive laughter and catcalls at its press screening. MGM will release "Flag Day" in the U.S.
Five directors with previous experience in the official Competition get a renewed chance this year with new work. Ryusuke Hanaguchi of Japan, who made a critical splash in 2018 with his entertaining puzzler "Asako I & II," is back with "Drive My Car," adapted from a Haruki Murakami story. Joachim Trier of Norway ("Louder Than Bombs") makes a switch to comedy with "Julie (in 12 Chapters)" aka "The Worst Person in the World." Catherine Corsini ("La Reptition") stars Valeria Bruni Tedeschi and Marina Fois in a friendship drama set against a background of social unrest in "The Divide."
Australian Justin Kurzel ("Macbeth") appears to be bolstering his reputation for depicting savage violence and gore with "Nitram," depicting a 1996 massacre in Port Arthur, Tasmania. Russian Kirill Serebrennikov ("Leto"), who works with themes of youthful rebellion, remains banned from leaving Russia. His "Petrov's Flu," about a comic book artist suffering from a strange malady, will compete nonetheless.
Eight films, exactly one-third of the 24 total Competition selections, are by directors invited to compete for the Palme d'Or for the first time. These include three of the four women (Mia Hansen-Love, Ildiko Enyedi, and Julia Ducournau). Others experiencing this first chance at one of the film world's most elite awards include Israeli Navad Lapid ("The Kindergarten Teacher") with "Ahed's Knee," Moroccan Nabil Ayouch ("Much Loved") with "High and Loud," Belgian Joachim Lafosse ("Our Children") with "The Restless," American Sean Baker ("The Florida Project") with "Red Rocket," and Finnish Juho Kuosmanen ("The Happiest Day in the Life of Olli Maki") with "Compartment No. 6."
The Cannes jury process is remarkably airtight each year, with any claimed leaks or purported friend-of-a-friend-who-knows someone-on-the-jury intelligence inevitably proving false. Cannes treats the jury president like a potentate gifted with vast powers that include setting the rules and the screening schedule. Spike Lee will rule for ten days, and the closed-door process, mysterious as ever, will culminate in the awards ceremony of July 17. If there's just one thing about this year's festival that remains like any other year at Cannes, it's that whatever the winners, the Palais will erupt in both cheers and disappointed howls of protest by the international press.