Cannes 2021: Where is Anne Frank, Stillwater, Lamb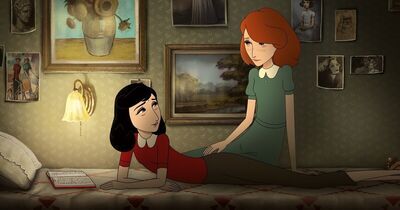 The human capacity to acclimate to just about any circumstance remains remarkable, and it's almost surreal how the view of mega-yachts, beach sand, palm trees, and well coifed-cinephiles is already old-hat by the time you reach the second week of Cannes. There are still reminders of how strange this year is, with Léa Seydoux's COVID diagnosis being one plausible reason why the "The French Dispatch" press conference was shelved (luckily, the magnificent movie made for a sublime screening at the Debussy).
This is a new mode for Cannes in many ways, with flawed ticketing systems undercutting the most catholic of press card systems, where patrons who for decades would enter first are trumped by local bloggers with better internet connections. It helps, perhaps, that there are indeed far fewer people here vying to get into screenings (at least half the number of 2019), yet it still feels more unnerving than usual. However, given that Toronto's movie theatres aren't set to open until this weekend, I refuse to allow the pleasure of simply stepping into a cinema be dampened by other logistical nonsense.
Out back from the main palais stands a well-constructed tent, the so-called salle du Soixentieme that hides the glamour that occupies the red carpet rise on the other side of the building. With comfortable seats and excellent sound, it's actually an exceptional venue, though feels mildly rustic when you hear the clattering of helicopters flying to land on nearby luxury boats, or the Mediterranean wind gently rocking the walls.
Israeli director Ari Folman stormed Cannes back in 2008 with "Waltz with Bashir," and he returns with another provocative animation about one of the most famous victims of the Holocaust. Set "one year from today," "Where is Anne Frank?" tells the story of Kitty, the imaginary muse to whom Anne wrote her diary. Told through a series of flashbacks to events documented in Anne's original diary, combined with fanciful adventures that Kitty encounters in modern Amsterdam, the film plays as a kind of Young Adult reimagining of Frank's remarkable story, encouraging new audiences to grasp the power of her literary prowess and the tragedy of her loss.
Audiences will likely be split about how effectively Folman manages to thread contemporary sufferings of minority refugees in contemporary Europe with the operatically imagined, corpse-faced Nazis that seem to owe more than a small amount to Gerald Scarfe's superlative work in Alan Parker's "Pink Floyd: The Wall." From the opening sequence where Folman contrasts the line of eager tourists queuing to enter the Frank Museum against a howling wind that disrupts a family living on the street, it's clear that things aren't exactly going to be subtle.
By the time the film wraps, with both triumphant and tragic moments to provide multiple layers of catharsis for those swept away, I couldn't help but admire the execution even as I was left ambivalent about the result. It's fair to say the film isn't necessarily designed with me in mind—a Jaded Jew well aware of the narrative being explored—versus an adolescent who may well find this to be a perfect entrance into not only Frank's own story but to understanding the scope of the suffering of so many millions. Such lessons remain unheeded.
Another tent screening was "Stillwater," the latest from Tom McCarthy, the Oscar-winning director/screenwriter who found many fans with "Spotlight." Co-written by Marcus Hinchey, Noé Debré, and "Rust and Bone" co-scribe Thomas Bidegain, the film stars Matt Damon as Bill, a roughneck from Oklahoma who flies to Marseille to visit his incarcerated daughter Allison (Abigail Breslin), who has been jailed for murder. While fighting for her release, he encounters Virginie (Camille Cottin) and her daughter Maya (Lilou Siauvaud), who end up assisting him on his quest to help combat the intricacies of the French legal system.
As the title implies, this is a slow-moving narrative, and the first hour feels a bit like a half-speed Liam Neeson daddy drama. Yet by the time the latter half of the running time kicks in there's enough strange turns of tone that it becomes interesting, veering far more into moral ambivalence than is characteristic of many American films.
Damon's take is pitch-perfect—his guileless partaking of Subway sandwiches brought back to munch in his beige Best Western hotel room feels a particularly Américain move—and even the film at its most over-the-top remains anchored thanks to his believable quietude. Breslin's role is more thankless and much less well drawn, and the same can be said for the weepy or wanton Virginie who is essentially a walking billboard for exposition.
The end result is something worth sticking around for, more fascinating than fabulous, a kind of wild experiment in shifting storylines that takes the Amanda Knox narrative and tries to say something about the terrible things we do to save those we care about, no matter the cost to what we leave behind. The final moments in a dreary home, bereft of the sun and joy of France, show that many live in prisons of their own small-town small-mindedness that feel all the more constraining after a brief parole to another land.
Speaking of other lands, I've been a huge fan of Icelandic cinema for many years and had the absolute pleasure of helping to bring some attention to Grímur Hákonarson's wonderful "Rams" during the 2015 Cannes festival. First time director Valdimar Jóhannsson brings his similarly titled "Lamb" to the Un Certain Regard sidebar, and while it shares some of the same bucolic, pastoral setting, they're very different films indeed.
An aside about Iceland: First of all, if you've never been, you owe it to yourself to visit once travel restrictions are lifted. It's an otherworldly landscape, and its collision between ice and fire, hot springs and freezing rivers, captivates those who travel there. This is a rock in the middle of the Atlantic with an environment so seemingly primal that it made warriors into poets, with many of the most durable of the Viking sagas emanating from those carving out their lives on the black sandy shores and windswept interiors. The nation's resulting cinema has a kind of savage whimsy, where both beauty and violence seem to occupy the same space effortlessly.
Jóhannsson's background in Special Effects for Hollywood blockbusters (including locally shot "Rogue One: A Star Wars Story," "Prometheus" and "Transformers: Age of Extinction") turns what's really an intimate family drama into something far more interesting to audiences attuned to its odd brand of tale. Hilmir Snær Guðnason, known to international audiences for his role in Baltasar Kormákur's breakthrough "101 Reykjavik," is perfectly complemented by Swedish actress Noomi Rapace ("The Girl with the Dragon Tattoo"), here speaking perfect Icelandic thanks to her childhood spent growing up there. Along with Björn Hlynur Haraldsson and another key character, the group makes for an interesting family unit, dealing with the everyday travails of expectation and folly, all while supremely odd circumstance that drives the core of the narrative.
I'll choose to dance around the central quirk of the film, safe to say that this is something to seek out knowing as little as you can. It's not as if the surprising twists will ruin all the fun, but, like the best festival films, there's pure joy in letting such a story unfold on its own terms without expectation. For fans of movies like Ali Abbasi's 2018 "Border," the mix here of fantasy and documentary-like rural ennui is only elevated by going in as cold as the snow-covered fields that give "Lamb" its opening shots.