Cannes 2021: Red Rocket, Titane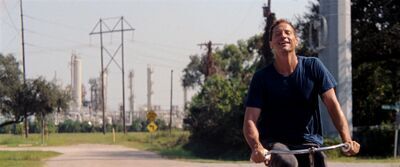 Back in 2017, the American independent director Sean Baker came to Cannes with "The Florida Project," which emerged from the festival as perhaps that year's most widely acclaimed film. (Certainly it was less divisive than the Palme d'Or winner, "The Square.") A year before that, the French filmmaker Julia Ducournau made a mark with "Raw," about a vegetarian veterinary student who develops a taste for human flesh.
The thing about both movies is that they didn't show in the Cannes Film Festival proper—the lineup known as the "official selection." "The Florida Project" screened in Directors' Fortnight, a parallel festival founded in the wake of the disrupted 1968 Cannes Film Festival as a showcase for innovative filmmakers. "Raw" played in Critics' Week, an even older parallel festival devoted to first and second features. And while it's not safe to assume that everything in Directors' Fortnight and Critics' Week was rejected from the main event—they aren't quite Slamdance to Cannes' Sundance—those two programs tend to have a dimmer spotlight on them.
Now Baker and Ducournau have returned to Cannes, this time competing for the Palme d'Or. Watching Baker and his cast walk the red carpet at the Lumière theater this afternoon, I may have been projecting, but I perceived a sense of vindication, both for an overjoyed Baker and for Cannes. I have no inside info, but I bet that Cannes' head programmer, Thierry Frémaux, and president, Pierre Lescure, who were as usual both waiting at the top of the carpeted stairs to greet the film's team, weren't thrilled to have "The Florida Project" and the Fortnight steal a bit of their thunder four years ago.
Does Baker's "Red Rocket" live up to the last film? Well, not quite. It doesn't have Brooklynn Prince or Willem Dafoe, for a start, and part of the power of "The Florida Project" was rooted in its location, the incongruously grim motel sprawl on the outskirts of Disney World. You can't make that movie twice, and it would be hard to find a comparable setting.
But "Red Rocket" is a joy anyway, a raucous comedy that starts as a sort of condescending doofus movie before revealing a deeply moving camaraderie among its characters. It begins with the return of Mikey Saber (the rapper and comedian Simon Rex) to his hometown of Texas City, Texas, near Galveston. His arrival, by bus, is scored to 'N Sync's "Bye Bye Bye," which sums up what everyone wants to say to him when he gets there.
His plan is to crash with his estranged wife, Lexi (Bree Elrod), and mother-in-law, Lil (Brenda Deiss), who are so cool to the idea that he offers to chip in on the rent. He'll pull his weight, he promises. (Look, he's even holding a door for them!) But Mikey, who has enjoyed a degree of niche acclaim working in Los Angeles as a porn star, is all but unemployable. Inviting prospective bosses to look up his credits probably doesn't help. So he turns to selling pot—that is, when not smoking the stash that Leondria, who manages the local scene, entrusts to him. (Leondria is played by Judy Hill—in real life, the New Orleans bar owner from Roberto Minervini's excellent documentary "What You Gonna Do When the World's on Fire?") The drug trade's illicit nature is perfect for someone with Mikey's skill set. "I'm just glad weed is still illegal in Texas," he remarks at one point. "You have no idea how hard it is to move flower in L.A. right now." In what is decidedly a car town, he travels by bicycle.
Even while rekindling his marital life with Lexi (also a former porn star), Mikey begins hitting on a doughnut shop worker, Strawberry, before he knows she's of legal age. (The scene-stealing actress who plays her, Suzanna Son, was apparently discovered by Baker and one of his producers in a movie theater lobby.) If the dynamic between the beefcake dreamer-schemer and the high-schooler is queasy, to the point where it initially threatens to derail the film, part of the idea is that Strawberry in some ways has a clearer sense of her options than Mikey does. As absurd as his goal of becoming a talent scout for porn actors may seem, she sees an otherwise-foreclosed possibility of escape.
Shooting in almost impressionistic 16-millimeter widescreen, Baker captures these characters' dreams of hitting it big against the neon backdrop of an oil refinery that dominates the Texas City landscape. The characters are desperate—Lexi has been advertising herself on Craigslist, while Mikey's friend Lonnie (Ethan Darbone) harbors the delusion that he's served in the military—and there are a few overdetermined moments when Donald Trump and Hillary Clinton are heard on TV. (The film is set during the 2016 election cycle.) To a surprising degree, "Red Rocket" plays like a remix of earlier Baker films: It deals with warm-weather poverty ("The Florida Project"), life as a porn actor ("Starlet"), and even the economics of a doughnut shop ("Tangerine"). And somehow, with those particular ingredients, Baker has emerged as an essential filmmaking voice.
From my standpoint, Ducournau's "Titane" is not quite the shocker that "Raw" was; as far as I'm aware, no one fainted at this morning's screening. But it does confirm Ducournau as a director with a gorgeous sense of picture and sound—the presentation on the Lumière screen was sensational.
In a prologue, the main character, Alexia, has a titanium plate placed in her head following a car accident; after she's discharged from the hospital, she promptly kisses the car. When Ducournau introduces Alexia as an adult (she's played at this point by Agathe Rousselle), it's in a gliding long take around what seems to be a combination dance floor and showroom, where Alexia twerks on the hood of a vintage vehicle.
Alexia has freaky habits, such as keeping a knitting needle in her hair as a potential weapon. Her affinity for cars, which possibly began with the accident, hasn't abated since childhood. (The "Nocturama" director Bertrand Bonello, as her father, projects a more or less constant state of concern.) "Titane" becomes somewhat calculated in its escalating weirdness; the sorts of shock moments that make midnight audiences whoop seem to have been planted at regular intervals. But you can't quibble with Rousselle's performance, in which she treats her whole, frequently naked body as a kind of Silly Putty: At various points, she portrays Alexia as a woman and as a man, as mullet-headed and bald, as svelte and swollen.
But it is disappointing when "Titane" introduces the character of Vincent, played by the French star Vincent Lindon, who enters a movie of mostly unfamiliar faces as a de facto normalizing presence. (Garance Marillier from "Raw"—which features some of the same character names as "Titane"—has a small part, but she's less familiar and more feral-seeming.) A kind of neo-giallo, "Titane" is a movie of bold colors and slick, metallic noises. The more Ducournau attends to the plot, which is surprisingly mawkish—Vincent becomes a paternal figure for Alexia—the more tedious "Titane" becomes. A film about transformations, "Titane" starts as a hot rod and ends as a Volvo.