Cannes 2021: Prayers for the Stolen, The Year of the Everlasting Storm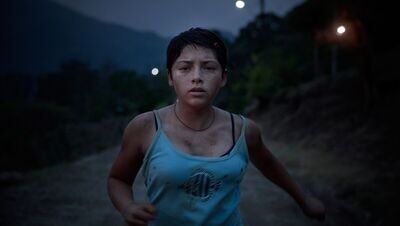 As Chaz Ebert, Ben Kenigsberg, and Jason Gorber handle the vast majority of our coverage of the Cannes Film Festival from the actual Riviera, I've been filling in a few gaps from the beautiful city of Chicago. I'm still haunted by the excellent "Rehana Maryam Noor," but the best of the five films I saw for Cannes coverage is Tatiana Huezo's moving "Prayers for the Stolen," which premiered in the Un Certain Regard portion of the program yesterday. With two of the most engaging young performances I've seen in a very long time, Huezo transports viewers to a part of the world where mortal danger literally hangs in the air every single day. It is a powerful work that I'm hoping eventually gets to a wider audience than Cannes.
"Prayers for the Stolen" takes place in a Mexican village that has essentially been destroyed by cartels. The young men know they will eventually work for the cartels and it's worse for the young women. Girls are often kidnapped in the middle of the night, and forced to be slaves for the crime lords. Mothers shave the hair of their daughters to make them look less feminine from a distance and dig holes in which to bury them when the danger draws too close.
And yet the girls in this village want to live. Around the age of eight, three girlfriends, led by Ana (Mayra Membreno), spend time breaking into the homes of the disappeared, trying on their clothes and makeup. Ana's mother Rita (Mayra Batalla) is furious when her daughter comes home wearing lipstick. It makes her more likely to be kidnapped. Halfway through her film, Huezo time jumps, and a more rebellious 13-year-old Ana is now played by Ana Cristina Ordóñez González. Both young actresses are remarkable, giving such natural, genuine turns that one has to remember that this is a fictional story. Gonzalez is a particularly charismatic find. I hope she gets more work because of the complex, believable choices she makes here.
It helps that so many of the scenes feel captured and not constructed, particularly in the first half when the young girls try to find joy in such a dangerous part of the world. In the second half, Ana becomes increasingly optimistic, especially when she meets a teacher who inspires her to believe that what is upside down can be turned right side up again. I became remarkably invested in Ana's fate, almost turning "Prayers for the Stolen" into a thriller given how present the threat of violence is in her life. I won't say if my concerns were founded, only that it's a testament to the film's strength that they were so undeniable.
My mind wandered a bit more during the omnibus film "The Year of the Everlasting Storm," which starts with an intrigue that fades relatively quickly. One of many pandemic projects that we are likely to see over the next year or so, this one asked seven directors to produce seven short films during the pandemic. Produced by a man who knows a thing or two about not being able to leave his house, Jafar Panahi, the film includes shorts by Panahi, Anthony Chen, Malik Vitthal, Laura Poitras, Dominga Sotomayor, David Lowery, and Apichatpong "Joe" Weerasethakul, in that order.
"Everlasting Storm" opens with a formative quote by Robert Bresson: "One does not create by adding but by taking away." I wish more of the filmmakers directly addressed this idea of inspiring creativity through restriction, and the best of the seven shorts feels like it does so most directly. Chen's second chapter takes place in Wuhan during the pandemic, capturing what it's like for a small family of three to be stuck with each other all day in a small apartment. They have to move a child to have sex. She does telemarketing from home. Loss and work lead to tension, amplified by financial concerns. It's a remarkable short that feels tender and genuine. I'm eager to seek out more of Chen's work and would watch this one as a feature film immediately.
The rest of "The Year of the Everlasting Storm" is less satisfying. Panahi's short is a clever, personal slice of life that stars his mother and his iguana. It feels like a bit of a trifle even if the final image implies a sort of rebirth amidst all this confined death. Vitthal's segment captures the miscommunication and disconnection that comes when parenting has to happen through FaceTime. The centerpiece is a Laura Poitras mini-doc about a Forensic Architecture investigation into a surveillance group that has gained prominence under the shadow of contact tracing. It feels incomplete, almost like a warm-up for a feature doc, and I found Poitras' revelation that she feels a life demarcation before and after Snowden its most interesting asset.
Perhaps it was dryness of Poitras' segment but "The Year of the Everlasting Storm" never really won me back. Sure, David Lowery's displays the auteur's undeniable eye and Joe's final segment is fascinatingly odd in that Joe way, but the film never matched the honesty of that Chen segment for me after it. As a whole, it's certainly an interesting project, I just wish I felt the lightning spark of loving it more than I do.