Cannes 2021: Memoria; Paris, 13th District; The Story of My Wife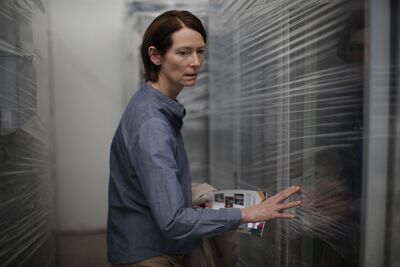 I'm not prepared to call Apichatpong Weerasethakul's "Memoria" the best film in this year's competition, but it is the one that came closest to stopping time.
I'll confess that, at first, I found it a demanding sit. Weerasethakul, who won the 2010 Palme d'Or for "Uncle Boonmee Who Can Recall His Past Lives," and who is known to one and all as Joe (and studied at the School of the Art Institute of Chicago), does not make things easy on the viewer. Much of "Memoria" is filmed in long shot, and without a lot of activity within each frame. From the vantage point of the balcony in the Lumière theater, I wanted binoculars. The shots are held for extended durations. Sometimes the camera inches closer to its subjects, but so slowly that it's hard to notice without watching the edges of the screen. Restless viewers to my right—who were chatting during the opening scene when they should have been listening to the film's intricate sound design—didn't last long before they bolted. They weren't alone in doing so.
"Memoria" is a more sterile film than any feature Weerasethakul has made before. You won't find, as in "Tropical Malady" or "Uncle Boomnee," such beguiling details as talking simians or a princess apparently having sex with a catfish. "Memoria" avoids even doing much to direct the audience's eyes and ears.
But there came a point when I synced with the movie's rhythms. Suddenly I had no idea how many of the film's 136 minutes had elapsed, had no sense of impatience about what might happen next, and had not the faintest clue which shot would be the last. At a festival, where distractions abound and it's impossible not to be conscious of the clock ticking, a filmmaker who can shut everything out (at least for me—this kind of experience is subjective) has pulled off a magic trick.
Weerasethakul's movies have always encouraged a sense of temporal dislocation. ("Blissfully Yours," his second feature, like this year's Cannes film "Drive My Car," saves its opening credits for well into its running time.) And in this case, trying to induce a kind of trance state in viewers makes thematic sense, since "Memoria" concerns a protagonist, Jessica (Tilda Swinton), whose memory is slightly strange. She has a conversation in which she recalls the death of someone she is then told is still alive. At another point, she asks to see a man she knows, but it seems he does not exist—although she'll hear his name again in a different context. She says she thinks she's going crazy. "You are," a man replies. "Me too. It's not the worst thing to be."
"Memoria," shot in Colombia, begins with Jessica being startled by a loud—well, I'd call it a thump, but Jessica is vastly more detailed in her description. It may or may not be the cause of a cascade of car alarms. She visits a sound mixer in the hope of recreating the noise and figuring out what caused it. She is amazingly precise in identifying elements she heard within the sound (concrete, seawater), and the sound man is incredibly adept at recreating it. Whatever it is, Jessica hears it, periodically, wherever she goes.
I can't even begin to describe the rest of the narrative, and that would be missing the point anyway. Weerasethakul is easily the most experimental filmmaker in the Cannes competition, and he's less interested in story than in a kind of playful, accessible metaphysics. (A character who awakes from a nap is asked about it as if he had just died.) Especially in the second half, the geology of the Colombian landscape—the rock formations and the clouds—seems to dictate the flow of the film. Weerasethakul sometimes appears to be operating on a different planet from every other working filmmaker. But maybe he just sees things on Earth that no one else does.
Jacques Audiard's "Paris, 13th District" is a more familiar kind of movie, and that's not necessarily a bad thing. Shot in indie-cool black-and-white, the film concerns a roundelay of romantic connections in Paris's 13th arrondissement. Émilie (Lucie Zhang), an irreverent telemarketer seeking a female roommate, gets an inquiry from Camille (Makita Samba), who turns up at her door and is in fact a man. And hey, she didn't specify that she wanted a girl. Also, there's an attraction, so Émilie gives him the spot. Almost immediately, they can't keep their hands off each other—but are they in a relationship? Camille thinks not.
In what initially appears to be a parallel thread, a law student, Nora (Noémie Merlant), gets bullied by her classmates after she's mistaken for a celebrity cam girl, Amber Sweet (Jehnny Beth). The humiliation is so intense that she's compelled to go back to a previous line of work in real estate. And that happens to be an industry in which Camille, a schoolteacher frustrated with the working conditions, is getting a fresh start. Soon they're in a sort of relationship too, and Nora has struck up a video-chat friendship with Amber.
The movie is based on stories by the American graphic novelist Adrian Tomine, and the screenplay is not only by Audiard but also by Céline Sciamma ("Portrait of a Lady on Fire") and Léa Mysius (a sometime collaborator of Arnaud Desplechin). Despite this pedigree, and a nicely nonchalant parting note, the stories don't culminate in much. But for Audiard, who has always been kind of a straight-down-the-middle filmmaker, "Paris, 13th District" represents a refreshing departure. The many, many sex scenes in the movie throw caution to the wind, and while they are not an ideal basis for recommending the film, they do have an electricity that the director (who won the 2015 Palme d'Or for the refugee drama "Dheepan") hasn't attempted to spark before.
Reviews for the Hungarian director Ildikó Enyedi's mostly English-language competition film "The Story of My Wife" have generally dismissed it as a plodding period piece, and while, at just shy of three hours, the movie certainly plods, I do think there's something interesting going in this literary adaptation, based on the like-titled book by the Hungarian writer Milán Füst. (Enyedi won the Golden Bear at Berlin in 2017 for "On Body and Soul"; her best-known film may be 1989's "My Twentieth Century.")
What's interesting about the film has to do with point of view. The Dutch actor Gijs Naber plays Jakob Störr, a sea captain in the 1920s who resolves to get married as quickly as possible. Surprisingly, Lizzy (Léa Seydoux) accepts the proposal he makes the very first time they meet. But something's up with her, or at least Jakob suspects as much, and so do the police and various others. He becomes convinced that she is having an affair, perhaps with Dedin (Louis Garrel), a writer who has no income to speak of but comes from wealth and thus leeches off high society to keep up appearances.
Lizzy says that she is faithful, but she is coy enough that she does not quell Jakob's concerns. In a sense, the story of "The Story of My Wife" is of how Jakob, who wed without a courtship or even a semblance of selectivity, begins to understand Lizzy as a flesh-and-blood human. In the movie, she is seen almost entirely through Jakob's blinkered perspective. (As the film suggests visually, he might as well be seeing her through the distortions of a ship's porthole.) But in order to maintain this conceit, "The Story of My Wife" has to keep Lizzy an abstraction, which becomes less and less plausible as time goes by. The lack of character development for her starts to feel less like the point of the film and more like an evasion.