Cannes 2021: Bergman Island, Drive My Car, The Innocents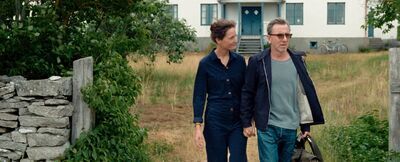 If you think the characters in Woody Allen movies lay on their praise for Ingmar Bergman a bit thick, do not go ashore on "Bergman Island." That's the title of a new Cannes competition film from the writer and director Mia Hansen-Løve ("Eden," "Things to Come"). The movie concerns a filmmaker couple, Chris (Vicky Krieps) and Tony (Tim Roth), who travel to Fårö, the island in Sweden where Bergman lived and worked, to reside for a spell in Bergman's house, which he had wanted to be kept as a place where artists and scholars could stay. (Interested in applying? Go here!)
When they arrive, they're told it's good that they found the place, because no one around would have given them directions—that's part of a tacit pact among the locals about all things Bergman. But from what we see, practically everyone on the island can't wait to share trivia with Chris and Tony. Did you know that Bergman had nine children by several different women? That he had directed 25 films by the age of 42?* That the couple will be sleeping in the bed from "Scenes From a Marriage"? That Bergman didn't really consider "Through a Glass Darkly," "Winter Light," and "The Silence" a trilogy? (Well, he did say that, a Bergman tourist played by the Chicago film critic and sometime director Gabe Klinger says in response to that tidbit, but then he walked it back.)
As Chris and Tony prepare to watch a Bergman movie in the filmmaker's private screening room, they argue over which one to choose, rattling off title after title, apparently for the benefit of a hypothetical viewer who has wandered into a movie called "Bergman Island" with no idea of who Ingmar Bergman is. For that matter, would Bergman's private theater in Sweden have a print of "Cries and Whispers" with English subtitles? (That's possible, especially if the screening room is part of The Ingmar Bergman Foundation. And the projectionist does indicate that the prints there go on loan. But still.)
Because none of this Bergman info is especially insightful or even obscure, watching the first section of "Bergman Island" is like being marooned with a group of talkative, know-it-all video store clerks. Fortunately, the island scenery—which is lovely, thanks to the wonders that the cinematographer Denis Lenoir works with natural light—gets Chris's creative juices flowing, and her screenplay becomes a movie within the movie. Her script concerns yet another film director, Amy (Mia Wasikowska), who is attending a wedding on Fårö with an ex-boyfriend, Joseph (Anders Danielsen Lie, who's also in Cannes with "The Worst Person in the World"), she still loves.
This Amy-Joseph plot is instantly more engaging than everything with Chris and Tony, even if the story Chris is writing veers closer to rom-com (or at least rom-drama) than anything Bergman ever made. And mercifully, when these characters go skinny-dipping, running nude from the camera in imitation of Harriet Andersson in Bergman's "Monika," nobody spells out the connection in dialogue.
"Bergman Island" increasingly plays up its metafictional elements, and it's interesting to ponder whether the romantic tension between Amy and Joseph would be as effective if it weren't surrounded by a completely inert framing narrative. In any case, there's a good film inside "Bergman Island," and it's a movie that Bergman fans wouldn't want to go anywhere near.
The mysteries of the creative process were the theme of the day at Cannes, where the other competition film to premiere, Ryusuke Hamaguchi's "Drive My Car," also centers on a couple—one a screenwriter, the other a stage actor and director—who work in drama. But it's much stranger than "Bergman Island." For instance, the opening credits don't begin until more than 40 minutes in. (The film as a whole runs three hours.) And although it's based on a short story by Haruki Murakami, "Drive My Car" has a freehanded structure that will be familiar to viewers of Hamaguchi's "Happy Hour," which runs more than five hours and seems to let the characters' whims and conversations dictate the shape of the narrative. This is actually Hamaguchi's second feature of the year, after "Wheel of Fortune and Fantasy," shown at Berlin, a three-part film on the theme of happenstance that keeps twisting in on itself.
The closest analogue to Hamaguchi is the great French director Jacques Rivette, who like Hamaguchi was unafraid of long running times and was interested interested in the interplay between theater and film. The stage-actor-and-director character, Kaufuku (Hidetoshi Nishijima), takes a residency in Hiroshima where he will direct a production of "Uncle Vanya." Through the casting process, the production ends up being multilingual: one performer will speak Japanese, another Mandarin, another Korean sign language—all, of course, in a Russian play. (There are projected supertitles for the benefit of the audience.)
One way of understanding the movie is that it's trying to examine the peculiar alchemy of collaboration: These are actors who cannot comprehend one another's words, but they do know the flow of the production and the text. The notion that people can't create things without the help of others extends to the movie's offstage interactions. Kaufuku's wife, Oto (Reika Kirishima), has discovered that sex is the best cure for her writer's block. Kaufuku has a very specific rehearsal process that involves driving while listening to cassette tapes of his wife reciting a play's other roles. When the Hiroshima residency assigns him a driver (Toko Miura) for liability purposes, he'll have to rethink how he works.
None of this description comes close to summarizing this winding and singular film. Just when I thought I had a handle on what it was about, developments in the third hour challenged everything I thought I knew. Suffice it to say that it deals with life, death, love, guilt, and language, and everything about the way it unfolds feels organic.
Somewhat tangential to the day's creative-process theme—but relevant to the Nordic setting of "Bergman Island" and to the filmmaking team behind "The Worst Person in the World"—was the Un Certain Regard title "The Innocents," written and directed by Eskil Vogt, who co-wrote "Worst Person" and has been a longtime collaborator of its director, Joachim Trier. He also directed the boldly unconventional "Blind." "The Innocents," though, is dispiritingly conventional—a familiar horror movie made leaden by a slow pace and weak plotting.
*Your count may vary.