A Love Letter to Musicals: Schmigadoon!'s Director, Co-Writer, and Cast on the New Musical Series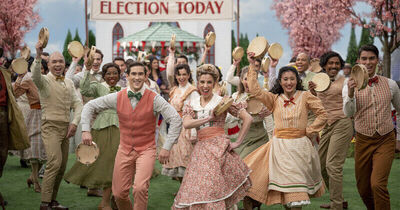 "Schmigadoon!" is a loving tribute to and parody of classic musicals from "Oklahoma" to "The Music Man," "Carousel, "The Sound of Music," and of course "Brigadoon," the story of two men who find a magical town, which inspires its name. The six episode series on AppleTV+ stars Cecily Strong and Keegan-Michael Key as doctors feeling some strain in their long-term relationship who discover a quaint, pristine small town where people keep breaking into song. A leprechaun played by Martin Short tells them they will not be able to leave the town until they find true love. The cast includes Broadway superstars Alan Cumming, Jane Krakowski, Kristen Chenoweth, Aaron Tveit, Ann Harada, and Ariana DeBose (Anita in the upcoming Steven Spielberg "West Side Story") and the song and dance numbers are as joyous and hummable as the numbers that inspired them.
In interviews, director Barry Sonnenfeld confessed that he had not been a musical fan, and reveals what he considers the director's most important job, Strong describes the scene that was harder than learning the musical number, and Tveit talks about the classic Broadway musical roles that inspired his character. Ann Harada picks the musical she'd like to live in, Dove Cameron describes playing a character less "real" than the ones she interacts with, and songwriter/co-showrunner Cinco Paul talks about sneaking the names of some of his songwriter heroes into the show. (Interviews combined and lightly edited.)
Barry, did you dream of putting yourself in the position of the classic musical directors like Vincent Minelli and Stanley Donen?
BARRY SONNENFELD: I really enjoyed the process of making it, but I was not a big musical fan. But there were three musicals I liked as an adult. None of them are really traditional musicals. One is Monty Python's "The Meaning Of Life." I used to sing as a lullaby to my daughter, "Every Sperm Is Sacred" from the movie every night, which is a little weird. I'd also would say "Eve of Destruction," which is a little strange. I also really liked "Pennies From Heaven" with Steve Martin, and I also loved Milos Forman's Interpretation of "Hair," which was really wonderful. But in all those cases the music is very good as well. And what's great about "Schmigadoon" is I think Cinco did an amazing job in creating those 20 musical numbers that all feel like they're from MGM musicals of the '30s, '40s, and '50s.
It must have been a challenge to get the tone of this series right, with two characters from the "real" world and the rest from a fantasy world that is affectionate but also satiric.
BS: Right. The only job a director has is to create and be consistent in tone. That's the single job of a director. And what I tell all the actors, whether it's Will Smith or Tommy Lee Jones in "Men In Black," or Keegan, or Cecily, or Kristen Chenoweth, or Alan Cumming, is just, "Play the reality of the scene. Don't try to be funny. Don't try to be witty. Don't try to be charming. If your dialogue is charming, and the scene is charming, you'll be charming."
What I always want to do is take all the acting out of acting. It's why the only note I ever give to an actor is "faster, flatter." Because if you say things fast enough, you don't have time to act. And that's where I live so that even in this artificial world of "Schmigadoon!," where everyone sings and dances, they never wink at the camera. They never say, "We're in a musical." They don't even know they're in a musical. They don't even know they're singing and dancing. This is just the way they are. So, that's the secret to success in anything I've directed, which is: play the reality of the scene, don't play the comedy in the scene. Don't acknowledge you're in a Comedy or Musical, just be there." And that's what I love doing. And even in a musical, I think I was able to do successfully pull that off.
AARON TVEIT: I think it was something we learned. You do not want to go too far, especially on film. You don't really know how it's going to translate. But I think we learned with this with the characters that Dove (Cameron) and I got to play, we were more one dimensional playing these kind of ideas of these people, bounced against the reality of Cecily's and Keegan's characters. We quickly learned that the further we went and the bigger that we went in those directions, it actually juxtaposed to work the best. So yeah, that was definitely a challenge for us to find what the tone was. But that's ultimately where we landed.
DOVE CAMERON: It was something that I was really worried about coming into. We all have to make sure we're doing the same tone. I was really worried about that. And then it just happened naturally. I think that Cinco and Barry and (producer) Lorne Michaels did such a great job. And Cecily did such a great job at building this world that it was quite easy to step into. So it was actually kind of a non-discussion. It was just sort of like, "Oh, this is the tone, and this is where it's at." And definitely, like Aaron said, the more earnest you ended up playing it, the funnier it was juxtaposed against Cecily and Keegan. It's quite a joy.
ANN HARADA: Honestly, I feel like that's the tone of most musicals because it's impossible not to be aware that you're singing and that in itself is an artificial construct, but that you have to believe it so much, and you have to be so committed to it, and you're incredibly sincere because as we all know, comedy doesn't land if you don't feel it and it's not absolutely true to you. So, that to me, this is the tone of a musical.
I noticed that in a scene in the schoolhouse, there was a schedule for parent-teacher meetings, and all the names were of great Broadway songwriters like Alan Jay Lerner and Frank Loesser. Who was responsible for that?
CINCO PAUL: That was my list. Because once I saw there was a chalkboard, I thought, "Hmm, let's put something on this chalkboard." And so, it's the composers for the musicals that we're paying homage to and that we're parodying in the show. So, all my favorites, Learner, Lowe, Loesser, Meredith Willson.
Ann, were you one of those theater kids in school who was in every musical?
AH: Yes, and I'm still a musical nerd. In high school I was Lucy in You're A Good Man, Charlie Brown. I was one of the nurses in South Pacific. And I was Dolly Levi in The Matchmaker, not in Hello Dolly. If I could live in a musical, it would be Avenue Q, because I did live in it!
Aaron, your character is clearly inspired by Billy Bigelow in Carousel, but were there other classic musical references you drew from in your performance?
AT: That was definitely the main one that I look to. It's a role I've always wanted to play so I got to live my dream of it through this. Our wonderful music team referenced the song, "I'm a bad, bad man, from Annie Get Your Gun. And our wonderful choreographer, Chris Catelli added some Gene Kelly and Judy Garland Easter eggs with my duet with Cecily. So yeah, you get to watch these classics and greats and try to live up to what they've done before.
Cecily, what was harder, the singing or the dancing?
CECILY STRONG: Neither! I play an obstetrician and so it was delivering the baby, hands down. That day, we're in the room and none of us knew what we were doing, and I think you guys kind of looked to me. Cinco, you went, "Okay, well go ahead then, do what they do," and I was like, "I don't know what they do," so that one was tougher. Dancing was a bit of a challenge until I realized my character didn't have to be the same caliber dancer as the people around me, and I got to be just me, a little tipsy dancing. And everyone was very encouraging as you can imagine.
How do you balance your affection for musicals with the way you make fun of them?
CS: It's like teasing someone you love. Because you love someone and you're around them so much, you're like, "You know what you do, that's kind of funny?"
CP: It was really always meant to be just a love letter to musicals, but I also wanted to have a bit of a critical eye and talk about viewing it through 2021, things that maybe would fly back then don't fly as much now. But ultimately, I wanted it to all be done with affection. So, even when it's been critical, it's never mean or taking easy potshots. It's all done out of love. That was the plan.
"Schmigadoon!" premieres on Apple TV+ on July 16.