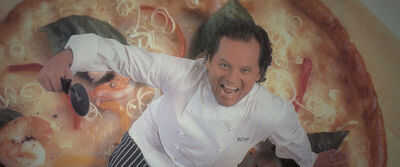 "Wolfgang" is pretty much what you'd expect from a Disney+ documentary. Like the DisneyNature films, it's strikingly pretty, not just in its gorgeous views of the Austrian countryside, but also in the interiors populated by talking heads and delectable foodstuffs. It's also startlingly tame, as if its subject, famous celebrity chef Wolfgang Puck, was a commodity whose brand needed to be protected. Whenever the darkness that often colors human life threatens to harsh one's mellow, the film sweeps it under the rug as quickly as possible. So, at the end of the film, when Puck says that he wishes he'd spent more time with his family, it feels more like a PR firm's afterthought than a lament. Ultimately, "Wolfgang" plays like an infomercial instead of a heartfelt or even remotely complex documentary.
If you're willing to accept that a complicated, messy life has been shorn of its sharp edges and repackaged as comfort food, you should probably add another star to the rating above. Puck is an engaging presence who works the camera like a pro. And why wouldn't he be? "Wolfgang" establishes that he kickstarted the celebrity chef craze. Cooking stars like Bobby Flay, Gordon Ramsay, and the entire Food Network roster owe him a debt. Before Puck, there was only Julia Child. While she was famous enough to have her kitchen set enshrined in the Smithsonian, she practiced the intimidating art of French cuisine on PBS. Puck was showcasing his newly-created "California cuisine" on ABC's "Good Morning America."
Child also didn't have power agent Mike Ovitz as a hype man. It's Ovitz who promotes Puck's restaurant, Spago, to his clients and who also suggests Puck go on television to give the common folks a taste of what the celebrities got. How he secures that appearance is an amusing bit of subterfuge, setting in motion the next phase of Puck's plan to show that the chef is the true star, not the restaurateur. "Being a chef was a blue collar job," food writer Ruth Reichl tells us. "It was a terrible job. People knew who owned the restaurant, but they rarely knew who did the cooking." Spago changed all that with an open kitchen that thrust whoever was cooking into view. Every celebrity who came in during its heyday—and there were many—got to see Puck and his crew make their food. And they loved it enough to keep returning.
Puck's desire to shine a spotlight on chefs came after his first big American gig at Ma Maison, a famous Los Angeles restaurant that had Astroturf on its floor. Puck describes its owner, Patrick Terrail, as "very arrogant," saying "he talked like he had the best restaurant in the world." He also mentions how little credit he got for the ideas he brought to the kitchen. Terrail stops by to defend his honor, threatening to make the film intriguingly petty. Alas, the closest we get to anything juicy is a scene of Joan Collins slapping the taste out of Michael Nader's mouth on "Dynasty." "You don't want to disappoint Joan Collins," Puck warns, citing her as the inspiration for his famous smoked salmon pizza.
"The best food comes from somebody who knows the rules and then can break them," says Nancy Silverton, former Spago pastry chef and current Food Network fixture. Director David Gelb does an excellent job showcasing that food, whether in clips or in footage of Puck cooking in the present day. Readers of this site know I'm a sucker for any kind of food porn in movies. In this regard, "Wolfgang" delivers the goods, though I would rather get beaten up by Joan Collins than eat that pizza she inspired. Thanks to cinematographer Will Basanta, even the frozen food items that bear the chef's name look appetizing. He shoots them with the same attention he devotes to the vistas we see whenever we're in Austria with Puck and his sister.
When focused on food or the restaurants Puck built from nothing, "Wolfgang" works very well. If you want to know what Johnny Carson was doing with Spago pizzas, where the tables for has-been stars were located, or to get the feeling you might be turned away from a fancy joint because you're underdressed, this movie has you covered. But when things get personal, the gears in the legend-making machine start grinding a bit too loudly, and some humanity is lost. This is a story of a man who went through an abusive stepfather and levels of adversity that made him a workaholic who rarely saw his family, yet these identifiably human experiences take a backseat to the story of building an empire. As a result, "Wolfgang" becomes just another case of the restaurateur overshadowing the chef.
Now playing on Disney+.