The Women of Wakanda … Forever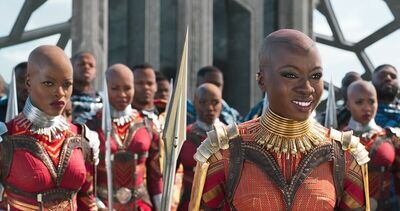 "Heroes make the sun rise in the mornin'
Heroes make the moon shine bright at night
Heroes make our lives a little stronger
If you look you'll surely see, there's you and me"
– The Commodores, "Heroes" (1980)
Films are by far America's most prolific export. They have transformed the American Dream into a golden ring that people reach for from around the world, and have made American life something to be coveted, achieved, and emulated. The rest of the world buys in with billions in currency, and when it comes to people they've never met, those same global citizens use Hollywood as a guide: Good old American values, good old American know-how, good old American racism.
Alongside the American Dream mythologized on film, racism may be America's second most prolific export. That is not to say that other melting-pots like the UK or France don't have their own. However, they have the same cultural influence with film as the United States. Wildly enough, it is among the countries that do have massive film industries that we see the symptoms of the infection of American racism most. In films from China, South Korea, India and more, the few appearances of Black people seem to be stuck primarily in the harmful tableau of '80s thugs or bodyguards—if we show up on screen at all. What happens when your primary image of a group of people comes from American portrayals and the images your country's film industry extracts from American portrayals? White people come out winning. Black people? Not so much.
Hollywood has shaped the world's view of American culture to such a degree that when something is missing from the movies, we're tempted to believe it doesn't exist. Enter the Black superhero. If you're a comics reader you can name a few. If you've paid attention, television and film have given us a handful: "Static Shock" (2000), "Meteor Man" (1993), "M.A.N.T.I.S." (1994), "Black Lightning," (2018), "The Falcon and the Winter Soldier" (2021), and, arguably the anti-hero but most influential at the box office, "Blade" (1998). After "Blade"'s success we spent two decades with Black superheroes as team members, sidekicks, and B-plots in films. Then the MCU (Marvel Cinematic Universe) needed someone who could stand toe-to-toe with Captain America on screen. Marvel movie executive Nate Moore suggested "Black Panther"—the king of Wakanda, a West African country so technologically advanced its citizens have chosen to hide behind a pastoral façade, strengthened by a force field, you know, for safety.
Nate Moore was right. The world went wild for 2018's "Black Panther"—we were thirsty after that 20-year drought. With a box office bank of $1.3 billion, a cultural bonanza took place.
It was a good moment for Black male superheroes, a group that has had few moments in the spotlight. But for Black women superheroes, "Black Panther" was a Vibranium gold mine. If Black male supers were previously sidelined, then their female counterparts were entirely missing in action.
A hero will count invisibility as a superpower but being non-existent is the opposite of entertainment.
During the onscreen Black superhero drought, Black women were sprinkled throughout the glossy pages of the various comic book publishers. Switch to television & film and, while a search party wasn't needed, a good detective with Christie Love's skills would've helped. In the '70s, we had superhero equivalents in "Coffy" (1973), "Foxy Brown" (1974), and "Cleopatra Jones" (1973)—with Cleo clearly being the "mother" of the undercover supermodel hero Vixen, the first African-American DC heroine. Likewise, these heroines should have been the heralds of superpowered Black women on screen. But then nothing happened. Decades later, Vixen and Bumblebee recur in series from DC Comics, and Tempest shows up in "X-Men: First Class" (2011) long enough to die, so that's nice.
Twentieth Century Fox, through a licensing deal with Marvel Comics, had the rights to one of the most famous and most popular femme superheroes in the world, and they barely did anything with her. (Unless you count calling her by the wrong name in "X-Men" [2000], undermining her talents throughout the original franchise and leaving her unnamed in a second franchise.) She is Ororo Munroe. You probably call her Storm. If Black men were thirsty for heroes who look like them, Black women were dehydrated and ready for hospitalization.
Enter General Okoye, Nakia, Queen Ramonda, Ayo, and Princess Shuri. Welcome the Dora Milaje. They are the Black female superheroes of "Black Panther," and their roar was not only heard but felt. For the first time, we saw more than one Black woman on the team. Each of them swerved away from clichés like an X-Men Blackbird fighter; each distinct and fully realized. We know who they are, what they value, and why they fight.
General Okoye (Danai Gurira) is a career warrior but also a big sister who wants the best for her nation and for the king she regards as a brother. Lupita Nyong'o gave us a rebel for the cause in Nakia, a woman who returns home only when her nation is ready to come correct. Queen Ramonda (Angela Bassett) is a matriarch who is as ready with her wisdom as she is to shrug off the crown and to take action. Ayo (Florence Kasumba), also notably in "The Falcon and the Winter Soldier" series, is gorgeously cold-blooded, compassionate and quick-witted—whether in a fight or with a clapback. In Letitia Wright's Princess Shuri, we're gifted with the ultimate genius scientist and snarky little sister. And finally, in homage to the Warrior Women of Dahomey, we have the rest of the Dora Milaje—the "adored ones"—as the king's guard, trained warriors who are deadly with their blades and with their tongues. So watch your mouth and protect your neck.
What a joy to go from famine to this feast. Each of these women are so deeply woven into the story's fabric that to remove them would unravel the entire film. They are important, they are singular, and they are needed. It doesn't take any prognostication to see a direct trajectory from the women of Wakanda into the introduction of another superhero, Monica Rambeau (Teyonah Parris) in "WandaVision" on Disney+. The problem is that Monica AKA Photon, while great, is still relegated to the role of on-screen sidekick and might've become the victim of blacrafice if not for the protection of powers she didn't know she had. But perhaps Marvel is listening to our discontent and that's why the second film in the Captain Marvel franchise is now titled "The Marvels" (2022)—presumably to include Pakistani-American Ms. Marvel and Black-American Photon more expansively. Even better, the movie is directed by filmmaker Nia DaCosta, a Black woman.
The aftereffects of the women of Wakanda are a wave, building momentum. Hollywood really does like to follow a trend, and now that the myth "Black films don't travel" has been obliterated, there's progress on the Black women superheroes front. With the lines between theaters and television being blurred by streaming, these characters are showing up on all of our screens and not as sidekicks or background players. Agent 355 from Y: The Last Man, who isn't a superhero but who is definitely a superhero (d'you know what I mean?) is on her way to FX on Hulu. Blink from Bitter Root is coming soon. She'll star in a film directed by the most popular Black superheroine of the now, Regina King. Allison Hargreeves on Netflix's "Umbrella Academy" is one we didn't know to expect (she was white in the comics) but we received her with snaps for Emmy Raver-Lampman's fire. And a nod must go to DC Comics for the heroic sisters, Thunder (Nafessa Williams) and Lightning (China Anne McClain), from the "Black Lightning" adaptation on The CW. The series was announced a few years after "Black Panther" but actually beat it to premiere on Jan 16, 2018.
If you haven't caught the wave yet, the Naomi series (DC Comics) was recently picked up by The CW as well. Naomi takes a journey that, like Superman's, is inspired by our immigrant backstories but is wonderfully her own. She is a centered, fully-realized character who tosses us into her backpack and takes us along for the action, adventure, and the self-discovery. In this state of plenty (or burgeoning plenty), it isn't farfetched to hope, dream, or even demand that, after seeing the love we've heaped on these Black women superheroes, Marvel will eventually announce a standalone Storm movie. (I'd be happy to write it, if such services are needed.)
We "stan" these characters. We do it because a culture can be tempted to doubt its greatness without seeing itself in hero culture. The women of Wakanda remind Black women that we are great in every genre—without boundaries—and "if you look, you'll surely see there's you and me."