The Tanning of Hollywood Panel to be Broadcast at 3pm CT Tomorrow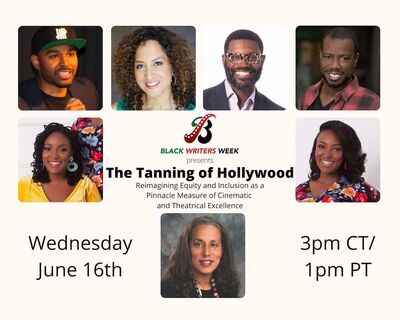 On Wednesday, June 16th, the first virtual panel for Black Writers Week will be broadcast at 3pm CT/1pm PT on The Official Roger Ebert YouTube page, and will subsequently be posted at RogerEbert.com. The panel is entitled "The Tanning of Hollywood: Reimagining Equity and Inclusion as a Pinnacle Measure of Cinematic and Theatrical Excellence," and will feature the following distinguished panelists…
JON CARR
Jon Carr is executive producer of The Second City. Prior to joining us, he was artistic director for Dad's Garage Theater in Atlanta, Georgia. A seasoned improviser, performer, and award-winning playwright with nearly 20 years of industry experience, Jon has been part of Atlanta's creative community for more than 15 years, where, among his many creative accomplishments, he held the position of audience development manager at Alliance Theatre and founded United Atlanta Improv to help improv theatres around the city come together through collaborative works.
With his Dad's Garage improv group "Dark Side of the Room," Jon has worked with the Center for Civil and Human Rights, performing across North America. His original play Black Nerd was awarded the 2018 Suzi Bass Award for Best Original Play. Originally from Los Angeles, he holds a degree in marketing and business administration from Georgia State University. He looks forward to making homeschooled kids like himself proud.
SHAWN EDWARDS
Shawn Edwards is a journalist, TV and film producer and marketing and event consultant. As a nationally recognized film critic for Fox 4 News in Kansas City, Missouri he has won numerous national awards including Best TV Film Critic twice by the LA Press Club's National Entertainment Journalism Awards.
Edwards co-founded the African American Film Critics Association in 2003, and produces their annual award show that takes place annually in LA. He is also on the Board of the Critics Choice Association. Edwards created and executive produces 'A Celebration of Black Cinema' in conjunction with the Critics Choice Association which premiered in 2014 in Los Angeles at the House of Blues Sunset and aired nationally in 2021. Edwards also created iloveblackmovies in 2008, the popular social media film community. He also published a digital book in 2019 celebrating 100 years of black filmmaking.
Edwards has produced numerous TV shows and documentaries for FGW Productions and BlackTree TV, both based in Los Angeles. Edwards currently works at Hidden Empire Film Group ("Black and Blue," "The Intruder" and "Fatale"), based in Los Angeles, as a Senior Marketing Specialist. He is a life-long lover of movies who began making his own films in the 7th grade.
KAREN HORNE
Karen Horne is a senior executive with over 20 years of experience within the entertainment industry. She has been recognized as a Diversity and Inclusion pioneer and pipeline builder. Karen recently joined WarnerMedia where she is Senior Vice President of Equity & Inclusion. She leads the domestic and international creative talent development pipeline programs and initiatives across the enterprise's many brands, including HBO, HBO Max, Warner Bros film and television, the Turner Networks, Adult Swim, Cartoon Network, CNN, DC Comics and WarnerMedia's gaming divisions.
Prior to joining WarnerMedia, Karen spent over a decade at NBCUniversal, where she was Senior Vice President, Programming Talent Development and Inclusion for NBC Entertainment and Universal Television Studios. In this role, Karen was responsible for overseeing in-front-of and behind-the-camera primetime diversity efforts. The programs and initiatives she created and/or developed became the industry's gold standard and a blueprint for many other companies
Horne's lengthy resume includes a variety of disciplines and contacts. She served as Director, Creative Affairs, at IDT Animation and she designed, implemented and oversaw Nickelodeon's Writer Fellowship Program. Horne also was the Director of Writer Development & Special Projects for Walt Disney Studios and Walt Disney Network Television. Previously, she served as Director, West Coast, for the Black Filmmaker Foundation.
Horne was also a Co-producer at HBO for the Emmy Award-winning animated series "Spawn." Her early career includes stints at ABC as an Executive Assistant to the President, ABC Entertainment, as well as positions at ABC Television Network Group and ABC Sports.
Ms. Horne has spoken both nationally and internationally on diversity and inclusion best practices and has been honored with several awards and recognitions for her diversity and inclusion work and her service to underrepresented communities. She serves on the boards of Montclair State University's School of Communication and Media; USC's Annenberg Inclusion Initiative, The Alliance of Women Directors, the Bay Area's Urban League and is a member of several entertainment industry organizations.
JANEIKA & JASHEIKA JAMES
JaNeika and JaSheika James have had an ongoing love affair with film and television since childhood. It wasn't until college that the twin sisters decided to pursue careers in film and TV, both graduating with bachelor's degrees in Telecommunication from the University of Florida's College of Journalism. While sharing common goals to write for television, JaNeika and JaSheika have taken very different paths in achieving those goals.
Upon graduating from the University of Florida, JaSheika went on to work for the hit series, DESPERATE HOUSEWIVES and DEXTER, and later in post-production at ABC Studios. Her professional experience in the writers' room began on ABC's REVENGE, where she joined the writing staff in the third season. Following JaNeika's master's studies at Syracuse University's Newhouse School of Public Communication, she had the opportunity to interview Yvette Lee Bowser, Creator and Executive Producer of the hit FOX television series LIVING SINGLE. She began her career working for Mrs. Bowser on UPN's HALF & HALF. JaNeika went on to work under the producing team of Jennifer Crittenden and Gabrielle Allan (SEINFELD, SCRUBS, WHAT'S YOUR NUMBER?) at ABC Studios, and later in Scripted Development at VH1.
JaNeika and JaSheika rose up the ranks from Staff Writers to Supervising Producers on Fox's groundbreaking hit series, EMPIRE. They also served as Co-Executive Producers on Netflix's limited series, TRUE STORY, starring Kevin Hart and Wesley Snipes, and HBO Max's GOSSIP GIRL, and are currently developing Showtime's MABEL, an origin series based on Tyler Perry's Madea, as Executive Producers alongside Tyler Perry and Tim Palen. The James Twins are committed to creating, developing, and writing projects that enlighten, inspire, and entertain audiences around the world. Their debut book, LIVING DOUBLE, is a behind-the-scenes look at the competitive world of writing for television, as well an inspiring account of two sisters determined to make their dream careers a reality – and to share life lessons with those who have big dreams, but are uncertain how to achieve them.
TROY PRYOR
Troy Osborne Pryor is an American producer, host, and actor. His collaborations have led to award-winning projects and content with ABC, Warner Brothers, TruTV, HGTV, DIY Network, TV One, Aspire TV, KweliTV, and more.
A Chicago native, Troy is an advocate for connecting local, undiscovered diverse talent to mainstream content and media platforms through his entertainment network, Creative Cypher and the various brands under his chief company, Pryor Holdings. Troy was the youngest person ever to be elected to SAG-AFTRA Chicago's Board of Directors and was a mentor for President Barack Obama's White House project, A Call to ArtsHis with SAG-AFTRA. As a former collegiate athlete, Troy was a record-breaking powerlifter and linebacker for the University of Illinois. As a Chicago Scholars 35 Under 35, Ariel Investments/WVON 40 Game Changer, Black Enterprise TCX Fellow, and ADColor nominated Innovator of the Year, Pryor has a tenacity for innovation and big-picture, strategic thinking.
Still very much grounded in the values of his church family, he continues to spend his time ministering, mentoring, and coaching as he strives daily to reach his full potential. Learn more at troypryor.com.
REBECCA FORD (moderator)
Rebecca Ford Terry is a partner at the law firm Scharf Banks Marmor. She is the former Executive Vice
President and head of litigation at the Metro-Goldwyn-Mayer movie studio. She is current or former trustee of numerous civic and cultural institutions, including the Goodman Theatre, the Field Museum, the Chicago Humanities Festival, the Renaissance Society, Injustice Watch, and the Art Institute of Chicago.
Rebecca received her B.A. from Harvard College and J.D. from the University of Chicago Law School. A published writer and accomplished public speaker, she has written for the Milken Institute Review, The American Lawyer, the Reader, the New York Law Journal, the Chicago Tribune and IICLE. Rebecca is a frequent movie and entertainment contributor to Variety.com, the Chicago Daily Law Bulletin and WCPT AM820.