The Evolution of Afrofuturism: Black Power, Black Love, Black Superheroes and Magic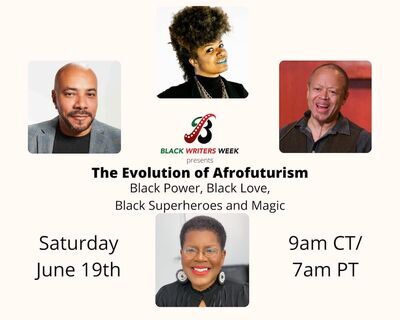 The third virtual panel for Black Writers Week premieres Juneteenth, Saturday, June 19th, 2021, at 9 am CT/7 am PT on The RogerEbert.com YouTube page. The panel is entitled "The Evolution of Afrofuturism: Black Power, Black Love, Black Superheroes and Magic," and features the following distinguished panelists: Steven Barnes, celebrated author of "Lion's Blood"; Dr. John Jennings, Professor of Media and Cultural Studies at the University of California at Riverside; Ytasha Womack, author of Afrofuturism: The World of Black Sci Fi and Fantasy Culture; and moderator Tananarive Due, executive producer of Shudder's "Horror Noire: A History of Black Horror."
Below is the embedded video along with bios and headshots of each participant…
STEVEN BARNES
Steven Barnes is a New York Times bestselling author, screenwriter and educator who has written more than thirty science fiction, fantasy, and horror novels. Octavia E. Butler called Barnes's Endeavor-Award winning novel Lion's Blood "imaginative, well researched, well written, and devastating." The NAACP Image Award winner is also a pioneering television writer who has written for The Outer Limits (Showtime), The New Twilight Zone (Showtime), Stargate SG-1, Andromeda, and Ben 10: Alien Force. He has been nominated for Hugo, Nebula and Cable Ace Awards. Barnes has lectured at UCLA, Mensa, Pasadena JPL, taught at Seattle University, hosted the "Hour 25" radio show on KPFK, been Kung Fu columnist for Black Belt Magazine, and been a "Starred Speaker" at the L.A. Screenwriting Expo. An avid yogi and martial artist with three black belts, Steven is also a pioneer in the human potential movement, creating the groundbreaking "Lifewriting" creativity system, making writers the heroes of their own stories. He and Tananarive Due recently co-wrote an episode of "The Twilight Zone," hosted by Jordan Peele.
DR. JOHN JENNINGS
Dr. John Jennings is a Professor of Media and Cultural Studies at the University of California at Riverside. Jennings is co-editor of the Eisner Award-winning collection The Blacker the Ink: Constructions of Black Identity in Comics and Sequential Art. Jennings is also a 2016 Nasir Jones Hip Hop Studies Fellow with the Hutchins Center at Harvard University.
Jennings' current projects include the horror anthology Box of Bones, the coffee table book Black Comix Returns (with Damian Duffy), and the Eisner-winning, Bram Stoker Award-winning, New York Times best-selling graphic novel adaptation of Octavia Butler's classic dark fantasy novel Kindred. Jennings is also founder and curator of the ABRAMS Megascope line of graphic novels.
My book imprint is called MEGASCOPE after the magical device in WEB DuBois' sci-fi fantasy short story "The Princess Steel" (1909). You can read more about his work at The New York Times and NPR and Publishers Weekly. Also check out this link to the first four books of the line, including ACROSS THE TRACKS, a primer for younger readers that deals with the Tulsa Race Massacre (read the Publishers Weekly review of HARDEARS here).
YTASHA WOMACK
Ytasha L. Womack is an award-winning author, filmmaker, independent scholar, and dance therapist. She is a leading expert on Afrofuturism and lectures on the imagination and its applications across the world. Ytasha was honored among DesignHub's 40 Under 40 designers for social good and innovation in 2017 and listed as a Filmmaker to Watch in The Chicago Tribune. Her book Afrofuturism: The World of Black Sci Fi and Fantasy Culture (Chicago Review Press) is the leading primer on the subject and taught in colleges and universities. Afrofuturism is also a Locus Awards Nonfiction Finalist. She is an inaugural resident with Black Rock Senegal helmed by celebrated artist Kehende Wiley, was a creative in residence with Kickstarter Spring 2019 and was a writer-in-residence with Emerson College in Boston Fall/Spring 2018-2019. She recently completed a writing residency in October 2020 as a Writer on the Bloc with Writers on the Wall (WOW) in Liverpool, England.
A prolific writer, her books include the time travel series the Rayla Universe including Eartha 2198, Rayla 2212 and Rayla 2213. Her Afrofuturism novella series A Spaceship in Bronzeville (Mouse Books) was created during her creative in residence with Kickstarter. She's also author of the nonfiction works Post Black (Chicago Review Press), and Beats Rhymes and Life: What We Love & Hate About Hip Hop (Random House). Her graphic novel epic BLAK KUBE (Megascope), illustrated by Tanna Tucker, debuts in 2022. Ytasha is director of the Afrofuturist dance film A Love Letter to the Ancestors From Chicago. The film was televised on WTTW Chicago and screened at the Afropunk Festival in Brooklyn; Black(s) to the Future Festival in Paris, France; the Reeltime Film Fest in Nigeria, Afrotopia in Bristol England and the Black Harvest Film Festival in Chicago among others. The film won Best Experimental Film at the Collected Voices Film Fest.
Her other films include the romantic comedy Couples Night (screenwriter) and the documentary Tupac: Before I Wake (coproducer). Her feature films Love Shorts (producer/writer), and The Engagement (director) were nominated for Best Film at the American Black Film Festival. She was nominated for Best Director for The Engagement at the festival as well. Ytasha created and leads an Afrofuturism dance therapy program for teens and adults often providing workshops to high schools, corporations, and museums. Ytasha has lectured at a number of universities, festivals, and futurist conferences. She gave the closing keynote address at PRIMER 19 and was a featured speaker at MIT's Beyond the Cradle, The Ecole Nationale Superieure d'Architecture de St. Etienne in France, Sonic Acts Festival in Amsterdam, the Deutsche Kinemathek 's Science in Fiction in Berlin, the WOW Festival in Liverpool, and the Acheworks Chicago Series among others.
She's an invited participant in the Decolonizing Mars Unconference at the Library of Congress, a keynote presenter for the Afrofuturism & Indigenous Futurism Conference at the University of North Caroline Chapel Hill, and a keynote speaker for Planet Deep South at Jackson State University. She's also presented at Duke University, University of Chicago, Clark Atlanta University, Yale University, The New School, Chicago State University, The City Colleges of New York and others. She created and moderated the University of Chicago's Afrofuturism Symposium, a partnership with the Oriental Institute and the Gray Center for Arts & Inquiry. The event had a special focus on Time Travel and Ancient Egyptian and Nubian art's influence in comics and Afrofuturism.
She's a frequent speaker and artist presenter at Comic Cons and science fiction conferences across the US. She's a two time guest of honor at Convergence Con and a Guest of Honor at Diversicon in Minneapolis, MN. She also co-curated the Black to the Future Afrofuturist playlist with recording artist Janelle Monae for Spotify. Ytasha began her career as a journalist covering arts, entertainment and business. She is guest editor for the business magazine NV Magazine; a former editor-at- large for Upscale Magazine and former columnist for the Chicago Defender. Her work has appeared in Essence, VIBE, The Huffington Post and more. A Chicago native, she has a B.A in Mass Media Arts from Clark Atlanta University and studied Arts, Entertainment and Media Management at Columbia College in Chicago. She has a Masters Certificate in the study of Metaphysics and New Thought Philosophy from the Johnnie Colemon Institute.
TANANARIVE DUE (moderator)
Tananarive Due (tah-nah-nah-REEVE doo) is an award-winning author who teaches Black Horror and Afrofuturism at UCLA. She is an executive producer on Shudder's groundbreaking documentary Horror Noire: A History of Black Horror. She and her husband/collaborator, Steven Barnes, wrote "A Small Town" for Season 2 of "The Twilight Zone" on CBS All Access and episodes in SerialBox's BLACK PANTHER: SINS OF THE KING.
A leading voice in Black speculative fiction for more than 20 years, Due has won an American Book Award, an NAACP Image Award, and a British Fantasy Award, and her writing has been included in best-of-the-year anthologies. Her books include Ghost Summer: Stories, My Soul to Keep, and The Good House. She and her late mother, civil rights activist Patricia Stephens Due, co-authored Freedom in the Family: A Mother-Daughter Memoir of the Fight for Civil Rights. She and her husband live with their son, Jason.