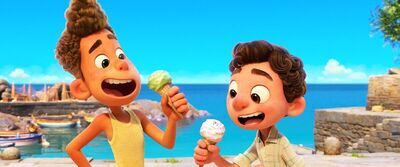 Pixar's "Luca," an Italian-set animated fairy tale concerning two young sea monsters exploring an unknown human world, offers the studio's hallmark visual splendor, yet fails to venture outside of safe waters. After story artist credits on big-time Pixar titles like "Ratatouille" and "Coco," "Luca" serves as Enrico Casarosa's first time in the director's chair. Borrowing elements from "Finding Nemo" and "The Little Mermaid," Casarosa's film follows two young Italian sea "monsters," Luca (Jacob Tremblay) and Alberto (Jack Dylan Grazer). The former spends his days shepherding the little fish populating his seabed village away from fishing boats. But at night, as he lies awake in his seaweed bed, he dreams of living on the surface.
Looming against his desires are his mother (Maya Rudolph) and father's (Jim Gaffigan) fear from living by a human, sea-monster-hunting oceanfront village. Nevertheless, dry world affectations fall to the ocean floor: an alarm clock, a playing card, and a wrench. These items draw Luca closer to the surface. As does Alberto, an older, confident amphibian boy who now lives alone in a crumbling castle tower by the beach, and claims his father is temporarily traveling.
If you're wondering how these creatures with fins, scales, and tails can could live on among humans without being discovered, writers Jesse Andrews ("Me and Earl and the Dying Girl") and Mike Jones ("Soul") have a tidy solution for that. Rather than an evil witch granting him a human appearance, a la "The Little Mermaid," the sea monsters here can naturally, magically turn mortal. Their ability isn't controllable, however, as touching water reverts their skin back to their real scaly exterior. But for Luca, such power dangles greater temptation over him.
Once on dry land, Alberto and Luca form a quick bond. They dream of buying a vespa and traveling the globe together. Their plans nearly come to a halt, however, when Luca's frightful parents threaten to make him live his oddball Uncle Ugo (Sacha Baron Cohen, essentially using his Borat voice in a fish) in the trenches. Instead, Luca runs away with Alberto to the town of Portorosso. There, they come across Giulia (Emma Berman), a red-headed, independently minded tomboy with dreams of winning the Portorosso cup—a traditional Italian triathlon consisting of swimming, cycling, and eating pasta—and her one-armed, burly father Massimo (Marco Barricelli). In a bid to earn enough money to buy a Vespa, the boys pair with Giulia to win the cup away from the evil five-time champion Ercole Visconti (Saverio Raimondo) and his goons while an entire town lays a bounty for sea monsters on their heads.
The most distinct current coursing through "Luca" is freedom: that's certainly what the Vespa represents, the ability to be unrestricted not just by sea, but by land too. The other thread winding around the folklorish narrative, however, is identity, or the people who truly are behind our public faces. The villainous Ercole is initially and seemingly well-loved, as though ripped from an Italian magazine. We soon discover that his love, somewhat like Gaston in "Beauty and the Beast" (another Disney flick attuned to true identities) actually rules through intimidation. The measured eroding of his care-free, buoyant persona into the narrative's real monster is predictable yet satisfying.
The premise of the film also literally disguises Luca and Alberto as humans amongst the fish hunting Portorosso community. But in a deeper sense, many secrets lurk within Alberto, from the whereabouts of his dad to his general knowledge. He portrays himself to Luca as a world-weary traveler, the kind of friend who swears they've been to a place a million times, but has only walked past it. He also tells the impressionable Luca how the stars are actually fish swimming in a vast black ocean, that school is unnecessary, and to ignore his "Bruno" (or the tiny scared voice inside your head). His outsized confidence papers over his clear insecurities, especially as Luca first grows closer to Giulia and later thinks for himself.
Similar to Ercole's unsurprising turn to villainy, Alberto's bubbling insecurities imbue the film's second half with an air of fait accompli and drag the initial animated delight to the deep depths of boredom. Why do another narrative about a girl stuck in the middle of two best friends? Why cast Giulia's rich arc, a competitive girl pitched as an outsider, to the back seat? Without exploring her narrative, the primary story flows through the motions. And the ending, meant to recover some of her spark, only serves to tether her importance to the two boys. That is, the guys win, but really, we all win.
"Luca" certainly isn't without its charms. A visual splendor of blue and orange lighting blankets over the seaside setting, giving the sense that if I were to merely hug the screen it would warm me for days. Minute bits also land, like the fish that make sheep sounds, and the hilarious ways Luca's mother and father careen through the town trying to find their son, throwing random children in the water. And Dan Rohmer's propulsive, waltzy score recalls the fairytale vibes he breathed in "Beasts of the Southern Wild" on tracks like "Once There Was A Hushpuppy." But "Luca" retreads too much well-cultivated ground and reworks so many achingly familiar tropes as its best qualities sink to a murky bottom. While some material may hit with younger audiences, "Luca" makes for Pixar's least enchanting, least special film yet.
Available on June 18 on Disney+.