Buffalo 8 Celebrates Tenth Anniversary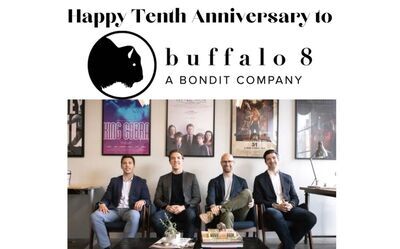 As a matter of principle, we don't usually publish a full press release, but I am making an exception to congratulate Matthew Helderman and Bondit on the tenth anniversary of their company, Buffalo 8. I have watched them grow over the years from the little company that could to what they are today. Included below is a video from Cannes where I interviewed Helderman in 2018 about the company. It starts at the about the 8:25 mark. Their press release tells the story of their growth well. Congratulations!—Chaz Ebert
---
A lot, and yet a little, has changed a decade on since the first Buffalo 8 feature film production was conceived in a college apartment back in 2011.
The company's entrepreneurial core and the nearly decade and a half friendship of founders Matthew Helderman and Luke Taylor continues to drive the firm forward. "We really do continue to foster the day one mentality of running the business from an apartment and experimenting with scrappy ideas that pay off in the best outcomes and teach us critical lessons when they don't pan out" stated Helderman.
2021 marks the ten-year anniversary of the company, which has since evolved into an indie studio from development services, production, financing, and distribution. A review of the company's path over the last ten years traces the rapidly changing media landscape from early wins they had at the Sundance Film Festival, to expanding their financing operations with the launch of BondIt Media Capital in 2013, to multi-picture financing deals with world class movie star talent (Bruce Willis, Mel Gibson, Robert De Niro, John Travolta, Liam Neeson, Kevin James,) the company's humble beginnings are still a core of their culture, a cornerstone of the brand that all team members are encouraged to embrace when they join, and the future of where the team believes they are heading.
Co-Founders and entrepreneurs Matthew Helderman and Luke Taylor started Buffalo 8 in 2010 in Helderman's college apartment, as Taylor – the childhood friend of Helderman's then girlfriend, now wife – joined Helderman in producing their first indie feature The Alumni Chapter in the summer of 2010.
"We first met in high school back in Connecticut when we were both misfits in our own ways" noted Helderman recalling their first meeting at Taylor's parents' house, "we must have been 17 or 18 and both of us were really into film, music, and TV in a way that was beyond just appreciating it – we wanted to be involved, and growing up in Connecticut might as well have been the moon compared to Los Angeles and access to the world of entertainment."
Taylor adds, "the excitement and drive was palpable from day one. We were both obsessive with content and uncompromisingly dedicated to building a path into the business. The common interests and shared alignment was apparent during our first project together, and has remained constant."
Helderman scrapped together roughly $20,000 money from selling personal belongings on eBay and Craigslist, to chipping in money from summer jobs and semester part time work, to buying and selling a large record collection. After shooting the film in the Chicago suburbs, including a few historic John Hughes spots, Helderman flew to Los Angeles during March break to meet up with Taylor and shop the project to buyers.
"I had never been to Los Angeles and literally stacked my schedule with meetings with sales companies, distributors, and producers with the aim of finding a buyer for the film," noted Helderman. "We ended up selling it to a tiny home entertainment company and in retrospect it was one of the first great lessons in the film business – very few are who they say they are, and the film saw very little release. It was the start of us realizing that Buffalo 8, this little entity we had set up to produce this one-off indie film, was the real asset we had built in the process and that we could expand on that".
Working out of an apartment, Buffalo 8 served as an indie production services company from 2011 through 2013 producing a few dozen smaller indie films;
Re-calling their formative years, Taylor stated, "The early era was hand-to-hand combat of learning physical production on projects with very minimal resources and working to build credibility with our then-unknown brand in a relentlessly competitive industry. The knowledge and resilience we acquired during this time was critical – it laid the foundation for our key principles while sharpening our business sensibilities. Realizing there was a ceiling with our current model of producing led to the lightbulb moment that to properly scale, we needed to provide value more efficiently to multiple projects at any given time. Offering financial solutions would allow us to diversify our abilities and increase exposure – this realization spurred the inception of BondIt Media Capital."
In November 2013 the partners co-founded BondIt with the aim to provide micro financing to productions against their SAG-AFTRA payroll deposits – the dilemma being that the guild holds on to the deposits long after production wraps thereby causing a cashflow crunch.
The company quickly expanded its financing options and by 2016 mounted a road show across North America in search of a permanent financing partner to assist in the long-term growth of the platform. By the end of 2016, BondIt had reached a deal with Accord Financial, a 40 year old publicy traded non-bank lending company that invested equity in to BondIt and a credit facility was structured within the following 12 months to enable further scale.
"With banks financing fewer and fewer projects coupled with our physical production backgrounds and fortified with permanent capital from 40+ year old institutional investors – we felt like we had built something at the intersection of a rapidly booming industry" remarked Helderman on BondIt's rise as a financing and producing vehicle as global feature film production surpassed 5,000 feature films being produced annually.
"We're definitely proud of what we've built and want to continue capitalizing on the disruption that the industry is going through without taking anything for granted and continuing to embrace the everyday is day 1 ethos" continued Helderman.
Taylor remarked, "every year we make it a point to out-do the previous. We've been able to achieve that by remaining hyper-focused and empowering our incredible team members to contribute in meaningful ways that have direct impact on growth".
From producing the Spike Lee directed Netflix original film Rodney King, to co-financing the 2017 Academy Award nominated film Loving Vincent, to purchasing 30-year-old ABS Payroll to expand their foothold in the indie film and TV space – Helderman and Taylor see growth on the horizon noting "it's a cliché, but we both talk about it every week that we're really just getting started and to not lose focus of how much that youthful passion we had when we started on this crazy ride is critical to help power the next chapter" finished Helderman.
For more information, visit the official site of Buffalo 8.