Betty Returns for Another Cathartic, Vibes-Filled Season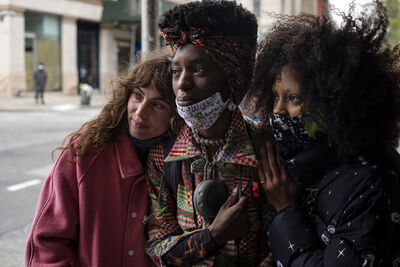 Rare is the movie that can effectively retcon its history into a successful TV show, and rarer still is the TV show that can take that new backstory and run with it into not just one successful season, but two. Crystal Moselle, who adapted her 2018 film "Skate Kitchen" for HBO's "Betty," delivered six episodes in 2020 that with style, urgency, and affection painted the portrait of a group of young women skateboarders.
Set against the backdrop of New York City's hazy summer days and golden summer nights, the friends navigated frustrations with male skateboarders who didn't take them seriously because of their gender, with parents who didn't understand their sexual identities, and with romantic partners who ran hot one minute and cold the next. The through lines in that first season were the young women's loyalty to each other through whatever adversity and their shared love for skateboarding as a means of rebellious self-expression and inclusive community, and the second season of "Betty" expands those ideas with new challenges and new allies.
Set during the final months of the 2020 COVID-19 pandemic, these six new episodes of "Betty" position these young women as not just subjects shaped by their struggles with their families, or their resentment of the patriarchy—recurring issues in the series' first season. Instead, the five young women at the heart of this story are now a little bit older and a little bit wiser, and the respect they've been asking for from their peers, their parents, and other adults actually arrives. What happens then? How do they navigate situations in which they actually have more power than they anticipated—and how do they navigate situations in which they actually don't? The narrow expectations of heteronormativity, the potentially imbalanced power dynamics of sex work, the question of unfaithfulness that can arise from polyamory. Are these young women ready for all, or any, of that?
Over episodes written by Moselle herself, returning season one writers Moshe Kasher and Naima Ramos-Chapman, actress Rachelle Vinberg (who plays Camille on the series), and a few new additions to the writers' room, including documentary filmmaker Sabaah Folayan (of 2017's "Whose Streets?"), the second season of "Betty" picks up some months after the events of season one. The murder of Breonna Taylor hangs over these skateboarders, many of whom are Black, biracial, Latinx, or other POC. The COVID-19 pandemic is already in full effect, and all the skateboarders are dealing with new rules, restrictions, and regulations throughout New York City. Meaningful connections feel increasingly difficult to forge or to maintain.
Janay (Dede Lovelace), who totally cut off ties with her friend and vlogging creative partner who was accused of sexual abuse in season one, is cramped at home once her cousin Jzabel (chef Roblé Ali) takes over the apartment where she lives with her father to keep cooking meals for the elderly around the city. The community center where Jzabel normally cooks has been shut down because of COVID-19, and although he's hoping for a business assistance loan, he has to make do on his own until then. Former rich girl Indigo (Ajani Russell), who took thousands of dollars from her wealthy mother Jeanne (Eisa Davis) last season to help bail some of the skateboarders out of jail, is working as a front-line worker at a grocery store and hoping to pay her mother back incrementally. She's also still crashing with the group's best skateboarder, Camille (Vinberg), who has been making increasingly popular skating videos with her male friend Tai (Lil' Dre).
Aspiring filmmaker Honeybear (Kabrina Adams), who is always filming and was a little shy about her sexuality in season one, is now in a relationship with Ash (Katerina Tannenbaum), whose greater sexual experience makes Honeybear slightly uneasy. And rounding out the group is goofy stoner Kirt (Nina Moran), whose white privilege was checked by the group last year after her take-it-to-100 antics landed the group in trouble with the law. With a broken leg and a more mellow attitude, the lesbian Kirt takes it upon herself to teach the male skaters with whom she hangs out some basic lessons about connecting with women. And the giant stuffed animal Kirt finds in the street—a sort of hybrid cat-octopus that she names "Octopussy"—becomes the mascot of the friend group as they each try to figure out what they want.
Moselle devotes a few uninterrupted minutes in each episode to capture these characters skateboarding around the city, their movements fluid and their bodies illuminated by the golden hour, or dancing in an impromptu street dance party awash in neon, or simply hanging out with each other, talking and laughing. The vibes of this show have always been pleasantly cathartic, and that continues despite the omnipresent threat of COVID-19 and the narrative tailspin caused by the skateboarders' winter spot losing its lease. If the skateboarders have nowhere to skate once the weather gets cold, how will they maintain a community? Is there anywhere in the city that can take them in? With those two looming dangers, many of the person-to-person plots focus on established personalities sparking against each other: Janay vs. Indigo, Indigo vs. Camille, Honeybear vs. Ash, Kirt vs. the male skater friends who become her followers, Camille vs. Tai. Disagreements wax and wane, and characters make choices that hurt each other.
The performances here remain uniformly strong, with Russell and Vinberg making a particularly good pairing as the worldly Indigo and the tomboyish Camille. "Betty" never laughs at its characters, but asks us to share in their silliness (the self-important tone Kirt uses to dole out what should be obvious advice to her male followers, like "Say you're sorry" and "Yo, take a shower") or to understand the confusion they themselves sometimes feel about what they should say or do as progressive young women. In the age of MeToo, is it really fair to be irritated with a paramour when he keeps asking for consent? Can one be a good feminist if they're also willingly engaging in infidelity?
"Betty" has always had a light touch with these questions, never dipping too much into lecture territory in its dialogue or its themes. And the series has always been intentional about providing solutions for these characters' problems that aren't unbelievably upbeat, but that also aren't purposefully agonizing or painful. Bad things happen to these characters, and they do bad things, but they have their friends, their family, and the people they love to help guide them through. The camaraderie and joy at the heart of "Betty," and the series' unwavering endorsement of the idea that platonic love is the most important kind, make season two just as watchable as its predecessor.
Entire season screened for review. The second season of "Betty" premieres on HBO Max on June 11, 2021.