A Look Back at Tribeca 2021: The Documentary Features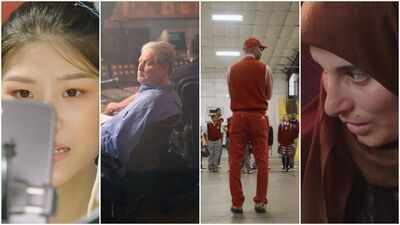 The below dispatch looks strictly at the documentaries that played this year's Tribeca Festival. Click here to read Peter Sobczynski's recap of the festival's narrative features.
The prize for Best Feature in the Documentary Competition went to "Ascension," an examination by Jessica Kingdon (who also won the Albert Maysles Award for Best New Documentary Director) of contemporary China from an economic and consumerist perspective. The film's observations starts with a low-paid factory worker diligently assembling everything from water bottles to sex dolls for export throughout the world. It then focuses on the middle class, who do all that they can to get ahead in business, and ends with the obscenely wealthy living fairy-tale lives at the expense of others. Although the film gets a little repetitive after a while, the early factory sequences have a mesmerizing "Koyaanisqatsi"-like feel to them that is both arresting and horrifying.
Among the documentaries featured in this year's lineup, a number of them were centered on offbeat celebrities and seemed to have little interest in appealing to anyone outside of their targeted niche. Nadia Szold's "Larry Flynt for President" has an undeniably appealing hook—previously unseen footage of the late pornography publisher's quixotic campaign for the Republican presidential nomination in 1983—but after a while, the film shifts away from that to chronicle the various legal battles that made him the most unlikely free speech advocate imaginable. While interesting, that stuff was previously covered in "The People vs. Larry Flynt" to the extent that this at times feels like the footnotes to that film. Laura Fairrie attempts to rehabilitate the reputation of another infamous person of letters with "Lady Boss: The Jackie Collins Story," in which she goes through the best-selling author's tumultuous life and makes a case for recasting her as a feminist icon. This effort yields some interesting revelations but slips considerably whenever the film pauses to actually read excerpts from her work. Although not as well-known as the likes of Flynt and Collins, music journalist Ben Fong-Torres and claymation expert Will Vinton have both had uncommonly interesting lives and careers that are nicely captured in Suzanne Joe Kai's "Like A Rolling Stone: The Life & Times Of Ben Fong-Torres" and Marq Evans' "Claydream" respectively. I especially enjoyed "The One and Only Dick Gregory," Andre Gaines' fascinating and entertaining debut feature (co-produced by Kevin Hart and Lena Waithe) that charts Gregory's astonishing career, which took him from being a groundbreaking and highly influential comedian to a civil rights activist to a pioneer in the health food industry.
Two of the higher-profile documentaries in the program were based around two of the most famous celebrity chefs of our time. Using extensive archival footage and new interviews with friends and colleagues, Morgan Neville's "Roadrunner: A Film About Anthony Bourdain" looks at the one-time cook who became an overnight sensation with the 2000 publication of his book Kitchen Confidential and remained a cultural force and inspiration throughout the world until his shocking suicide in 2018, which, as shown here, his friends are still struggling to understand. As someone who had not been a follower of Bourdain, I did find this look at the man and his inquisitive, if troubled, nature to be interesting for the most part, though the final section is a little frustrating as it seems to be dog piling on Asia Argento—who was seeing Bourdain towards the end—as the cause of most of his problems later in life. That said, I still vastly preferred it to "Wolfgang," David Gelb's brief-but-tiresome film about Wolfgang Puck that's little more than an extended infomercial for his brand. "Wolfgang" will leave you hungry afterwards for both a good meal and a better movie.
There were also a number of music-related documentaries that covered a wide variety of genres. Brent Wilson's "Brian Wilson: Long Promised Road" finds Rolling Stone editor Jason Fine taking the legendary Wilson out for a drive throughout L.A. to visit old haunts of note and to reflect on his life and times. While it's wonderful to see Wilson, whose emotional and mental problems have been well-documented, at something resembling peace, the film shares the same problems as the recent Tina Turner documentary—it requires the subjects to once again contemplate the darkest and most painful moments of their lives without bringing much of anything new to the table. A less well-known saga is recounted in "A-Ha The Movie," Thomas Robsahm's exhaustive and ultimately exhausting look at the Norwegian pop group who had one of the biggest hits of the 1980s with "Take on Me" and have continued to press on decades later—even the most dedicated fans of the group (which admittedly has a bigger following in Europe than in the U.S.) will likely find it to be a bit much. Sacha Jenkins' "Bitchin: The Sound and Fury of Rick James" ostensibly wants to make a case for the musical legacy of the late funk/R&B icon, but seems all too eager to push that stuff (its most interesting material) aside in order to delve into James' well-publicized indulgences and legal troubles involving sex, drugs and violence (even offering up animated reenactments of some sordid moments when no cameras were running). It all becomes monotonous after a while. In the case of The Architects' "Stockholm Syndrome," the formula gets shaken up a bit, and for the good, as what begins as a standard-issue recap of the career of highly popular rap star A$AP Rocky takes a decided turn when he's thrown into a Swedish prison in 2019 after a fight in the street. The incident captured the attention of the world, especially after then-President Trump attempted to intercede on his behalf.
Another subject that proved to be of fertile ground to this year's crop of films was, of all things, 1990s-era skateboard culture, which served as the basis for no less than three films in the program. The highest profile of the bunch was "The Kids," in which Eddie Martin takes a look back at the still-controversial 1995 indie hit "Kids" and its legacy, not through the eyes of director Larry Clark, writer Harmony Korine, or breakout stars Chloe Sevigny or Rosario Dawson, but those who didn't become stars. They still feel raw about the experience, and how the film appropriated their cultural identity, turning it into another marketable commodity that did not reflect their lives. "Kids" also crops up in "All the Streets Are Silent," a cinematic mixtape of archival footage and present-day interviews (including Dawson and fellow "Kids" star Leo Fitzpatrick) that provides an eye-opening look at the beginnings of a subculture that would eventually grow into a billion-dollar industry. These films are intriguing even if you have no working interest in the history of skateboarding but even the most devoted fans may find themselves quickly losing patience with "The Scars of Ali Boulala," a deeply annoying film in which a former Swedish teen skateboard sensation looks back on a life filled with booze, drugs, dangerous stunts, and adolescent aggression. He finally turned around after a drunken motorcycle accident that landed him in a coma and jail and the fellow skater riding with him into the grave. The film is little more than a 100-minute pity party for someone who is nowhere near as fascinating or charismatic as it insists that he is, and while it might not be the worst movie of the festival, it may be the one that left me the angriest afterwards for having wasted my time on it.
On the other hand, there were a group of documentaries that intended to inspire anger in viewers by illustrating injustices in order to then help spur change. Dan Chen's "Accepted" puts its focus on the increasingly driven competition to earn places at the most desirable colleges by centering on the TM Landry Prep School, a school in rural Louisiana run by the charismatic Mike Landry. The school boasts a 100% college acceptance rate that proves to be too good to be true, and Chen's film forces viewers to contemplate the undeniable inequities of the college admission process, and how people like Landry will cheerfully exploit them at the expense of the students. Kristine Stolakis' often-horrifying "Pray Away" takes a look at the rise of Exodus International—an evangelical organization dedicated to so-called "conversion therapy" designed to allegedly make LGBTQ people straight—through the eyes of several who worked for the group but who have gone on to disavow it completely. Using the story of media personality Michelle Visage as its narrative spine, Jeremy Simmons' "Explant" takes a sometimes funny but often brutal look at the breast implant industry, and how the health-related complaints of countless clients were summarily ignored in the race for greater profits at any cost.
Another undeniably effective demonstration of advocacy filmmaking was "The Price of Freedom," in which filmmaker Judd Ehrlich powerfully observes the development of the NRA from a legitimate sportsman group to a political organization so powerful that it cowed decades of legislators to ignore the public demand for saner gun laws. The film also picks apart the group's arguments for the necessity for guns, often with the help of people who have themselves been the victims of gun violence. Although the stakes may be somewhat lower in comparison, Andrea Nix Fine and Sean Fine's "LFG" is no less enraging as it charts the gender discrimination lawsuit brought by the U.S. Women's National Soccer Team—you know, the one that actually wins world championships—against the U.S. Soccer Federation.
There were also a few docs that told relatively bleak stories but which managed to hold out some degree of hope in the end. Brandon Kramer's "The First Step" watches as liberal political commentator Van Jones takes it upon himself to try to bridge the gap between progressives and the Trump administration. Van Jones goes out of his way to work with them, even making sure to publicly curry favor with Trump, all in the face of complaints from both conservatives who don't like what he has to say and liberals who don't trust anyone who spends more time with the enemy than fighting for his own side. Like Jones' efforts, the film as a whole is well-intentioned, occasionally interesting, but ultimately too wishy-washy to be particularly effective as anything other than a promotion for the Jones brand. "Simple as Water," the new project from Oscar-winning filmmaker Megan Mylan, looks at the Syrian refugee crisis through the eyes of four families, in locales ranging from Turkey to Greece to Germany to the U.S., who have been torn apart from loved ones because of the war. The families are trying to make new lives for themselves while going through the bureaucratic red tape required to achieve their hoped-for reunions. Much of what is shown here is legitimately heartbreaking, but each of the stories has a belief in the importance of family unity that lends an undeniable and cleanly earned sense of uplift to the proceedings. Likewise, "All These Sons," the new film from Bing Liu and Joshua Altman, who previously collaborated on "Minding the Gap," focuses on an equally grim subject—the epidemic of gun-related deaths on Chicago's South and West sides. The documentary follows two men (one who himself perpetrated a past act of gun violence) who have created community-based programs aimed at at-risk young men that utilize understanding rather than punishment as a way of ending the endless cycle of pain. "All These Sons," which won the Best Cinematography prize, may seem like a downer, but it tackles its subject with a remarkable degree of sensitivity and dignity towards all involved. The result is not to be missed.