30 Things That Gave Me Goosebumps: Questlove, Marilyn McCoo, and Billy Davis, Jr. on Summer of Soul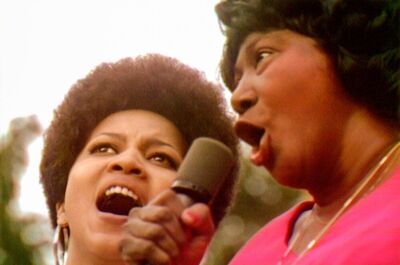 Roots leader Questlove told the Philadelphia Inquirer that when he first heard about the 1969 Harlem Cultural Festival that brought performers like The Staples Family, Mahalia Jackson, Gladys Knight and the Pips, the Fifth Dimension, Sly and the Family Stone, and 19-year-old Stevie Wonder to what was then called Mount Morris Park, his reaction was, "That didn't happen, because I would have known about it." When he found out that the footage from the series of concerts had been in a basement for nearly half a century, he agreed to put it together in a documentary called "Summer of Soul (…Or, When the Revolution Could Not Be Televised)." Directing under his birth name, Ahmir Thompson, the Roots leader created a film as instantly iconic as the Oscar-winning documentary of the Woodstock festival that happened the same year. In interviews, Questlove talked about the "game-changer, ice-breaking" moment when he discovered the film's importance as history as well as music, and Fifth Dimension performers Marilyn McCoo and Billy Davis, Jr. talked about the meaning of the event to their group, which had been accused of not being "Black enough" and about their first studio recording in 35 years, "Blackbird." (The Interviews have been combined and lightly edited.)
Your bright yellow shirts and orange fringed vests really mark that moment as summer of 1969. What did you think when you saw them again on screen?
BILLY DAVIS, JR.: We were saying, "Really?" [laughs]
MARILYN MCCOO: We remembered the outfits. We didn't wear them that often because the pants were made out of wool. Our designer, well … you know artists. Sometimes artists, and we have to throw ourselves into that bag, you get caught up in an idea, a look, and you want to carry that all the way through. And [costume designer] Boyd Clopton, he loved the pants, the fabric he found. When we found out about the Harlem Cultural Festival, we thought it was perfect.
Questlove, when did you first know about the footage of these performances?
AHMIR "QUESTLOVE" THOMPSON: I first inadvertently saw the footage back when The Roots first went to Tokyo in 1997. My translator for that tour, who knew I was a soul fan, took me to a place called the Soul Train Cafe. So unbeknownst to me, I was watching two minutes of Sly and the Family Stone's performance. But because it was what I knew to be camera two, which was the bird's eye view, nosebleed section, I didn't know I was watching the Harlem Cultural Festival. I just assumed that all festivals in the '60s were from Europe because America really didn't have that culture yet. Only to find out exactly 20 years later, when David Dinerstein and Robert Fyvolent told me that they had this footage, and they wanted me to direct the film. So first seeing a small piece of it without knowing it in 1997 and presented to me in 2017. And even then, I didn't believe it was real.
What was the condition of the footage after 50 years in a basement?
QUESTLOVE: Now, normally in 1969, if you're going to document something, chances are you're going to use 16mm. It was Hal Tulchin's idea to film this on video because it's for television. So, the quality looks like that of soap opera, that sort of video, which was brand new at the time. Back then, it was two-inch reels. But man, these reels were so heavy. The reels could hold about an hour worth of footage. And I'll say that one of those canisters had to be about 17 pounds. In that scene at the very end we show all the tapes piled on to each other. Yeah, that was a damn workout. That was lifting boxes back and forth, and you had to be very careful.
The basement environment that Hal Tulchin kept his tapes, it was pretty steady. He had it in a dry room in his basement. And they had made copies of it on VHS somewhere in the early '80s. But in 2018 there were only five machines in the United States that were still working that could play them and seven people who even had the expertise or the know-how on how to treat the film. It was a five-month process watching the video transfer of this movie, making the footage moist in a little bit so it doesn't snap. And they had to practically, with every frame, lightly brush it so that none of the film would be distorted. Everything was damn near perfect, which was a miracle. There was just a problem with one reel. The Staples Singers were the only act to perform twice. Their first performance coupled with the rain, the quality was a little weird, but for the greater good, we still have to include it.
In the film you talk about how meaningful it was for the Fifth Dimension to be accepted by the Harlem audience. Why was that?
MM: There are a lot of times that people expect you to behave a certain way, and if you don't fit that mold, people say you're not whatever enough. The Fifth Dimension was recording our first hits, "Up Up and Away," "Go Where You Want to Go," "Stone Soul Picnic," well, that one had a little soul in it, so we were almost accepted then. And "Aquarius"—we were doing a lot of pop music and people were criticizing us. We were caught between a rock and a hard place. The pop stations didn't want to play us because our music sounded pop but we were Black. And the Black stations did not want to play us because we were Black but they thought our music "sounded white."
BD: Right, so we were caught in between. But we kept doing what we enjoyed doing and it worked out. We went through some little hurts and pains being caught in the middle because when you're not accepted on either side it's rough, but you push your way through it. You have to be strong and know that you stand for what you stand for. You can't color a sound; you can only sing it. We just kept singing.
QUESTLOVE: My memory of all the Fifth Dimension performances I saw [before this one] were composed and steady and very posh and sophisticated. And this performance of theirs at the Harlem Culture Festival was closer to that of a gospel revival. I've never heard Billy, with the exception of one of their songs on their solo records, a song called "Your Love," I've never heard Billy Davis Jr. use his raspy gospel baritone, that sort of James Brownish, "sock it to me," that sort of thing. I was like, "Wow, Billy, I've never heard you use your gospel register before." It is because they were comfortable and excited to be there. It wasn't the pressure of, "The Ed Sullivan Show" or the Jack Parr "Tonight Show." And I realized then, I related to it. Because I realized, "Oh, so Black people have to code-switch all the time. It's not just in the office space, but even in entertainment." Because I related to that. I'm a guy that has to adjust this show: if we're touring with Beck we got to do a show a certain way. If we're doing Wu-Tang Clan, a certain way. If it's System of a Down, a certain way. Then next week is Erykah Badu. I had to code-switch shows. All my shows aren't transferable to each audience. I had to adjust it for every place we go to. And I noticed that. And that was their way of telling me that they, too, had to go through that pressure.
Why choose Beatles songs for Blackbird, your first studio album in 35 years?
BILLY DAVIS, JR.: Those are songs you can take and interpret them in different ways, because of the way they write. You can't bring your own interpretation to everyone's songs. It's such a strong catalogue that you can take it and make it your own, while other artists can take it and bring their experiences. That's the way they write.
What did you learn from your first time directing?
QUESTLOVE: Without being all touchy-feely with it, this project more than anything has helped me develop as a human being. Sometimes artists can be really neurotic, living inside our heads. I will not hesitate to admit that of all the things that I've done creatively, this is the one that I was really, really nervous about. And by nervous, I mean scared. Partly because I'm a perfectionist. And what I will say is that this film has really brought out an awareness and a confidence in me that I never knew that I ever had. A lot of the time, everything that I do creatively is behind a shield, behind the drum set, behind my Dad, behind Black Thought, behind Jimmy Fallon, behind turntables. With the exception of teaching at NYU, you guys have never experienced me one-on-one. I have the safety of Instagram or a book. There's always a barrier that keeps you from getting in there and that's how I thought I liked it.
So, I will say that the amount of confidence that I got as a human being this was a game-changer for me. Not saying that I'm going to go through life without fear, and do Will Smith's Grand Canyon jump or something like that. But on a technical side of thing, I also learned the power of editing. Most Roots albums are these gargantuan everything, but the kitchen sink is what I'm bringing to the table. My first draft of this film was 3 hours and 35 minutes. And this is where I really learned that less is more and less is impactful. The 3 hour and 35-minute version of the film probably wouldn't have hit you in the gut more than a very succinct 2 hours.
For five months, I just kept it on 24-hour loop, no matter where I was, in the house or in the world. And if anything gave me goosebumps, then I took a note of it. And I felt like if there were at least 30 things that gave me goosebumps, we could have a foundation.
In the very beginning when I was showing drafts to people, a lot of the complaints I got were like, "Well, wait, you're not in this. We need to hear your voice." And so, I begrudgingly put my voice in the very beginning of the film asking the first question. And that candid moment that I had with [festival audience member] Musa Jackson at the end—we yelled, "Cut," but I didn't realize that they kept the tape rolling. So that was the actual real conversation that we were having. That was such a game-changer, icebreaking moment, where we realized that not only is this a movie, but we got to hand him his history back to him.
This isn't the only story out there. Probably the most shocking thing that I've learned in the last month, in the last three to four weeks, I've gotten DMs from professors letting me know that someone shot concert footage for 20 hours for something that they did over in New York, and then there's that other festival and all this. So this isn't the only footage that's just laying around unscathed. There's about six or seven others. Maybe this film can be an entry, sort of a sea change for these stories to finally get out.
"Summer of Soul" will be available on Hulu on July 2; now playing in select theaters.