We Can Sing Again: Nine Movie Musicals Coming Out in 2021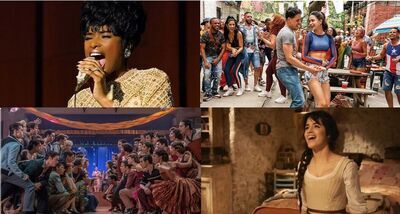 There were very few if any upsides to what the COVID-19 pandemic did to our lives, including the shutdown of most movie theaters. But now that vaccines are plentiful and accessible to most of us, film fans will be able to gather en masse safely and enjoy a wide-screen communal experience again.
Once ticket-buyers return, however, they should be prepared to hear the sound of music this year. Given how expensive such entertainment can be, studios pushed back the opening of a number of titles until 2021, including Steven Spielberg's much-anticipated remake of "West Side Story," which carries a budget of $100 million and opens in December.
And yet here's so much more tuneful entertainment to come. Musical mavens last year had to make do with the filmed stage production of "Hamilton" and Ryan Murphy's "The Prom," both of which found their way onto streaming sites. But this year will see nine musical events that might signal an upswing for a genre that has struggled a bit recently, especially when it comes to awards attention. The last time that a musical snagged a Best Picture Oscar was "Chicago" in 2002—the first to do so since 1968's "Oliver!"
Recently, popular melody-laden hits such as the 2017 P.T. Barnum musical biopic "The Greatest Showman," the fourth remake of "A Star is Born," and the Freddie Mercury biopic "Bohemian Rhapsody" might have increased the appetite for sing-along big-screen entertainment.
As someone who considers herself a movie musical fanatic, I have my fingers crossed that a worthy musical could claim Best Picture gold once more. Here's a list of possible contenders, many backed with heavy hitters behind the scenes that could allow a second musical in this century to take the Oscar gold.
"In the Heights"
Release Date: June 11
Platform: In theaters and HBO Max for 30 days
Cast: Anthony Ramos, Corey Hawkins, Leslie Grace, Jimmy Smits, Lin-Manuel Miranda, Marc Anthony
Director: Jon M. Chu ("Crazy Rich Asians," the "Step-Up" franchise)
What's the big deal? The source with music and lyrics by Miranda won the 2008 Tony for Best Musical and the adaptation was originally scheduled for release a year ago. The story spans three days in the life of a Dominican neighborhood in New York City's Washington Heights. Ramos, a "Hamilton" and stage version of "Heights" alum, plays the personable Usnavi, an owner of a small bodega who dreams of a better life. Anything with the Miranda stamp on it tends to turn to cultural gold these days and this should be no exception. Watch this space for interviews and a review next month.
"Dear Evan Hansen"
Release date: September 24
Platform: Theatrical
Cast: Ben Platt, Julianne Moore, Kaitlyn Dever, Amy Adams
Director: Stephen Chbosky ("The Perks of Being a Wallflower")
What's the big deal? The 2016 stage version won the Tony for Best Musical. Platt, reprising his Tony-winning role, plays a high-schooler who suffers from social anxiety disorders. Evan takes advantage of the suicide of a classmate when a letter he wrote to himself lands in the hands of the deceased student. The boy's family then mistakenly believes their son penned the letter to Evan. As a result, the insecure lad becomes a social media sensation and a symbol of kindness. The songs are written by Benj Pasek and Justin Paul, who claimed an Oscar win for Best Song for "La La Land's" signature ditty "City of Lights" and were also nominated for "This Is Me" from "The Greatest Showman."
---
"Tick, Tick … Boom!"
Release date: Sometime in 2021
Platform: Netflix
Cast: Andrew Garfield, Vanessa Hudgens, Judith Light, Bradley Whitford
Director: Lin-Manuel Miranda, making his feature directorial debut
What's the big deal? The script is based on a semi-autobiographical musical by Jonathan Larson, who is best known for writing the Pulitzer-winning rock musical "Rent," which was inspired by Puccini's "La Boheme." "Tick, Tick … Boom" was staged Off-Broadway in 2001. It focuses on a frustrated theater composer who is in the midst of a midlife crisis as the clock ticks down to his 30th birthday and he struggles to achieve his dream as a creative artist. Steven Levenson ("Dear Evan Hansen") wrote the script while Ron Howard and Brian Grazer are producing.
"Annette"
Release date: It is the opening film at the Cannes Film Festival on July 6, and will be on Amazon Prime in late summer
Platform: Amazon
Cast: Adam Driver, Marion Cotillard, Simon Helberg, Angele, Russell Mael, Ron Mael
Director: Leos Carax ("Holy Motors"), making his English-language debut
What's the big deal? Carax joins forces with the eccentric Mael brothers from the '70s art-rock band Sparks, who wrote the script as well as the songs for this all-sung musical. The plot involves a fierce stand-up comic played by Driver, who is married to Cotillard's celebrated soprano. Their lives are turned upside down with the arrival of daughter Annette, who bears a unique gift. The Maels will also be celebrated with this year with a documentary, "The Sparks Brothers," directed by Edgar Wright ("Baby Driver"), which arrives on June 8 after an enthusiastic critical showing at the Sundance festival earlier this year.
"Respect"
Release date: August 13
Platform: Theatrical
Cast: Jennifer Hudson, Forest Whitaker, Marlon Wayans, Audra McDonald, Marc Maron, Tituss Burgess, Mary J. Blige
Director: Liesl Tommy, the first woman of color to be Tony-nominated for Best Direction of a play for 2017's "Eclipsed," making her feature film directorial debut
What's the big deal? Aretha! Hudson returns to the movie musical genre after winning an Oscar for her powerhouse performance as temperamental soul diva Effie White in "Dreamgirls" with hopes that a biopic of the great Ms. Franklin could repeat that success. She has dabbled in other musical roles, including being the saving grace of the reviled big-screen version of "Cats," where she nailed the show's signature song "Memory." Could she claim a lead Oscar for Best Actress now that she has much more experience under her belt? We will hear and see.
"Cinderella"
Release date: September 2021
Platform: Amazon
Cast: Camila Cabello, Billy Porter, Idina Menzel, James Corden, John Mulaney, Missy Elliott, Minnie Driver, Pierce Brosnan
Director: Kay Cannon, the force behind the "Pitch Perfect" franchise, with a script based on a story idea by James Corden
What's the big deal? The big twist is that Porter of TV's "Pose" fame plays a character called Fab G., a genderless fairy godparent along with diverse casting. Also, besides original music provided by Cuban pop star Cabello, such well-known pop songs such as Beyonce's "Single Ladies (Put a Ring on It)," "Sweet Dreams (Are Made of This)" by the Eurythmics and "Good Times" by Chic will be performed.
---
"Diana: The Musical"
Release date: October 1
Platform: Netflix
Cast: Jeanna de Waal, Erin Davie, Roe Hartrampf, Judy Kaye
Director: Christopher Ashley, the artistic director of the La Jolla Playhouse
What's the big deal? This musical about Diana, Princess of Wales, was supposed to open on Broadway on March 21, 2020, but the production was shut down due to the pandemic. While a new opening night date of November 17 was chosen, the production also opted to film a stage version of the show with safety protocols in place and no audience—much like how last year's "Hamilton" for Disney+ was shot. A former bodyguard for Diana, who was upset that the show focused on "untruths, scandal and sex," urged her son Prince Harry and wife Meghan Markle to ask Netflix to pull the screening. The couple recently signed a $100 million deal with the streaming giant. As it now stands, the show will go on.
"West Side Story"
Release date: December 10, 2021 (the 60th anniversary of the 1961 original)
Platform: Theatrical
Cast: Ansel Elgort, Rachel Zegler, Ariana DeBose, David Alvarez, Mike Faist, Maddie Ziegler, Corey Stoll, Rita Moreno (who won a supporting Oscar as the original Anita)
Director: Steven Spielberg, with a script by Tony Kushner ("Angels in America")
What's the big deal? This musical is as relevant as ever as immigrants and people of color continue to face prejudicial hurdles every day of their lives. A cast of nearly 40 actors was filmed in various locales in Manhattan, Brooklyn and New Jersey for this elaborate production that's hitting theaters a year later than originally planned. Spielberg isn't known for musical entertainment, save for the dance scenes from 1979's "1941" and the singing in 1985's "The Color Purple." However, this Tinseltown titan has acknowledged that the show's music was the first piece of popular music that his family enjoyed together.
---
"Sing 2"
Release date: December 22, 2021
Platform: Theatrical
Director: Garth Jennings
Cast (voice): Matthew McConaughey, Reese Witherspoon, Scarlett Johansson, Taron Egerton, Tori Kelly, Bobby Cannavale, Halsey, Pharrell Williams, Letitia Wright, Eric André, Chelsea Peretti, Bono (making his 'toon debut)
What's the big deal? The plot once again involves a gang of anthropomorphic animals who compete in a singing competition in a city called Calatonia. It is run by koala theater owner Buster Moon (McConaughey). While reviews were mixed, audiences ate up the crooning menagerie to the tune of $634.2 million in worldwide ticket sales. Hence the sequel, whose plot pivots on recruiting the reclusive lion rock legend Clay Calloway (Bono) so Buster can open a new show at the glitzy Crystal Tower Theater. However, he must first reckon with its owner, a ruthless wolf mogul played by Cannavale. As before, dozens of much-loved rock hits will allow the audience to hum along.
All dates subject to change.