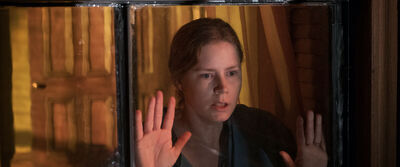 A confluence of calamities has resulted in the arrival, now on Netflix, of "The Woman in the Window." Among them were a massive media merger, reshoots after test-audience confusion and—of course—a global pandemic that paralyzed the movie industry for over a year. Ironically, those delays made the movie timelier.
So the story of a woman who doesn't leave her house for 10 months and thinks she witnesses a murder across the street suddenly becomes more than just a well-made thriller with an outstanding ensemble cast. It's "Rear Window" for the COVID age. But for all the craft on display, the often crackling dialogue, and some strong performances led by Amy Adams, "The Woman in the Window" ultimately fails to deliver on its abundant potential. It'll leave you with a shrug rather than a gasp.
And there was such promise, too. Director Joe Wright ("Atonement," "Pride & Prejudice") puts many of his showy camerawork instincts on display, making Adams' character's Manhattan brownstone feel both cavernous and claustrophobic. Gifted cinematographer Bruno Delbonnel ("Inside Llewyn Davis," "A Very Long Engagement") lights the rooms of her home in garish pinks and chilly blues, reflecting both her mania and her loneliness. And the always brilliant screenwriter and co-star Tracy Letts, in adapting A.J. Finn's 2018 best-selling novel, establishes a snappy tone with rat-a-tat dialogue off the top. These exchanges let us know that Adams' Anna Fox has managed to maintain her sense of humor, despite her depression and agoraphobia.
A psychologist who has suffered a breakdown, Anna has cocooned herself with food delivery, classic films, and a steady diet of prescription drugs and red wine. (Wright employs a couple of cool, split-diopter shots with the television in the background and an extreme close-up of Anna's face in the foreground for an unsettling, DePalmaesque touch.) But the mixture of substances and isolation makes her perspective unreliable from the start, which means the title cards indicating days of the week are useful only to the audience. Then again, who among us hasn't felt like time is a flat circle over the past year or so?
"Tell me to go outside," she beseeches in one of several phone calls with her ex-husband (Anthony Mackie), who's also the father of her little girl and the film's Greek chorus of sorts. He responds patiently, "Why not make today the day you go outside?" But she doesn't, and Letts, as her therapist, is the one who comes to her. The rhythm of their sessions and the repetition of certain phrases, coupled with the solitary location, make these early moments of "The Woman in the Window" feel like a play on film in the best possible ways. Adams reveals her character's instability through panicked trembles and manic cackles, yet with a fundamental wisdom underneath. It's the kind of fine-tuned technique we've come to expect throughout her eclectic career.
But there's even more pressing danger on the horizon, as foreshadowed by the glass of wine she drops to the floor with a shatter. Sopping up the red liquid with a stray piece of scrap paper only emphasizes how much it looks like blood. The Russell family has moved in across the street, and Anna has watched their every movement very carefully from the sanctity of her perch. (One particularly striking shot finds the shadow of a lace curtain sprawled across the left side of her face in the lamplight. You can tell Wright and Delbonnel reveled in the film's noir visual touches.)
"I can see your house from my room," says the Russells' boyishly sweet, teenage son, Ethan (Fred Hechinger), the first time he comes to visit. He seems harmless enough, but soon afterward, his mother, Jane, shows up and provides even more insight into the family. Julianne Moore plays her as a firecracker blonde: effervescent and engaging, funny and startlingly frank, she's just the spark Anna needs. "Oh, you're a shrink? That's a twist!" she laughs as they feel each other out between sips of brandy and wine. She's so fabulous, it's enough to make you wonder whether she's even real—and then wonder whether Anna is imagining it later when she swears she sees Jane's husband stabbing her to death in their kitchen.
Things get even more confusing when Jane's annoyed husband (Gary Oldman) turns up at the frantic Anna's house with the police and the woman he insists really is his wife, Jane—another blonde, more austere, now played by Jennifer Jason Leigh. She's alive, you see. She's right here. So who was that other woman? Where is she now? And what might Anna's downstairs tenant, a flaky singer-songwriter played by Wyatt Russell, have to do with her? (You Marvel fans will be disappointed to learn that despite the presence of both Mackie and Russell, we never get a Falcon and John Walker reunion here.)
The actual spelling-out of all the answers to these questions isn't nearly as interesting as the mystery that could have been. Anna's attempts at playing detective (despite the presence of an actual detective, played by Brian Tyree Henry), aren't as intriguing as the lingering doubt of whether she's a delusional stalker or she's actually onto something. An exasperated Oldman ferociously spits invective, calling her "a drunken, shut-in, pill-popping cat lady," but the underlying trauma she's working though gives the film some genuine heft. Watching Anna struggle to sound stable in small, subtle ways is very sad as she revisits the events that put her in this state. Emotional moments like that do more to make this movie work, rather than its intense, horror-inspired final showdown.
Ultimately, "The Woman in the Window" offers a lot of build-up, a lot of possibility. But the revelation of what's truly going on here is anticlimactic—the equivalent of closing the curtains and turning away from the window with a disappointed sigh.
Now on Netflix.