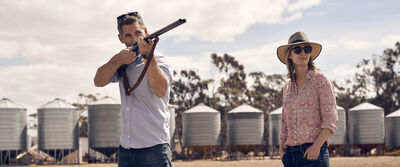 "The Dry," the film adaptation of Jane Harper's 2016 international bestseller of the same name, opens with aerial shots of the parched land in Kiewarra, a farming community somewhere outside Melbourne. But there's clearly no farming going on in the arid expanse below, with its lifeless stretches of dried brown fields. These shots continue throughout "The Dry," directed by Robert Connolly, grounding "The Dry" in a very specific world, a very specific time. This is a "whodunit," but the atmosphere is not generic in any way, and the immense heat is felt in every scene, where the fields and tinder-box trees look stunted and almost terrified. The same goes for the community huddled in the midst of "the dry." They are all trapped in space and time, not only by the drought, but by two crimes, separated by decades, all of which threatens to set the whole place ablaze.
City detective Aaron Falk (Eric Bana), who grew up in Kiewarra, returns for the funeral of Luke Hadler, a childhood friend. This funeral is not your run-of-the-mill sad affair: Luke shot his wife Karen and their small son, before shooting himself. Aaron's return to town stirs up memories of a scandal from 20 years ago, when a teenage girl named Ellie drowned under mysterious circumstances, circumstances which implicated both Luke and Aaron. Both boys were suspects in her death, and they lied to the police to cover their tracks. The scandal was so intense that Aaron's family left town and never came back. Aaron walks back into a hurting community, suffering from the drought, and still in a rage about what happened years before.
Aaron's return is greeted with hostility by most town members, particularly Ellie's father (William Zappa), who blames Aaron for his daughter's death. Luke's parents, however, convince Aaron to stay on to look into the closed case: they believe their son could never have done such a thing, they think there might have been foul play. Against his better judgment, struggling with guilt and ambivalence, Aaron stays. He teams up with Greg Raco, the local police sergeant (Keir O'Donnell), who is traumatized from discovering the bodies and inexperienced at investigating violent crimes. Still, though, Greg is a good cop, and has strong sense that there was something very "off" about that crime scene.
Intriguing flashbacks, presented in subjective fragments, are sprinkled throughout the film, interrupting Aaron's present-day investigation. Editors Nick Meyers and Alexandre de Franceschi have done an artful and sensitive job creating a collage of the activities of the group of four friends—Ellie (BeBe Bettencourt), Luke (Sam Corlett), Gretchen (Claude Scott-Mitchell), and Aaron (Joe Klocek)—leading up to Ellie's death. The flashbacks never show too much, revealing their truths slowly and inadvertently, sometimes jumping backwards or forwards. The approach makes the audience the detective, trying to interpret the information provided. Luke appears to be pursuing Ellie (albeit in a rough-house way), while Aaron has a silent crush on her. Gretchen is a mostly-passive hanger-on. Bana's grim and troubled demeanor shows how haunted he is at every turn by his young self, his young friends, the beautiful laughing doomed Ellie.
As "The Dry" progresses, so, too, do these flashbacks, leading us closer and closer to Ellie's drowning. As seen through the present-day, where suspicion of Aaron still lingers, these flashbacks shed doubt on every single thing not only he says, but everyone else. Aaron reunites with Gretchen (Genevieve O'Reilly), and they share memories of Luke, of Ellie. Nobody seems to have any clue what set Luke off, why he would kill his family.
"The Dry" is filled with memorable characters: the small-town doctor (Daniel Frederiksen), the harried grade school principal (John Polson), the taciturn farmer (James Frecheville) living with his grandmother: all of these people have secrets, but whether or not the secrets have anything to do with the crime is unknown. Aaron must wade through all of it. Part of the joy of "The Dry" is watching this excellent cast in action.
Cinematographer Stefan Duscio gives us enormous wide shots of the drought-parched land, with the smoke of wildfires billowing up in the distance, or dust devils spiraling their way across dried fields, cars barreling towards town creating huge dusty trails behind them, all of which gives an eerie sense of isolation and struggle. "The Dry" never lets you forget where you are. This is most evident in the scene when Aaron goes back to the river where Ellie drowned. Only, the river has dried up, leaving just a cavern cutting through the dirt.
Bana is wonderful at mixing the confidence of the "big city" cop with the anxiety of a man grappling with his dark past. Whatever his guilt may or may not be in regards to Ellie's death—and the film is a "whodunit" on two separate tracks—he feels inhibited from proclaiming his innocence. There's a sadness in Bana's face, in his posture, a tortured grief and guilt, but overlaying that is the competence and canniness of a cop alert to suspicious behavior and inconsistencies. In its own quiet way, it's a very effective and emotional performance.
The critique of how corporate farming is destroying small farming communities is there, but it's not a plot point or presented as an overt "message." And the overall feeling of helplessness against forces much bigger than the individual is also woven into the atmosphere. It's the texture of these people's lives. "The Dry" does a lot, and it does it very well.
In select theaters and available on digital platforms.