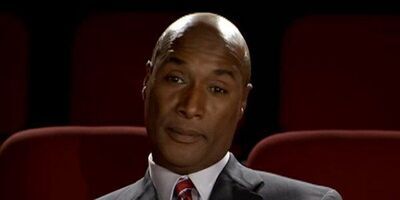 In "Hollywood Shuffle," Robert Townsend's Bobbie Taylor fantasizes about a boycott against his decision to appear in a Blaxploitation film called "Jivetime Jimmy's Revenge." One of the angry Black activists is the head of the NAACP, a distinguished looking man whose advice to Black actors is catchy, hilarious, and more than a little controversial. "They'll never play the Rambos until they stop playing the Sambos!" he tells the camera. Whether this jarring line was scripted by Townsend or improvised by the actor, it's a perfect fit for the man who spoke it, Mr. Paul Mooney.
Mooney's influence on the world of comedy is immeasurable, not just as a comedian in his own right, but also as a writer and a talent scout who sought out and cast many soon-to-be-famous comedians. The Louisiana native scripted some of the most memorably outrageous moments in television history, and got comedians like Damon Wayans, Redd Foxx, Dave Chappelle, Chevy Chase, and Richard Pryor to deliver them to shocked audiences. The polar opposite of safe, Mooney used a certain slur with gleeful abandon and scored his points with equal amounts of sharp observation and brutal truth. He could jar the hell out of you, but once the sting wore off, you realized the man made perfect sense. Alas, every stand-up comedian eventually comes to the end of the set; Mooney walked off the stage for the last time today. He was 79.
Unlike the recent, endless glut of White guys who whine incessantly about "being cancelled" while never doing us a solid by actually disappearing, the outspoken Mr. Paul Mooney reveled in his ability to upset certain members of the audience. And he never complained when people said he was offensive. Watch any of his stand-up shows and you'll see or hear about someone walking out. "I still have my magic," he says during one Laugh Factory appearance, acknowledging a few walkouts. Perhaps it was due to the subject matter of his routines and his comedy—Mooney talked about racism. His targets were the people who practiced it and the institutions that made it systemic. "White people will laugh until it's about them," he once said.
But he also poked fun at our own people, peppering his dialogue with the N-word. It feels somewhat blasphemous to be euphemistic in a tribute to such a gloriously uninhibited performer, especially one influenced by Lenny Bruce, but decorum must be kept. Catch me at the cookout if you desire a more ribald and uncensored eulogy. The seven-second delay is on here, just as it was during the SNL episode starring Richard Pryor, an episode that begat the most famous (and hilarious) moment in that show's history. More on that later. For now, I'll state that Mooney was one of the funniest race comedians to ever tell a Black joke.
Take, for example, "Fred Sanford, Legal Eagle," an episode of "Sanford and Son" co-scripted by Mooney. Redd Foxx's titular character is in court arguing against a ticket issued to his son, Lamont, by a White traffic cop. Foxx asks the judge, who is Black, why the cops don't fine White people. When the cop and the judge answer that they do, Foxx points out that everyone summoned is Black. Then, with all the expertise the filthiest comedian in the history of stand-up can muster, Redd Foxx delivers Mooney's descriptive punchline, perhaps the funniest line ever uttered on the show. There's no way I can clean it up, so you owe it to yourself to seek it out. I will tell you that it involves Tarzan.
Mooney's most fruitful and lasting writing partnership was with the late Richard Pryor, whom he began working with in San Francisco in the early 1970s. Many of Pryor's classic moments were shaped by this collaboration, including several comedy albums and the underrated semi-autobiographical drama "Jo Jo Dancer: Your Life is Calling," which they co-wrote with Rocco Urbisci. Mooney also appeared briefly alongside Pryor in the equally underrated "Bustin' Loose" as a partner in crime who leaves poor Rich mid-robbery in order to avoid getting arrested. They also appeared together on comedy roasts, where Mooney showed his improvisational and joke-telling chops. These would serve him well throughout his own solo career in stand-up, and in films like Spike Lee's "Bamboozled."
Pryor trusted Mooney enough to let him find talent for his short lived 1977 NBC comedy show "The Richard Pryor Show." Folks who appeared on the show and wrote with the duo included Sandra Bernhard, Tim Reid, and Robin Williams. A precursor to classics like "In Living Color" and "Chappelle's Show" (both of which Mooney would later write for), "The Richard Pryor Show" used a very Black scalpel to dissect American society. Skits included Pryor as the first Black president, a country bumpkin lawyer in a "To Kill a Mockingbird" parody, and as a man who literally lost his genitalia to the NBC censors. Of course, they cut that skit out of the show.
Before that, the NBC censors were skittish about Pryor's appearance on their new late-night sketch show, "Saturday Night Live." He appeared in its first season on December 13, 1975 with musical guest Gil Scott-Heron and yes, the revolution was televised. Specifically, there was a job interview sketch where employer Chevy Chase asks interviewee Pryor to play a word association game. The game starts out innocently enough, but takes a sharp turn into dangerous territory, culminating with a racist exchange that hasn't lost its terrifying, funny bite 46 years later. The most memorable skit in the history of the Not Ready for Prime Time Players was not written by any of them; it bore the unmistakable imprint of Mr. Paul Mooney.
Mooney said that he got his sense of humor from his grandmother, the funniest woman he knew, who used to call him "Muni" after the star of "Scarface" and "I Am A Fugitive From a Chain Gang." Muni became "Mooney" and the name carried him through stints as a dancer and a model. He also opened for Eddie Murphy, even though he threatened to kick Ed-DEE's ass during their first meeting at the Comedy Store. While his refusal to compromise, and his penchant for scaring the crap out of White executives, may have contributed to him being lesser known than his more famous collaborator, you know at least one of his creations. He's the guy behind "In Living Color"'s militant Homey D. Clown and he was Negrodamus on "Chappelle's Show." That show brought him a new generation of fans, many of whom I'm sure he managed to shock and amuse with the same intensity he did generations prior.
If there was one line that summed up Mooney's comic philosophy, it would be one he most recently dropped in the "Ask a Black Dude" segments of "Chappelle's Show." "Everybody wanna be a n—a, nobody wanna be a n—a!" But for me, my favorite contribution of his is the coining of a certain type of "wake up call" that I often hope certain Black people will eventually receive. It was his way of describing a comeuppance issued by the majority against a minority unwise enough to think they've been accepted into that clique. These and other dark slices of reality were emblematic of Mr. Paul Mooney's comedic contributions. He more than earned the honorifics that often accompany his name. Though his comedy was available to everybody, it's an even sadder day for those of us who feel like we've lost another bit of our Black celebrity royalty. I hope wherever Moon is, he's cutting it up with Rich and Redd, working as blue as the sky and as impolitely as ever. Rest in Peace.