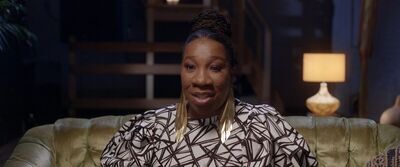 "You can't have a short memory and be Black," says Dr Koko Zauditu Selassie, a professor of Black global literature. Her words deserve extra emphasis for African-American women and women of color: The historically discriminated lifeblood of the Black family unit. Her powerful statement can also refer to the way Black people have fought back against the effects of diaspora through the remembrance of ancestors. The documentary "In Our Mothers' Gardens," available on Netflix today, records both meanings in intimate, empowering detail.
"In Our Mothers' Gardens" marks the directorial debut for Shantrelle Lewis, a curator of African-American art who further rose to prominence with her critique of colorism and the New Orleans setting of Beyonce's "Formation" video. The fleet 85-minute film, distributed by Ava DuVernay's Array Releasing and Netflix, takes its title from Alice Walker's essay collection In Search of Our Mothers' Gardens. That work concerned womanist theory wherein she outlined a generational Black feminist love.
Lewis' documentary is a personal statement made through collective means. She interviews a cadre of women from varying backgrounds. Some hail from Mississippi, Louisiana, Kentucky and so forth. Others trace their roots back to Sierra Leone, Puerto Rico, Antigua, etc. They are intellectuals, entrepreneurs, and activists sharing heartwarming stories regarding their mothers, grandmothers, and other important women in their lives. The most well-known name featured is Tarana Burke, the founder of the MeToo Movement. The sum total of the recollections offered is sprawling, almost too vast.
In the early going, it's difficult to define the scope of "In Our Mothers' Gardens." The assorted accounts of lineage, tradition, home cooking, and church almost bleed into one. Some are memorable: Burke humorously describes the moment a man slapped her and her grandmother threw a pipe through the supermarket window he hid behind. Dr. Brittney Cooper, author of Eloquent Rage, recounts how her grandmother in Choudrant, Louisiana often kept a rifle in her home's door jam to ward off, namely, white intruders. These perspectives keep the documentary afloat before Lewis finds her bearings.
Somewhere after the early third, Lewis hones in on direct subjects titled "on survival," "on love," and "on radical self-care"—introduced by black-grey intertitle cards. Here, these eloquent talking heads explain the ways Black women are asked to care for others but rarely themselves, how they wrestle with imposter syndrome, and how they must spiritually replenish themselves through love and joy. Most importantly they strongly elucidate how these issues stem from the generational trauma of racism and sexism, and the coping mechanisms the important complex women in their lives gave.
This isn't to say "In Our Mothers' Gardens" is a dour documentary. Quite the opposite. It's instead a visually playful affair: from a fake Black Moses Barbie commercial featuring Harriet Tubman brandishing a freedom rifle to a 1970s inspired self-help message reading "You are not a machine. Stop grinding. Rest is Reparations. So lay your ass down, sis." When speakers from other countries illustrate their lives before arriving in America, the director and editor (Sheniqua Lewis) employ a time lapse of them photoshopping the gorgeous floral tableaux decorating these interviews. And of course, each subject's home videos and photos of matriarchs long since departed add a celebratory, albeit, reverent mood to the rich proceedings.
Of the fascinating talking heads, featuring a marvelously honest Rev. Dr. Theresa Thames and an elegantly durable Latham Thomas, the colorful Selassie shines. Her immense jingling jewelry collection carries symbolic meaning: from her duafe—an Akan comb communicating beauty and care—to her Akoben ears that represent a call to arms. Or as she says, "Bring some. Get more." I most loved the elongated span Lewis spent with Selassie. She watches Selassie prepare a dinner for her Egun (ancestors). It's a healing section that perfectly declares Lewis' thesis: Though these supporting Black women are no longer present, they remain in our presence through the food we eat, the resiliency we possess, and the memories we hold dear.
Lewis never fails to remind viewers how personal this film is for her and the featured speakers. She, of course, provides equally heartfelt interviews in her film, but it's the final grace note wherein she asks the talking heads "who are you" that works wonders. They respond with their name, accompanied with the matriarchs who fit in their lineage. Lewis' "In Our Mothers' Gardens" requires time to find its footing, but the documentary ultimately offers a salute to the generationally important women who fought to give their families a more fruitful future.