HBO's In Treatment is Back in Session with Uzo Aduba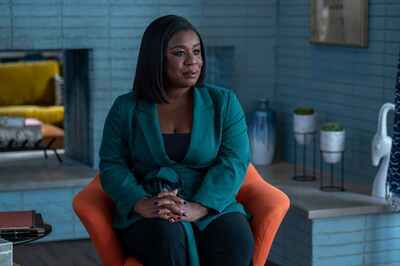 With full transparency, I should confess that I am new to "In Treatment." Not to the highs and lows of a therapy session, and certainly not to the idea of characters only talking to each for 30 minutes straight, but to the HBO series that became a hit with Gabriel Byrne as a therapist sitting opposite a slew of recognizable names. During the time of Covid, HBO decided to bring back the series but with a new therapist, played by Uzo Aduba, three-time Emmy award-winner for "Orange is the New Black" and "Mrs. America." As someone who has now seen half of this new season, I can say that for the most part I understand the appeal of the series, especially when it comes to its minimalist love for character and dialogue. Each episode unfolds with mostly two characters, but "In Treatment" shows with its across-the-board strong acting the amount of imagination that comes from a well-written conversation.
This season includes four different minds that are dissected, with two episodes premiering each week back to back. First, there's Eladio (Anthony Ramos), a live-in caretaker who wrestles with bad sleep and his sense of what he means to the family he's isolating with during Covid. In the next episode, Brooke constantly challenges the smug and manipulative nature of Colin (a slightly scary but grounded John Benjamin Hickey), who has just gotten out of prison for wire fraud but sustained his own trauma from the event, adding to his persecution complex related to him being a white man in 2021. The therapist gets arguably even more pushback from an 18-year-old name Laila (Quintessa Swindell, sly but wounded), who is sent to therapy by her grandmother after Laila tells her that she's a lesbian.
The fourth subject, it turns out, is actually Brooke, in a manner that HBO has asked reviewers not to reveal. Seeing Brooke under the microscope can yield its own intrigue, especially as the show continually harps on the idea that nobody is perfect, including those who read others like novellas. But that dichotomy can be very interesting in these Brooke-based episodes that assume a therapy like structure, even though it's technically a conversation with a friend (played with immediate wisdom by Liza Colón-Zayas). These pieces, written by executive producer Joshua Allen, also help give a little more narrative movement to all that's going on, and break Aduba from her pitch-perfect but flat therapist voice, that tactical stance of waiting for something to be said to her that she would then push back on. To see Aduba relax and express herself more freely in these episodes creates its own depth, mixed with its own heavy sadness regarding her personal life and past.
One thing that's apparent about the series is that it lets actors play to their strengths, and also challenge that as well. Take Ramos, an actor who is bursting with energy any time he's on camera, whether it's the anxiousness in the police brutality indie "Of Monsters and Men," or his unmistakable ebullience in the upcoming musical adaptation of "In the Heights." Here, "In Treatment" puts him behind a laptop, and he still plays for the rafters. But Ramos tackles it with gentle shifts of urgency and false calm, while his fast-paced line delivery relishes some of the show's biggest crescendoes (and there are many across different arcs). Ramos' excellent performance shows the antsy and needy nature of Eladio, helping us understand why Brooke would take down some boundaries in order to try to help him more, like when she takes his call at 2 AM.
There's combustible chemistry to be found in all of these characters, and watching their life stories either trickle out or burst session by session helps the show develop its own storytelling style. As we learn about their lives, supporting characters and relationships can vividly come into picture but not literally, as the series stays within its two-hander set-up. And where the series can sometimes have pacing problems by being conversation-forward, it feels bolstered by a visual approach that's fairly unpredictable. You expect the series to hit a certain flatness, but the way that it builds certain scenes with editing and camerawork, shooting different sessions in slightly different ways, keeps the series as bright as the daylight that always filling Brooke's living room and office space.
I was intrigued by the writers behind this series, who create a believable surge, each session, of information and revelation with these characters, while always hinting that there's more to come. It's fitting that there are specific writers assigned to character episodes, even while the directors change up (a roster that includes Michelle MacLaren, Julian Farino, and Janicza Bravo of the upcoming "Zola"). Chris Gabo, the credited writer for Eladio's episodes, is an up-and-coming playwright and screenwriter currently working on Adam McKay's "Parasite" miniseries, and working with Sam Levinson on a fourth season of "True Detective." Laila's arc is the work of writer Jackie Sibblies Drury, a playwright who won the 2019 Pulitzer Prize for her play Fairview. It becomes clear throughout "In Treatment" that the show, and the potential of its bold premise, is in good hands.
Eight episodes screened for review.