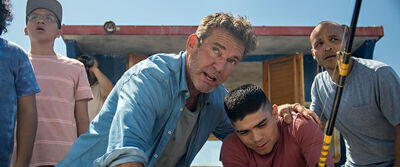 Most people don't mind sitting through a story they've heard innumerable times if the storyteller can inject new relevance into its predictable course. Even if the resolution seems unavoidable from the onset, the path to get there should at least be rendered memorable.
Alas, that's not what "Blue Miracle," from writer/director Julio Quintana, does with its over-exploited premise. Centered on a group of Latino kids from underprivileged backgrounds, the arc follows them surpassing expectations as they try to win a fishing competition. The prospective cash earnings, as is customary in these types of set ups, will benefit a noble cause.
Similar in tone and content to other recent, inspirational sagas about Latino teens such as "McFarland, USA" and "Spare Parts," Quintana's second feature takes a true story as its basis and then applies expected tropes in the "coach mentors an underwhelming team to greatness" subgenre, from the washed-up male adult who needs the kids to overcome his own troubling past to the platitude-ridden lessons meant to help the youths mature.
Former street child and, presumably also a drug dealer once, Omar (Jimmy Gonzales) runs Casa Hogar, an orphanage for local boys in Cabo San Lucas, Mexico. Funds are low and the bank is ready to collect, so Omar or "Papá Omar," as the children and teens call him, must come up with a plan to save their shelter.
Enter Dennis Quaid as gruff and arrogant Wade, a gringo who has won the Bisbee fishing tournament twice. Himself in a financially precarious position, Wade accepts to take Omar and some of his boys as crew in order for the organizer to waive his entry fee. With the two adults and the four selected young men—including Anthony Gonzalez (Miguel's voice in "Coco") as Geco and Miguel Angel Garcia as Moco (the reluctant loner of the pack)—the beats move deeper into trite, sentimental territory without much personality.
Quintana's most decisive directorial commitment is to the blue hues that pave every corner of the movie. Nearly all items that comprise the production design and the actors' costumes feature shades of this color. Furthermore, when we enter Omar's recurrent drowning nightmare the blue saturation becomes more accentuated. These cleverly edited dreamlike sequence offer reprise from the more standard execution elsewhere.
The choice of making blue so prominent to our eye turns conspicuous within the first few minutes. In a handful of shots, cinematographer Santiago Benet Mari harnesses this intensely homogenous palette with nuanced lighting.
Just as monochromatic as the walls of Casa Hogar, Gonzales' Omar is cornered into one-dimensional simplicity. The character doesn't have the charisma of Edward James Olmos' Jaime Escalante in "Stand and Deliver," but rather a compassionate gentleness that's momentarily refreshing, but prevents the role from accessing darker mental states.
With clear religious undertones, Omar remains an inert and sanctimonious entity. Though a throwaway scene with Hector (Raymond Cruz), an old criminal friend, tries to reframe Omar's identity as more intricate, the brief encounter reveals nothing and only serves to hammer in his righteous moral stance. Gonzales, an actor that exudes hard-earned wisdom with a long career but few lead parts, is shortchanged here in the limited range explored.
The problem isn't that this concept has been reworked to death, but that Quintana and co-writer Chris Dowling (the scribe behind Christian dramas such as "Run the Race" and "Priceless") fail to mold it into a winning catch. Judging by their previous work it seems that the faith element took precedence to character development.
"The Way Back," for example, another recent release that walked a nearly identical narrative line, at least functioned as a vehicle for Ben Affleck to dive into a male protagonist with a rich inner life. Or consider the oeuvre of Iranian director Majid Majidi, who has been telling stories about young people facing poverty for decades. His latest, "Sun Children," deals with orphans in a school that needs money to survive. The essence is relatively the same, yet the intellectual sophistication outshines "Blue Miracle."
There's also a peculiar use of language in Quintana's film. Instead of having the bulk of the dialogue be in Spanish with a few words in English—which would make sense since Cabo is in northern Mexico and is a hot spot for American tourism—the cast mostly speaks in English with interjections in Spanish that ring inorganic. Only the way that veteran Mexican actor Silverio Palacios, in the small part of Chato, communicates with the characters—in Spanish with the Mexican team and in English with Wade—makes sense.
Given that the story takes place in Mexico and is about Mexican children, the choice feels odd, but likely made for the sake of Quaid's participation, the hopes of reaching a larger audience reluctant to subtitles, and for the benefit of the U.S. Latino actors. Unfortunately, the forced Spanglish further evidences the generic quality of the lines in both tongues.
For Quintana, who worked with revered director Terrence Malick, an executive producer on Quintana's debut "The Vessel," this is a well-intentioned artistic misfire. While "The Vessel" also dealt in religiosity, that effort had a lyrical aesthetic and visual grammar that resembled his mentor's take on spirituality, as well as grounded performances. None of these qualities made it to "Blue Miracle" in a notable manner.
It's often a good day when U.S. Latino filmmakers, grossly under hired in the industry, get access to larger budgets and a global distribution apparatus, but whether every one of those opportunities represents an advancement of their craft is questionable. The hope is that this is not Quintana's sinking ship, but a turbulent passage to reach better waters.
Now available on Netflix.